Jordan Peele Teases 'Twilight Zone' Reboot, CBS to Launch Creepy Series in 2019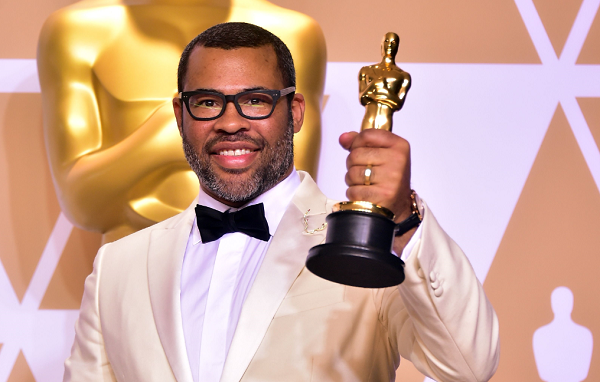 Jordan Peele is taking fans to a new dimension come 2019. This dimension is not only of sight and sound but of mind—it's called The Twilight Zone and it's coming to CBS next year.
Peele released the first teaser for the notoriously creepy television reboot, which he is set to host, on Twitter Thursday. It was first announced the Oscar-winning director would executive produce the series along with Simon Kinberg and Marco Ramirez in December 2017. "Too many times this year it's felt we were living in a twilight zone and I can't think of a better moment to reintroduce it to modern audiences," Peele said to Variety at the time.
The black-and-white clip Peele shared on Twitter features the original Bernard Herrman score used in the 1950s series. The voice of Rod Sterling, The Twilight Zone's creator and narrator, delivers the beginning of the opening monologue with nods to the original script, while Peele's voice echoes in the background before eventually overlapping Sterling's completely.
"You're traveling to another dimension. A dimension not only of sight and sound but of mind. A journey into a wondrous land whose boundaries are that of imagination. That's the signpost up ahead. You're next stop, The Twilight Zone," Peele says in the clip.
The Twilight Zone originally aired on CBS from 1959 to1964. The anthology series was one of the first of its kind and entertained the masses with storylines following science fiction, fantasy and horror. The series rebooted on two separate occasions; once in 1986 on CBS, which ran for 110 episodes, and then on UPN in 2002, featuring Forest Whitaker as the host, for 43 episodes.
The show was transformed into a feature film directed by Steven Spielberg, Joe Dante, John Landis and George Miller in 1983.
CBS has yet to announce a specific airdate for Peele's reboot of The Twilight Zone or release any info the cast, but fans can expect it to arrive sometime in 2019.
Jordan Peele Teases 'Twilight Zone' Reboot, CBS to Launch Creepy Series in 2019 | Culture