Jordan Peterson Dragged for 'Sports Illustrated' Swimsuit Issue Insult
The Sports Illustrated Swimsuit Issue 2022 is out, but author Jordan Peterson is upset at the cover featuring singer and plus-size model Yumi Nu, and is being dragged online for it.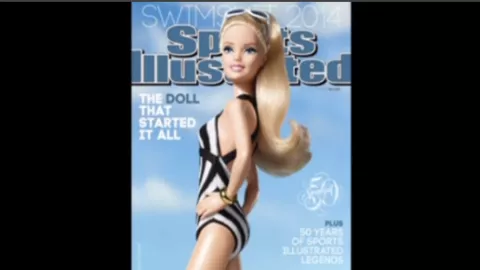 Sharing the tweet of Nu's cover, Peterson wrote, "Sorry. Not beautiful. And no amount of authoritarian tolerance is going to change that."
Peterson's tweet got over 4,000 replies, 11,800 likes and 1,500 quote tweets, a large portion of which was negative.
"Also, 'authoritarian'? Chunky women on magazine covers? You sound like a parody of you," YouTuber Vaush wrote.
"In the dialectic between chaos and order, masculine and feminine, human and lobster... certain archetypes emerge across cultures as recurring narrative tropes. The fall from grace. The cataclysmic flood," @Campster wrote, in a fake quote riffing on Peterson's writing style. "In this case, we see, uh, the nerd criticizing someone out of his league".
"Just what the day needed--a random act of meanness admonishing us to see less beauty in the world than we might have otherwise," @PropheticQuest wrote.
Twitter user @gray_sphere replied with a screenshot of one of Peterson's 2017 tweets, where he wrote, "91% of those who view my videos are male. Why? Why so few women?"
Though many of the tweets came from people who were already critics of Peterson, some of his fans also questioned his original comment.
"Sheesh. @jordanbpeterson [grimacing emoji] Big fan here. I find my girlfriend with a body type like this quite beautiful. Dial it back a bit homie," @staplesx2 wrote.
"I think that's a little harsh to tweet Jordan. You could just leave this alone to the people who do find it beautiful (although I don't agree with the political correctness behind it all ofcourse)," @DeLeeuwIsLosNL wrote.
"I like you JP, but take the L here. She is beautiful," @Lea_Erikson wrote.
"You didn't need to comment this. If people agree with you they won't buy it and supply/demand will fix this really quickly. You're a brilliant man but don't judge people.. if they can't fix something about themselves in 5 secs..dont say anything," @DanielKeough9 wrote.
Peterson did have some defenders, too, like lawyer for then-President Donald Trump, Jenna Ellis.
"The outrage is missing the point: You don't have to agree with the Regime's narrative if you don't actually agree. @jordanbpeterson, like anyone else, can decide for himself that he doesn't think she's beautiful. Stop compelling us to agree with you in the name of 'tolerance,'" Ellis tweeted.
Yumi Nu herself, however, had perhaps the best comment.
"Hoes mad [nail painting emoji] [calm smile emoji]," she wrote in a quote-retweet of Peterson's original tweet.
Nu told the New York Post that though she modeled as a child, she wasn't sure if there was a place for her in the industry.
"I wasn't sure where the [modeling] industry was headed. I think I was a size 10 then, and the only people working were either a size 2 or a size 14. I really had my sights set on music, but then the industry left more room for me to be a part of it. Once the trends of inclusion came upon us, it was easier for me to make a living and a career out of it. It was like, 'Oh, there are so many possibilities, and there are no bounds on what anyone can do now,' " she said.
Speaking specifically about the Sports Illustrated swimsuit issue, she said, "It's amazing. I'm on cloud nine. This is nothing I could prepare for. It's unexpected. I feel like we're in a place right now where people are making space for more diversity on magazine covers. It's a big time for Asian-American people in media. I know I play a big role in representation in body diversity and race diversity, and I love to be a role model and representative of the plus-size Asian community."
Newsweek reached out to Peterson for comment.
{{#isDisplay}} {{/isDisplay}}