Jordyn Woods Doesn't Need Kardashian-Jenner Money, She's 'Out Here Hustling,' Releasing a New Clothing Collection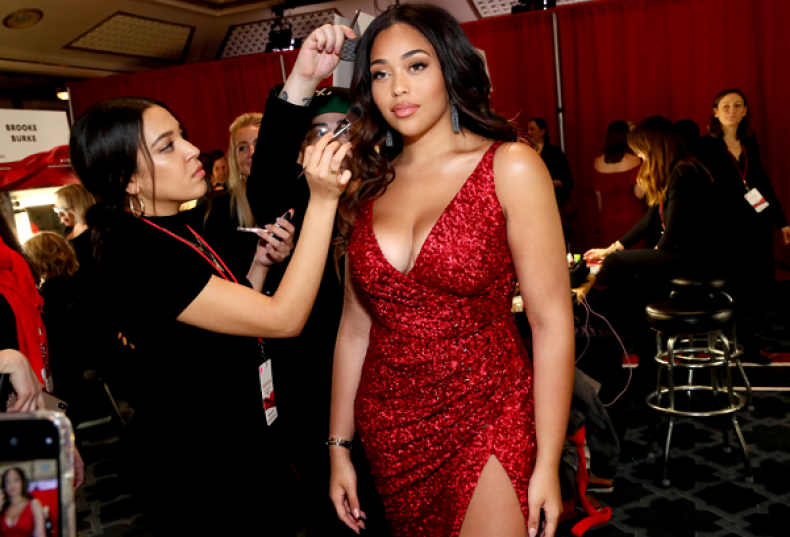 Between social media and Kardashian/Jenner clan commentary, one might think Jordyn Woods was really struggling in the aftermath of her ended-friendship with Kylie Jenner. Spectators made presumptuous claims her celebrity status and wealth would suffer when Woods and longtime best friend Jenner parted ways following Woods' scandalous kissing incident with Tristan Thompson, the father of Khloé Kardashian's daughter, True. Even Kim Kardashian West insinuated Woods relied on projects and modeling gigs the Kardashian/Jenner family provided her with.
Woods' hookup with Thompson and her inevitable fallout with the famous family has been at the center of recent episodes of Keeping Up With the Kardashians. The mother-of-four made a dig at Woods during Sunday's episode while referencing Woods' collaboration with Khloé Kardashian's Good American brand.
"Jordyn was someone Khloé really trusted and believed in and employed," Kardashian West said.
Woods previously served as a model for the denim company in addition to working on several joint projects with Jenner.
Some fans took Kardashian West's comments as an implication Woods needed Jenner and the Kardashian family's money and access to sustain her own family's lifestyle. However, as a young model and the daughter of the late TV producer John Woods, the 21-year-old was equipped to maintain her lifestyle well before she entered the Kardashian/Jenner circle.
"I definitely work very hard for a lot of the things that I have, and as you can see, I'm out here hustling, and I've always been working," Woods told Entertainment Tonight during an interview released Thursday. "I started modeling when I was 18, and you know, I work hard."
If anything, Woods, who has more than 10 million followers on Instagram, has only become more independent and successful by her own merit. In fact, she launched her own clothing collection with Boohoo on Thursday, marking her second collaboration with the retail brand.
The 60-piece collection includes a variety of ready-to-wear goods. Many items immolate looks Woods' fans and followers have seen her wear before. The colorful collection features bodycon dresses, ruched maxi skirts and dresses, blazers, trousers and more, all of which retail between $15 and $16. The body-inclusive line includes sizes ranging from 2-24.
"It's more of a going out collection, something with a lot of personality to where if you maybe aren't feeling like going out, but then you have that bomb outfit, it's going to inspire you," Woods said. "And there's a lot of different selection for all different types of girls and different body types."