Rio 2016: Jorgensen Wins U.S.'s First Women's Triathlon Gold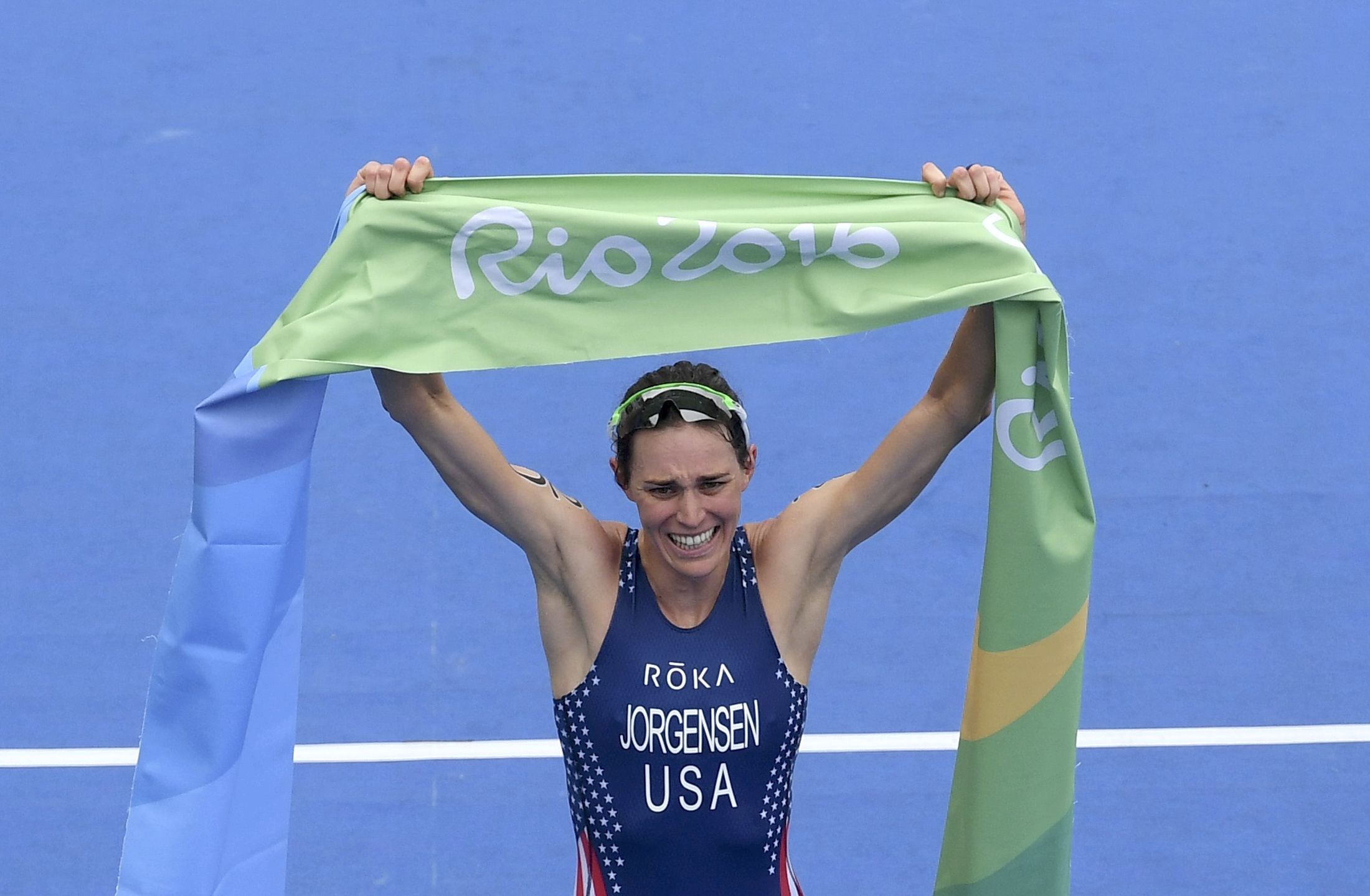 Favorite Gwen Jorgensen produced the perfect race to win the Olympic women's triathlon gold on Saturday, the American unusually staying with her rivals on the bike before surging clear of defending champion Nicola Spirig-Hug on the run.
Jorgensen has dominated the sport over the last two years but usually wins her races by chasing down the stronger bikers during the 10km run.
On Saturday, however, she swam strongly, gave as good as she got on the hilly 40km bike course and broke the challenge of 34-year-old Spirig-Hug on the run to win America's first gold in the sport since it was introduced to the Games in 2000.
Switzerland's Spirig-Hug, who has had a baby since her photo-finish victory in London, held on to take silver and become the first woman to win two Olympic medals in the sport.
Britons Non Stanford and Vicky Holland, who live and train together in Leeds and are great friends, battled it out for bronze, with Holland just taking it.
Jorgensen's win, following Briton Alistair Brownlee's successful defense of the men's title, means the sport's reputation for upset Olympic champions has been firmly put to bed.
It was also a long overdue gold for the country that invented the sport after the United States had previously managed only Susan Williams' bronze in 2004 since it joined the Olympic party in 2000.
"I knew if I kept doing what I've been doing, hopefully it would work out," Jorgensen said.
"I never think you have a perfect race, it was a fun race for sure. I knew they were going to try to break away from me. I didn't want to be in that situation where I had to claw back time."
After a choppy sea swim off Copacabana Beach a group of 18 quickly formed on the bike leg and everyone in the field knew that if Jorgensen remained in that pack going into the run it would be next to impossible to beat her.
However, despite occasional digs by her chief rivals on the main climb on the eight-lap 40km course, the American looked comfortable and, with nobody prepared to push the pace, they all duly rolled into the second transition together.
The defending champion, who has competed sparingly since 2012 and has taken time off to have a baby, was not about to sit back and hand over her title, however, and went clear with Jorgensen from the start.
It was an unfamiliar sight in a major triathlon as Jorgensen is invariably cruising through the field in the early stages of the run and the vastly-experienced Spirig-Hug seemed to be getting under the American's skin as they exchanged words and clashed arms heading into the final lap.
Jorgensen did not seem to be enjoying the head-to-head but removed herself from it with an injection of pace at the 8km mark that immediately took her clear and allowed her to enjoy her run up the finishing chute with a beaming smile.
Four years ago, Spirig-Hug dipped in front of Sweden's Lisa Norden in a photo-finish but this time she was on her own after a performance all the more impressive because she recovered from a broken hand in March that required three plates and 23 screws.
Spirig-Hug revealed what was said as the two leaders jostled on the third lap. "There was a bit of mind games, nobody wanted to lead, so I said, 'Come on, Gwen, I've already got a medal so you have to do some work'.
"In the end she was stronger and faster and deserves gold."
It will be an interesting return home for the Britons after their battle for bronze—the country's third triathlon medal of the Games after the Brownlee brothers' 1-2 in the men's race.
"The first thing I said to her was 'I'm so sorry'," Holland said of her rival."
Stanford was philosophical in defeat. "To come so close and be out-sprinted is bittersweet but when it's your best friend and your housemate I guess that's a victory in itself," she said.
"I'm absolutely delighted for Vicky, but obviously fourth isn't the best place to be in the Olympic Games."