Jose Altuve Drilled by 95 Mph Fastball, Chicago White Sox Fans Cheer Loudly
Chicago White Sox fans made their disdain for the Houston Astros known Tuesday during Game 4 of the two teams' American League Division Series (ALDS) matchup, cheering after an Astros superstar who was hit by a pitch.
The White Sox began the day behind 2-1 in the best-of-5 series, and needing a win at home to survive. Leading 1-0 in the third inning, White Sox ace pitcher Carlos Rodon plunked Astros second baseman Jose Altuve with a heavy fastball registering at 95 mph, striking him in the elbow.
As Altuve shrugged off the beaning and made his way down to first base, the contingent of 40,000 White Sox fans at Guaranteed Rate Field in Chicago could be heard cheering and clapping.
Fans were also heard booing the Astros during numerous other instances throughout the game.
Video footage of the incident can be seen below.
The cheering was considerably louder due to the number of people at the game. While ESPN has Guaranteed Rate Field's average attendance at just over 20,000 for the 2021 season, attendance at the do-or-die playoff game was estimated at closer to 40,000.
Just four batters later, Astros shortstop Carlos Correa smacked a line-drive double into left field, bringing home Altuve and third baseman Alex Bregman. The pair of runs batted in put Houston in front 2-1.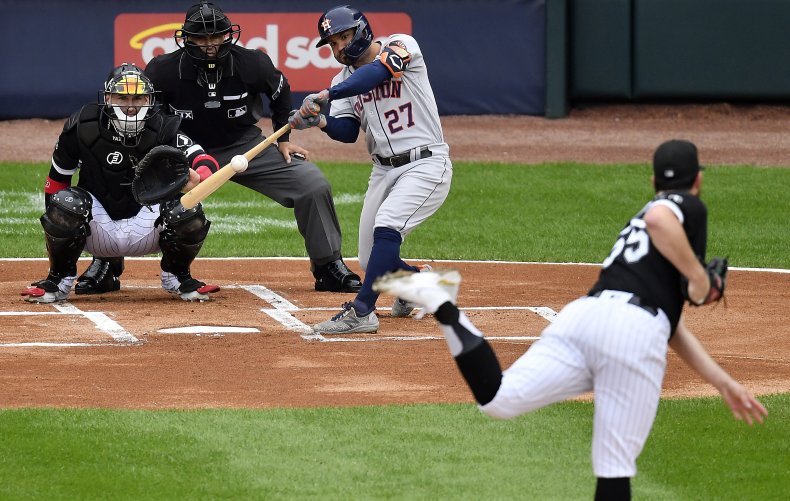 Prior to beaning Altuve, Carlos Rodon had only previously hit one batter in his major league career. It came when he was two outs away from a perfect game, spoiling the pitcher's chance at entering baseball's history book, but alas keeping a no-hitter intact that day.
After the incident, the NBC White Sox Twitter account even mockingly tweeted asking if Altuve was alright.
The Astros have become one of the most derided Major League Baseball (MLB) clubs in recent years due to a cheating scandal during the 2017 World Series and 2018 regular season that caused numerous team officials to lose their jobs.
An expose in The Athletic during 2019 detailed how the Astros used hidden cameras and audio cues to signal to their batter what type of pitch was coming. After an investigation, both the team's manager and general manager were suspended from baseball and later fired.
While no cheating beyond the 2018 season has been officially reported, fans across MLB have chastised and often booed the Astros when they play in visiting ballparks.
Houston has also become the target of not only fans, but sometimes the players themselves. Astros batters were hit by pitches numerous times during the 2020 regular season, as can be seen in the video below. Those games were played before zero fans because of COVID protocols in 2020.
Despite this, though, the Astros were up big in the game, the Astros eventually crushed the White Sox, 10-1. Altuve himself launched a three-run home run to put the contest out of reach.
Houston moves onward to the American League Championship Series, where they will face the Boston Red Sox, which eliminated 2020 AL champ Tampa Bay on Monday night.
Newsweek reached out to the White Sox's public relations department for comment.