Jose Altuve Launches Home Run, Doesn't Have to Run the Bases For it To Count
Houston Astros second baseman Jose Altuve had one of the shorter home run trots in baseball history Friday night. He only made it to second before the umpires didn't make him finish the round tripper.
This comes just three days after Ke'Bryan Hayes of the Pittsburgh Pirates rounded the bases but was called out for not touching first base.
Friday night against the Minnesota Twins at Target Field in Minneapolis, and the Astros trailing 3-1 with one out in the top of the fifth, Altuve swung at the first pitch he saw. He drove a line drive down the left field line. The ball ricocheted off the yellow "foul pole" in left field and bounced back to the field. Altuve was sprinting around second base when the umpires called "foul ball."
Time out was called so officials could review the play, which was overturned. The umpires called it a home run, and then told Altuve, the 2017 American League MVP, he didn't need to finish his home run trot, meaning he didn't need to either retrace his steps or completely run the bases again. He didn't touch third base or home plate. He was given the option to run it out or just walk back to the dugout.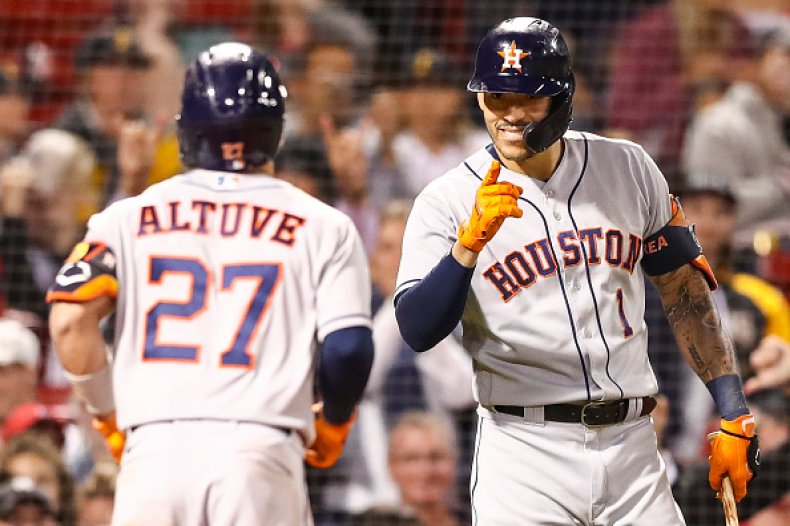 Here's a clip from Fox 26 in Houston.
Altuve's 358-foot solo homer, his 12th of the season, brought the Astros to within a run of the Twins. Houston tied the game at 3-3 in the top of the sixth when Yuli Gurriel crushed a 393-foot home run to left-center field.
The Astros took a 4-3 lead in the seventh inning when Alex Bregman grounded out to shortstop, scoring Altuve. The Astros scored a pair of runs in the top of the ninth after allowing one run in the eighth, and Houston won the game, 6-4.
Game two of the weekend series will be at 7:15 p.m. ET in Minneapolis on Saturday, and will be broadcast on the FOX network. The series finale is scheduled for Sunday at 2:10 p.m.
The Houston Astros are 35-27 on the season, one game behind the Oakland Athletics for the American League West lead. The Minnesota Twins are 25-37 and 13 games behind the Chicago White Sox, who lead the AL's Central Division.
Tuesday night against the Los Angeles Dodgers at PNC park in Pittsburgh, Bryant sent a 97 mph fastball over the right-field wall. While rounding first base, Bryant failed to touch the bag.
After a review of the play, Bryant was eventually called out for not touching the bag, and his at-bat officially was recorded as a fly out.