Jose Fernandez's Final Boat Ride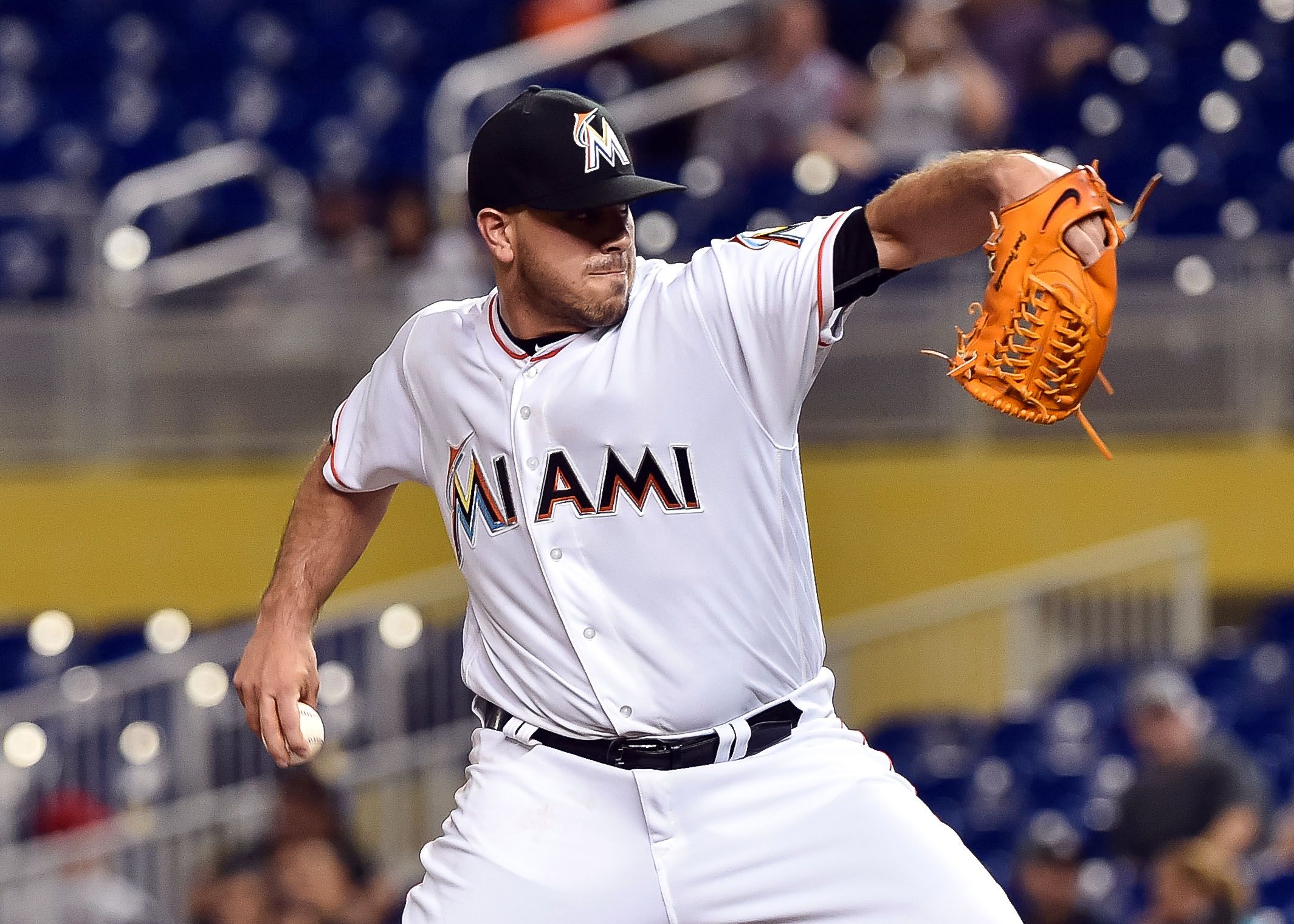 A 32-foot boat turned upside down and the lives of three young men lost. That is the scene Coast Guard personnel happened upon at 3:15 a.m. last Sunday on the outer lip of the north jetty of Government Cut, the man-made channel that leads from the Atlantic Ocean into Biscayne Bay of Miami.
The SeaVee 320, a center-console craft that travels at top speeds of more than 50 miles per hour, struck the rocks in a catastrophic force. A huge gash was ripped into the port side of the hull near the bow. A vessel that weighs more than 3.5 tons struck the jetty, became airborne and landed upside down.
The victims were the craft's owner, Miami Marlins pitcher José Fernandez, 24; a friend, Eduardo Rivero, 25; and Emilio Macias, 27, a friend of Rivero's who had met Fernandez only a couple of hours earlier. None of them were wearing life vests. One of the three victims, either Rivero or Macias, had been tossed clear past the jetty and into Government Cut. The other two were found beneath the boat. First responders were unable to positively identify Fernandez, according to a source, because "his face was mush." A Marlins identification card found in one of his pockets was what allowed authorities to later identify the 2013 National League Rookie of the Year.
On the boat's stern was its name: Kaught Looking, a reference to the manner in which Fernandez, who was second in the National League in strikeouts (253) at the time of his death, disposed of hitters. The K was etched backward, denoting that manner of strikeout in which the hitter watches a third strike go by.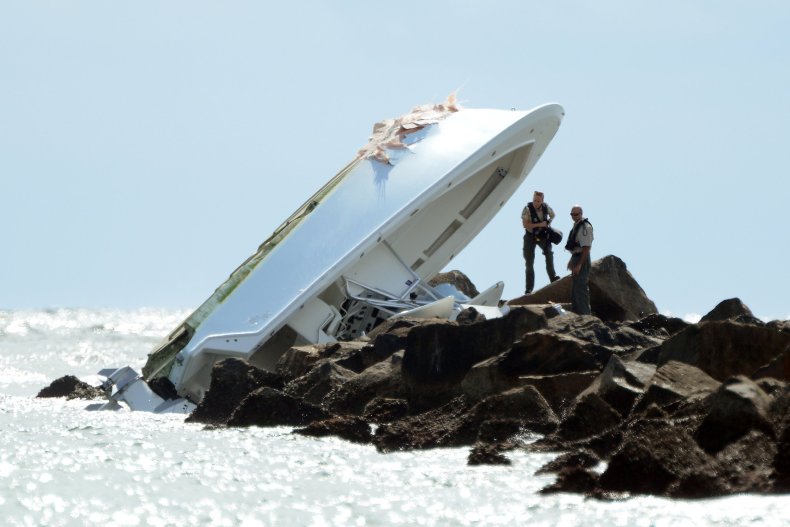 In South Florida, Fernandez was more than a sports phenomenon. He was a cultural icon. In a city where 54 percent of the population is Cuban, Fernandez was that community's pride and joy. A young man who had tried and failed to defect from Cuba three times before finally succeeding at age 15, Fernandez embodied the American dream. At age 24, he was already a millionaire, earning $2.1 million this season from the Marlins.
That was a discard-bin price for one of baseball's most dominant hurlers. In his final two home starts, against the first-place Los Angeles Dodgers and Washington Nationals, Fernandez threw 15 shutout innings and struck out 26. His rookie contract was to expire after next season, after which he'd have been looking at an annual salary of at least $25 million.
And while the open market would dictate the price, why would Fernandez have left Miami? There are few cities in America that offer more benefits to a person of youth, looks, wealth and celebrity. For a bilingual Cuban-American blessed with those traits, no other metropolis compares.
The Marlins attracted 27.6 percent more fans at Marlins Park, nearly 6,000 more per game, when he took the mound, according to ESPN.com. For a city that had witnessed the exoduses of both LeBron James and Dwyane Wade from the Miami Heat in the past two years, Fernandez had become the area's most dynamic athletic figure. In nearly four Major League seasons, the 6-foot-3 right-hander compiled a home record of 29-2, with a 1.49 ERA; pitching on the road, he was a subpar 9-15 with an ERA north of 4.00.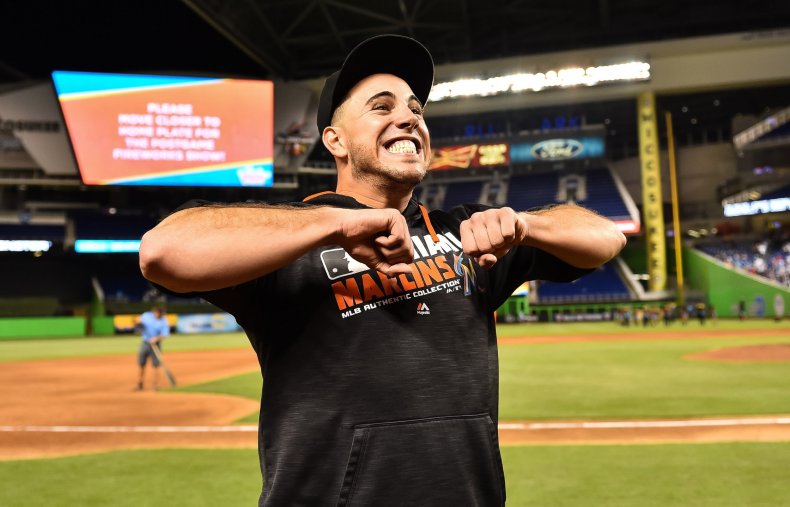 Fernandez was passionate. Confident. Ebullient. Charismatic. He jumped directly from A-ball to the big leagues in just one year, becoming a starter at the age of 20. The only player younger than he in the National League at the time was Nationals phenom Bryce Harper. In his first season with the Marlins, Fernandez met Carla Mendoza, a cheerleader for the team. The two began dating even though the Marlins expressly prohibited players dating the team's cheerleaders. Mendoza, a nursing student, was eventually fired. The pair continued to date for three years.
The relationship ended last April, and soon after, Fernandez met Maria Arias. Last spring, two major events unrelated to baseball took place in the life of Fernandez. First, Arias became pregnant. Second, Fernandez became the registered owner of Kaught Looking.
For this native of Santa Clara, Cuba, the open water has always represented freedom. Escape. Three times, Fernandez tried to flee from Cuba on a boat or raft. Each time, while heading north toward Florida, his party was intercepted by the United States Coast Guard. Three times, Fernandez was imprisoned back in Cuba for a short amount of time. The fourth time he tried, Fernandez and his party decided to head south, toward Cancun. The journey was harrowing. His mother was swept overboard. Fernandez jumped into the Gulf of Mexico and saved her life. Eventually, they made landfall in Mexico. Later that year, they moved to Tampa.
Fernandez pitched on Tuesday, September 20, hurling eight shutout innings and picking up the win in a 1-0 defeat of the Nationals. He told teammates he considered it the greatest start of his career. Earlier that day, he had posted a photo of a conspicuously pregnant Arias, on the beach in a bikini, on his Instagram account. Below the black-and-white photo, Fernandez added, "I'm so glad you came into my life. I'm ready for where this journey is gonna take us together. #familyfirst."
Four nights later, something was addling Fernandez. The Marlins were hosting the Atlanta Braves on Saturday night. Fernandez's spot in the rotation would not come up until Monday. He planned to take Kaught Looking out after the game to clear his mind.
Fernandez invited perhaps his closest friend on the Marlins, outfielder Marcell Ozuna, to join him. "I told him, 'Don't go out,'" Ozuna told the Miami Herald. "Everybody knew he was crazy about that boat and loved being out on the water. I told him I couldn't go out that night because I had the kids and my wife waiting for me."
Fernandez turned to Rivero, a friend he had met through their mutual girlfriends. Rivero, 25, agreed to accompany Fernandez, with reservations. Rivero informed a friend, Will Bernal, about the outing. Bernal pleaded with Rivero not to go. "I told him it was a horrible idea," Bernal told Jeff Passan of Yahoo Sports. "Do everything you can to get him off the boat. Do whatever you can to get him on land."
Bernal (who declined Newsweek's interview request) appeared to be familiar enough with Fernandez and his mental state to appreciate the potential for disaster this midnight outing held. "Both of you guys have a bright future," Bernal told Rivero. "Whatever he's stressed out about today, he won't remember a week from now."
It would be one thing, following such a tragedy, for someone close to claim that they harbored a premonition. Or that they'd had a bad feeling about the voyage. Bernal overtly attempted to prevent the excursion and, after that failed, he texted Rivero, imploring him to take certain safety measures.
Bernal: "Try to keep [Fernandez] close to shore if you go out."
Rivero: "Trust me, it's not my time yet."
Bernal: "I know, but try to keep Jose cool, tell him what I said."
Rivero: "I know."
Bernal: "Turn in [sic] your find iPhone app.
Rivero: "It's on."
Fernandez and Rivero met at the Cocoplum Yacht Club, where Kaught Looking was moored, about 8 miles south of downtown Miami, shortly after midnight. They sailed north in Biscayne Bay, making a left when the vessel reached the Miami River. At approximately 1 a.m., they docked at American Social Bar & Restaurant.
There they were joined by Macias, a friend of Rivero. The two were close high school buddies who had both graduated from Florida International University in Miami and majored in psychology. Rivero, known as "Eddy Green Eyes," worked in sales for Carnival Cruise Line; Macias, the son of a Miami-Dade police detective, worked at a Wells Fargo bank.
"Jose Fernandez was a guest at American Social," the nightspot confirmed in a written statement. It declined to state whether Fernandez or his two companions had been drinking. Fernandez was photographed wearing a T-shirt that had the words "J's Crew" on it, after a local saltwater fishing club with whose members he frequently hung out on the water.
Around 2 a.m., according to witnesses, Kaught Looking set off from American Social, heading east along the Miami River. From there, it headed into Biscayne Bay, then through Government Cut, the commercial shipping channel opened in 1905, and out into the Atlantic. The famed South Beach lies directly north of Government Cut and Fisher's Island, a privately owned island that was part of Miami Beach before the dredging to create Government Cut was undertaken, is directly south. Jetties, parallel to one another, extend eastward for a thousand feet or so from those respective spots.
Last year, there were 737 boating accidents in Florida, resulting in 55 deaths. No state had more accidents or fatalities. Florida does not require operators of boats to have a license, though it does require anyone born after January 1, 1988, to have passed a boating education course. As of Thursday, the Florida Fish and Wildlife Conservation Commission, which is overseeing the investigation of the crash, had not confirmed whether Fernandez passed such a course. The boat was registered to him.
In the final minute of their lives, Fernandez, Rivero and Macias were cruising south in the Atlantic, less than a mile offshore. The neon lights and wee-hour revelry of Ocean Drive were off to their right. The clubs still pulsating, the liquor still flowing. Everything seemed possible.
It will never be known whether Fernandez's two companions were experiencing a sense of exhilaration. Or trepidation. Somewhere in the distance, music swelled. The jetty was just ahead.
Jose Fernandez's Final Boat Ride | Sports