Manchester Derby: The Key Areas to Watch as Jose Mourinho and Pep Guardiola Meet Again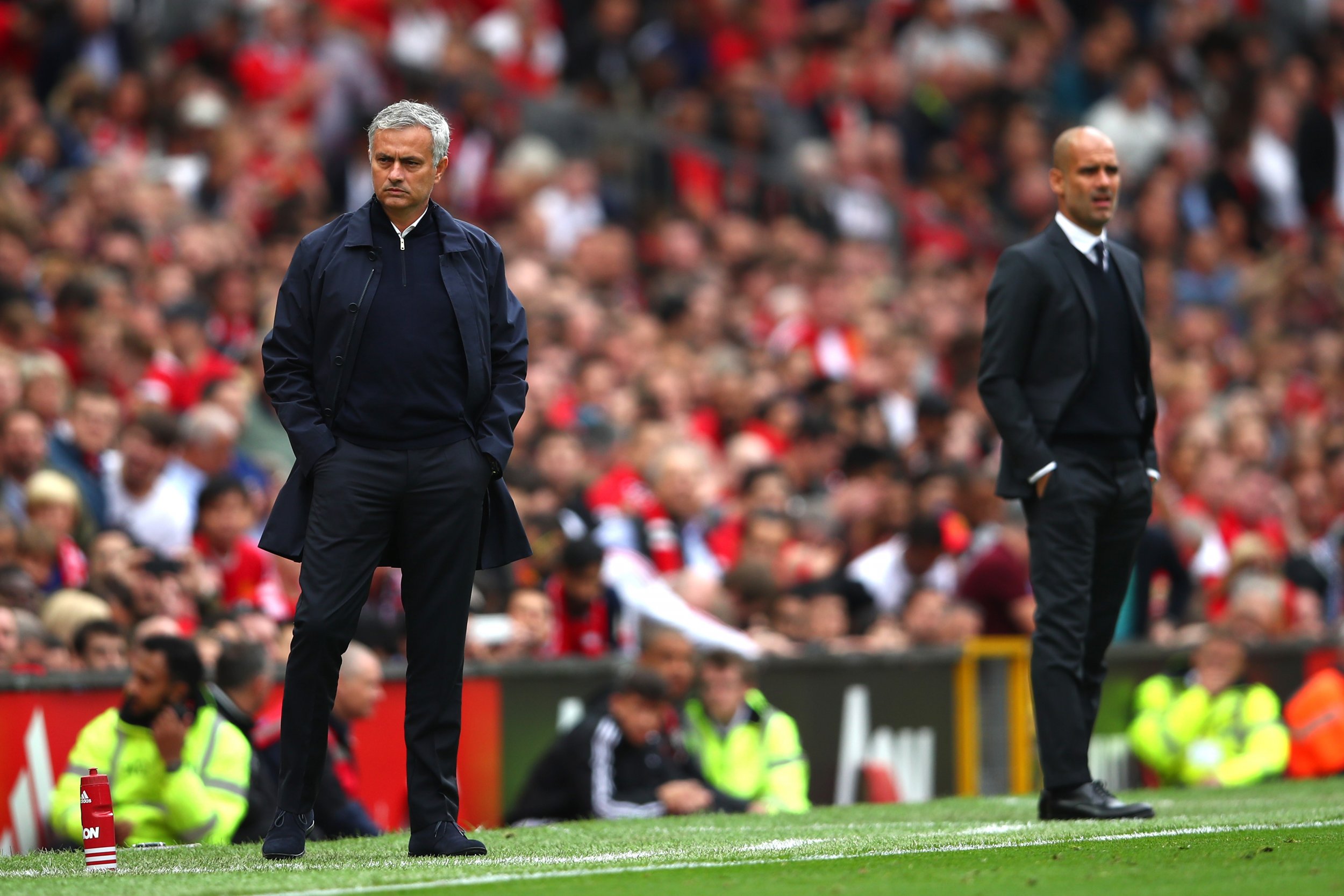 Manchesters United and City meet at Old Trafford on Wednesday evening in almost equally poor form.
While Jose Mourinho suffered the embarrassment of a 4-0 defeat on his return to Stamford Bridge on Sunday, Pep Guardiola's team hardly impressed itself in scraping a draw with Southampton at Etihad Stadium.
City taught United a lesson in ball possession at Old Trafford in September, but with his reputation on the line Mourinho expect his side to limit their cross-city neighbors far better than on that occasion.
Ahead of the second Manchester derby of the season, Newsweek analyzes the key factors.
John Stones and the assumption of risk
Everything, or most of it, about Pep Guardiola suggests order and control, from the immaculate dress sense to the minutely fashioned style of football he is attempting to put in place, now, at Manchester City.
Guardiola's obsession with ball possession can be thought of as a kind of attractive conservatism—eliminating risk by holding tight to football's most valuable object.
And yet in defense, Guardiola turns from conservative into high roller, encouraging, nay demanding, that his goalkeeper and defenders pass the ball out of danger at all times.
His purist's philosophy is why he paid a British transfer record fee, for a defender, for John Stones in the summer, and jettisoned England goalkeeper Joe Hart for Claudio Bravo.
Stones has made high-profile errors, though, in trying to implement Guardiola's exacting style in the Champions League against Barcelona and then on Sunday against Southampton in the 1-1 draw. Bravo endured a horrible debut mistake against United in September, dropping the ball for Zlatan Ibrahimovic's equalizer, and made a worse one against Barcelona for which he was sent off.
Of course, Guardiola's tactics proved immensely successful at Barcelona and then Bayern Munich—it's hard to remember Gerard Pique making too many glaring errors, so perhaps the onus is on Stones to cut out the blind passes. But the real fascination lies in seeing whether Guardiola is prepared to sacrifice some of his principles, should the errors keep piling up. Look for United's forward line, misfiring though it is, to put pressure on Stones and Bravo at every opportunity in the hope of more howlers.
Mourinho's search for identity
There is a good reason why City's "crisis" feels less serious than United's and is being treated as such, even though United has more recent wins.
City's style of play has been marked out clearly from day zero under Guardiola; it worked in the first few weeks of the season and there is no reason to believe it will not roar back into life again. United, on the other hand, appears to be suffering a double hangover from the failed reigns of David Moyes and Louis Van Gaal.
Successful teams are immediately identifiable as strong in one or more areas. But what is United's impregnable feature? The first team is packed with tall, powerful players, and yet from set pieces both defensive and attacking it plays soft. Ball possession is not a strength, despite one of the world's great midfielders in Paul Pogba. It has looked vulnerable defensively, particularly in the 4-0 shellacking by Chelsea on Sunday. Up front, it has appeared static and slow.
United is not a bad team right now but it is a long way from a good one, which is not Mourinho's fault, necessarily. Three years of upheaval takes more than a few months to put right. What will show that it is at least on the right path, though, is establishing a coherent pattern of play. That will, in the end, lead to consistent creation of chances, and the victories its supporters crave.
Team selection
"It is the League Cup and, honestly, in the four competitions we are involved in that is the least important one," Mourinho said before the defeat to Chelsea, doing a poor job of salesman for English football's second most prominent knockout competition.
Of course, viewed from one direction Mourinho is right. The UEFA Europa League is often treated as a pinata in a similar manner to the League Cup, but its European stage and the possibility of wading through it to gain entry into the Champions League sweeten the deal. The Premier League needs little introduction for a club the size of United, while the old romantic inside Mourinho would love another FA Cup.
Viewed from another, Mourinho is under pressure, his team is in poor form and has already lost one Manchester derby this season. From this angle, this isn't really about the League Cup; more about righting United's swaying ship, and bringing misfiring players back into some kind of form.
It is likely that Mourinho and Guardiola will both make changes from their Premier League selections—under Manuel Pellegrini, City followed the Arsenal pattern of trying out their talented academy graduates in the crucible of a major competition—but if they were kidology, Mourinho's words should not fool anyone. This game has a deep significance to the early part of his United tenure, and it will be intriguing as to whether that is reflected in the players he selects.
Personality clash
The first meeting between the two old rivals passed off without many hitches—certainly no "puto jefe" insults to be seen turning the air blue—but then, that was an early-season skirmish.
Mourinho is well versed in using conflict to deflect attention from his struggling players, though his gripes against Chelsea manager Antonio Conte on Sunday for perceived over-celebration had the uncomfortable ring of victimhood to them.
Guardiola is not the kind of man to perform a touchline dance, and thus rile Mourinho further. But if ever the two were to renew hostilities again on the level of their conflicts in Spain, this game might have the right atmosphere for it.