Joseph Gordon-Levitt on the True Story Behind Apple TV's 'Mr. Corman'
Mr. Corman marks Emmy-winning actor, singer, and filmmaker Joseph Gordon-Levitt's return to TV after six years. Mr. Corman, which he created, wrote, directed, and executively produced, follows the story of Josh Corman, a 30-something aspiring musician turned grade five teacher who is on the verge of breaking point.
Josh spends the majority of the time wallowing in his own self-pity, worrying about whether he's done enough, achieved enough, seen enough and loved enough, when in reality he has never been present enough to enjoy anything life throws at him.
When we meet Josh, he is living with his best friend Victor (Arturo Castro), still powering through the breakdown of his relationship with ex-fiancée Megan (Juno Temple), dealing with a sense of loneliness and failure alongside just general unhappiness.
By episode two, Josh has begun to experience a panic attack, causing his flatmate Victor to impersonate a weighted blanket. In the end, Josh attends a donate-what-you-can breathing class, which helps calm him down (to an extent) and allows him to realize he isn't the only one to feel that way.
Speaking to Newsweek, Joseph Gordon-Levitt described Josh as somebody who has "a lot to be grateful for."
"He does his best to be grateful and be happy", said Gordon-Levitt. "But let's face it, not everyone can be happy all the time and that can be sad but it could also be funny. Sometimes, if you have a certain kind of sense of humor, which I do."
Gordon-Levitt described his latest project as "not exactly a work of escapism," warning the series is pretty close to real life.
He explained: "I find the most funny and the most cathartic stuff comes when I see real life and our show is very much trying to be that way. Now, there are fantastical elements that don't look anything like real life and those are designed more to not be objective portrayals of real life but more subjective portrayals of how life feels."
To tell the story of Josh, Gordon-Levitt drew on real moments from his own life, as well as close friends of his.
He explained: "It's based on many true stories. The origin of where I came up with this character was starting with myself and then changing a few big things."
Many things about Josh are different from Gordon-Levitt. For example, he was lucky to have "two wonderful, positive parents," whereas Josh only has one great parent in his life, his mother Ruth (Debra Winger), who Gordon-Levitt describes as "an amalgamation of both of my parents." Josh also has a "problematic" father Artie (Hugo Weaving), who is a mix of parents from the people he is close with.
Gordon-Levitt is married to "the love of his life" Tasha McCauley, but sadly for Josh, he hasn't met the one. "He had, but then it fell apart", reflects Gordon-Levitt "but kind of changing some things like that is where I got to this character, starting with me and then changing some things and seeing how that cascades."
Josh's best friend Victor in Mr. Corman is loosely based on Gordon-Levitt's best friend Hector, who he went to high school with. Just like Victor, the real Hector works for UPS. "A sweetheart that you can't help but love" gushes Gordon-Levitt. Although, he is quick to point out some differences between the pair so the similarities are not too obvious. For example, in Mr. Corman Victor is divorced and has a daughter whereas the real-life Hector is not divorced and does not have a daughter.
Mr. Corman addresses the issue of mental health pretty full-on, with Josh having an anxiety attack in the second episode. As the series continues, other characters are introduced as having poor mental health, from depression all the way to just feeling lonely.
To portray mental health struggles, Gordon-Levitt did not have to look too far away from his own experience, having felt a similar way to Josh in the past.
Gordon-Levitt said: "I've experienced some feelings sort of similar to what the character does, not exactly and then I have various close people to me that that have experienced feelings like the character does. Also, some of the writers that I worked with have experienced those feelings and Aurora Guerrero, who directed the second episode where those feelings are the most acute, she's had her own personal experiences with those feelings."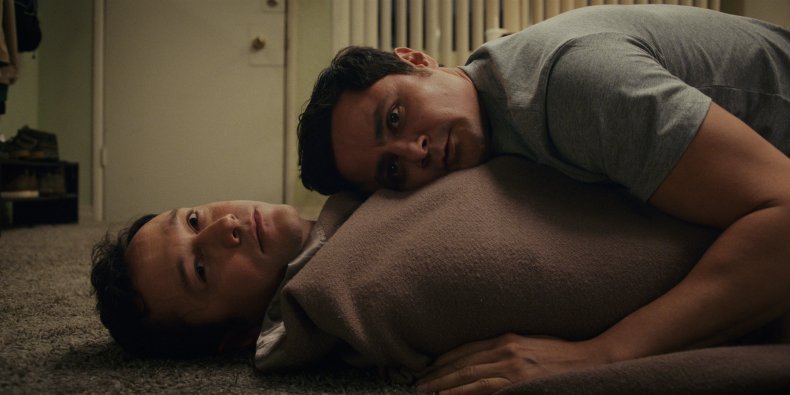 He continued: "It seems like almost everybody you talk to either has first-hand or second-hand experiences with these feelings of anxiety and so we drew from all those perspectives of our collaborators and then we also consulted with scientists wanting to make sure we were doing right by, the scientific consensus of it.
"To me, making things, being creative has always been a way to deal with whatever demons are talking in my ear at that time. If I'm not having a good day, one of my best ways that I can solve it is just sit down and write or play some music, not even necessarily write something that anyone else will read or play the music that anyone else will hear but just for the sake of doing it and that's a lot of what you ultimately see and in this show and part of me making the show was kind of working through that myself and then the character Josh is also kind of working through it himself."
As the episodes roll on, Josh starts to come to terms with the fact there may be no such thing as a perfect life and maybe if he just relaxed and lived in the moment, he may get his happy ending after all.
If the character of Josh Corman sounds all too familiar to you, it's probably because you know somebody just like him.
Mr. Corman episodes 1 and 2 are streaming on Apple TV+ now with episodes dropping every Friday.