Is the Golden State Killer Joseph James DeAngelo Alive Today?
I'll Be Gone in the Dark premiered on HBO Max in June 2020 and followed the work of Michelle McNamara and her book of the same name. I'll Be Gone in the Dark addressed her obsession with finding the Golden State Killer, an American serial killer, rapist, and burglar who committed at least 13 murders, 50 rapes and 120 burglaries across California between 1973 and 1986.
Almost one year after the six-part series originally aired, I'll Be Gone In The Dark has released a special bonus episode entitled "Show Us Your Face," which is available to stream on HBO Max now.
The I'll Be Gone in the Dark bonus episode shows the sentencing of The Golden State Killer—real name Joseph James DeAngelo—in August 2020.
The episode also traces the cold case of Kathleen Lombardo, which McNamara was working on before her death in April 2016 from an accidental overdose.
McNamara recalled in several of her blogs and true-crime posts she became hooked on true crime when 24-year-old Kathleen was sexually assaulted and murdered in her hometown of Oak Park, Chicago, in August 1984.
Speaking exclusively to Newsweek, I'll Be Gone in the Dark Special Episode director, Elizabeth Wolff explained her intentions behind the seventh installment of the series.
She said: "We had a real desire to explore this idea of 'closure' or 'resolution' that some of our survivors were experiencing and also be able to show that they got to have the last word in the case and at the same time we had this story of Michelle's, the case of Kathy Lombardo that got her first interested in unsolved crimes and it was something we researched and filmed interviews for the series but it was too complicated of a case to weave it into the first six episodes.
"So when we had this opportunity to do this special episode we saw an opportunity to bookend the Joseph DeAngelo and this other case that was important to Michelle."
Is Joseph James DeAngelo still alive today?
Joseph James DeAngelo is still alive today. As of February, DeAngelo was in protective custody at the California State Prison.
DeAngelo,72, was arrested on April 24, 2018, and charged with eight counts of first-degree murder.
Due to California's statute of limitations on pre-2017 rape cases, DeAngelo was not charged with the rapes he committed during the 1970s, but charged with 13 related kidnapping and abduction attempts.
He pleaded guilty and was sentenced to 12 consecutive life sentences without the possibility of parole on August 21, 2020.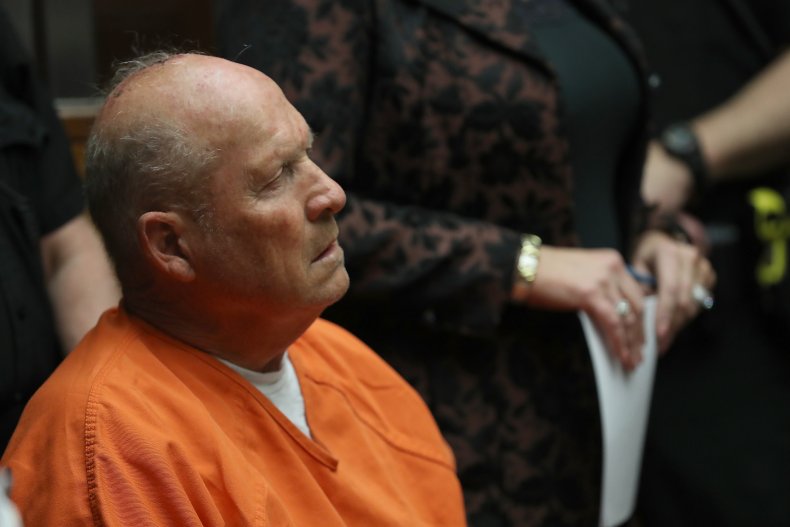 As part of a plea deal, DeAngelo did not receive the death penalty.
At his sentencing hearing, DeAngelo offered a short apology after listening to days of pre-sentencing victim impact statements.
He said: "I've listened to all your statements. Each one of them, and I'm truly sorry to everyone I have hurt. Thank you, your honor."
Speaking exclusively to Newsweek about DeAngelo's apology to his victims at his sentencing, Wolff described it as a "narcissistic urge."
She said: "We talked a lot about his apology and we analyzed it and I don't think him speaking gave anyone closure.
"I think that him speaking was just another example of this narcissistic urge to own the narrative and be in charge. He was weak and feeble during the whole sentencing period and when it was time for him to talk, he stood up like the strong man had seen in the prison videos.
"It kind of got under my skin to hear him apologize and to fake or put on the mask of remorse."
I'll Be Gone in the Dark is streaming on HBO Max now.