Josh Allen NFL Draft 2018: QB's Racially Insensitive Tweets Unearthed
Ahead of the NFL draft Thursday, top quarterback prospect Josh Allen had a number of racially insensitive tweets unearthed.
Allen, 21, who played for the University of Wyoming is projected to go in the top five picks, and is considered one of the best quarterbacks in the draft. The tweets, first discovered by Yahoo, are now deleted but included the n-word. The tweets were sent in 2012 and 2013 while he was still in high school.
"Why are you so white ? — If it ain't white, it ain't right!" reads one tweet.
ESPN personality Stephen A. Smith said on-air Thursday that the young quarterback called him and apologized for the tweets.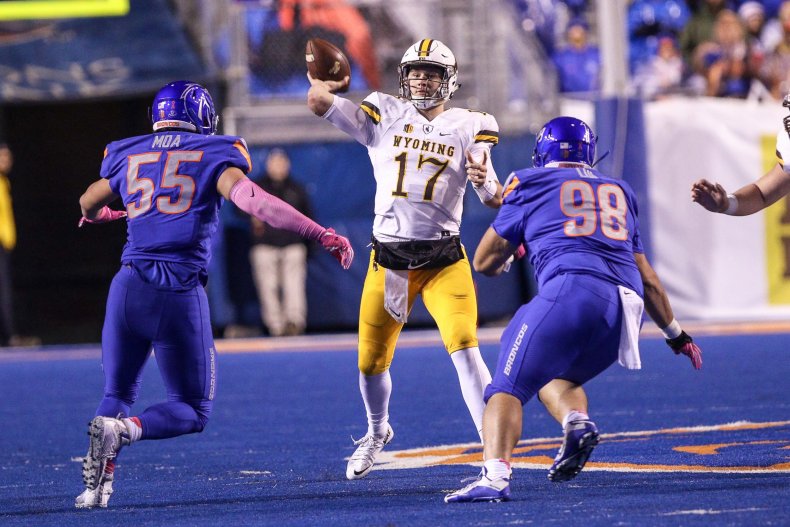 "He wanted to talk to me about it, he wanted to explain. He was tremendously contrite, He's apologetic," said Smith on ESPN's First Take. "He recognizes that it was irresponsible for him to do the things that he did. He attributed it obviously largely to youth. Him and his friends playing around, saying stuff like this. The quote that he got, one of them, he said was from the show Modern Family: 'If it ain't white, it ain't right.'"
Allen grew up in California before attending Reedley College then moving on to a career at Wyoming. He ended his career there with 44 passing touchdown and 12 rushing touchdowns. He threw for 5,066 yards in three seasons.
The first round of the NFL draft starts Thursday night. The Cleveland Browns choose first and have quarterback as a need. The Browns are followed by the New York Giants then the New York Jets who also are projected to take quarterbacks.