On an emotional night in which Jets quarterback Aaron Rodgers went down with a season-ending Achilles tendon injury, the Buffalo Bills needed franchise quarterback Josh Allen to be a steady force.
Instead, Allen threw three interceptions and lost a fourth-quarter fumble, keeping the Jets in the game despite backup quarterback Zach Wilson struggling to move the ball against the Bills' defense. The Bills ultimately lost in overtime, 22-16, on Monday Night Football.
Allen's 84 turnovers since he was drafted by the Bills in 2018 lead the NFL. At the same time, the Bills are 52-25 in the regular season over that time period with four playoff wins.
His turnovers are a valid cause for fans' consternation, while his dynamic throws and running ability keep opposing defensive coordinators awake at night. Allen's ride comes with lows, but his regular-season winning percentage shows that the highs are worth Bills fans suffering through some mind-blowing bad throws.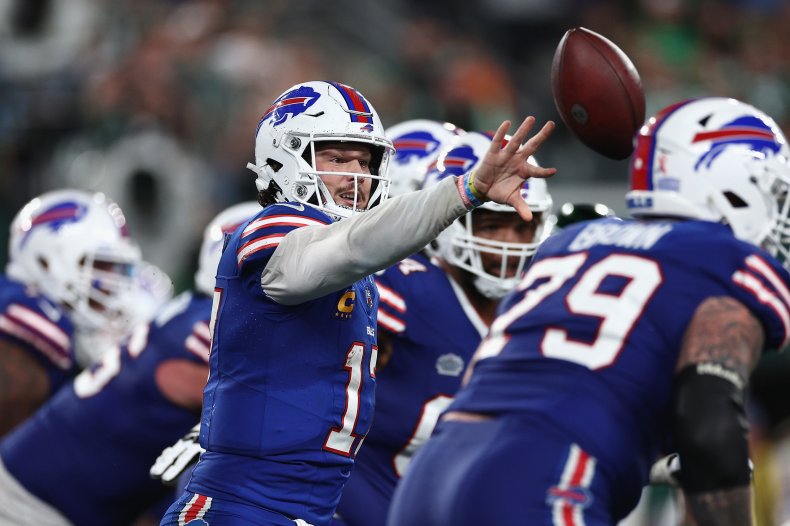 To his credit, Allen owned his struggles without finger-pointing after the game.
"Trying to force the ball," Allen told reporters after the loss. "Same s***, same place, different day. I hurt our team tonight. It feels eerily similar to last year. I hate that it's something I do."
Last season, the Bills went 13-3 in the regular season behind Allen's 35 touchdown passes, but the 14 interceptions were a harbinger that manifested in another earlier-than-expected playoff exit.
Allen told reporters during the preseason that he'd force fewer passes into tight windows.
"Mindset-wise, just trust in what I see, sticking with it and not trying to force anything," Allen said. "It's a good defense we're playing, but we can't play two guys. You can't play them and us. I played us tonight."
As awful as the turnovers were, Allen completed 70.7 percent of his pass attempts at 29-of-41 for 236 yards. Despite the miscues, he also led a drive with less than two minutes on the clock, resulting in a game-tying field goal.
"Our guys played so hard," Allen said. "Defense gave us chances. They played a heck of a game. It sucks when you feel like you're the reason, and I am the reason why we lost tonight."
There's a lot of talent on the Bills roster, including wide receiver Stefon Diggs, who had 10 catches for 102 yards and a touchdown Monday. It's possible that getting a bad game out of the way early could benefit the squad later in the season if Allen adapts. The beauty of football is that Sunday brings Allen an opportunity to quickly change the narrative when the Bills host the Las Vegas Raiders.
"Yeah, it's not like I'm going out there and trying to throw interceptions. I guess we'll find out on tape, try to correct it and got to correct it fast," Allen said. "We've got a short week and can't let this game turn into two."
Uncommon Knowledge
Newsweek is committed to challenging conventional wisdom and finding connections in the search for common ground.
Newsweek is committed to challenging conventional wisdom and finding connections in the search for common ground.
About the writer
Nubyjas Wilborn is Newsweek reporter based in Auburn, Alabama. Wilborn joined Newsweek in 2023 after winning the 2022 National Sports Media Association Award in Alabama for his coverage of the Auburn athletic department. He is a graduate of Clark Atlanta University. You can get in touch with Nubyjas Wilborn by emailing at n.wilborn@newsweek.com.
Languages: English