Josh Duggar, Family Values Crusader and TV Star, Faces Child Pornography Charge
Josh Duggar from the reality television show 19 Kids and Counting is facing charges of receipt and possession of child pornography. On Friday, appearing before a judge at the Western District of Arkansas Federal Court via Zoom, Duggar pleaded not guilty to both charges.
A federal indictment obtained by 40/29 News alleges that the 33-year-old knowingly received and possessed child pornography in May 2019. The material reportedly included images of minors under the age of 12.
If convicted, Duggar faces up to 20 years of imprisonment and fines of up to $250,000 on each count.
Josh, the oldest of Jim Bob and Michelle Duggar's 19 children, previously served as the executive director of Family Research Council, a pro-life and pro-marriage lobbying organization, before sexual misconduct allegations were reported against the TV star.
The reality series 19 Kids and Counting followed the large conservative Christian family as they navigated family life and their religious beliefs. It was canceled in 2015, after Duggar reportedly molested five underage girls when he was a teenager—four of whom were his younger sisters.
In 2015, during their first interview since the molestation allegations emerged, Jim Bob and Michelle admitted to Fox News' Megyn Kelly that four of the five girls were their daughters. The parents said they excused their son's behavior and praised him for admitting to them that he inappropriately touched his sisters.
"He was still a kid. He was still a juvenile. He wasn't an adult," Jim Bob said at the time. "This was not rape or anything like that. This was touching someone over their clothes."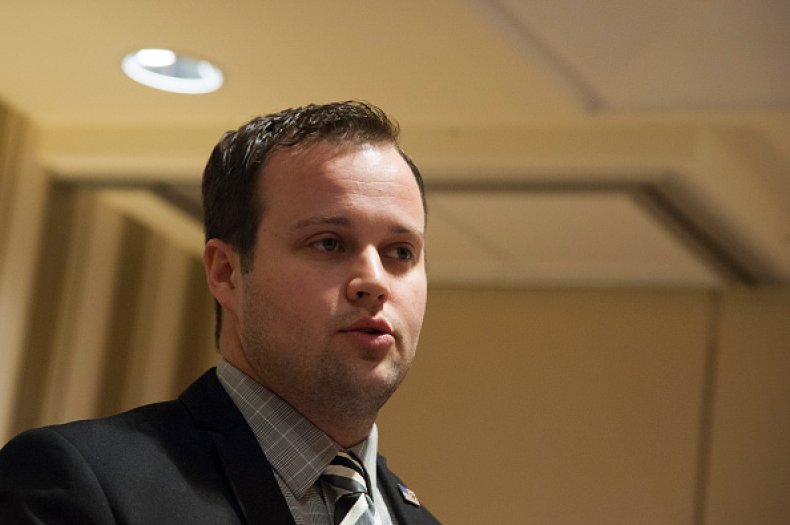 Arkansas Judge Erin Wiedemann set a bond hearing for next week.
"Given the nature of the charges against him, the court would likely require a third-party custodian that could live with him and would ensure compliance with the conditions of bond," Widermann said Friday, adding that Duggar would not be allowed around minors if he were to be released.
Duggar has been ordered to forfeit any material related to the case to authorities, including all computer equipment. His trial is scheduled for July.
In a statement made Friday, Duggar's attorneys said, "Josh Duggar has been charged in a two-count indictment. He has pled not guilty to both charges and we intend to defend this case aggressively and thoroughly."
"In this country, no one can stop prosecutors from charging a crime. But when you're accused, you can fight back in the courtroom—and that is exactly what Josh intends to do," his lawyers added.
Duggar is currently being held without bail in the Washington County Detention Center for the Department of Homeland Security, after being arrested by the feds on Thursday, just days after his wife Anna announced the couple was expecting their seventh child.
Online jail records did not indicate what charges he was arrested on when he was booked.
In 2015, Duggar admitted to being unfaithful to his wife and said that he was addicted to porn. He sought treatment at a faith-based rehab center and attended marriage counseling with Anna afterward.