Josh Groban on His New Netflix Show, His New Album and His Canine Collaborator
"Everything that's happened has been unexpected," Josh Groban says of his career. As a teenager, he studied acting, but that high lyric baritone could not be denied: By 2007, Groban was the No. 1 pop artist in the U.S., thanks in part to his 2003 hit "You Raise Me Up." In 2015, he was offered a starring role in the Broadway musical Natasha, Pierre & the Great Comet of 1812, an electro-pop adaptation of War and Peace. That earned him a Tony nomination. Now, a few TV cameos (The Office, Crazy Ex-Girlfriend) over the years have evolved into his own show, Netflix's The Good Cop, from Monk creator Andy Breckman.
Groban plays Tony "TJ" Caruso, a by-the-book New York City police officer; Tony Danza co-stars as his dad, a disgraced ex-cop. The 10-episode series debuts September 21, which also happens to be the release date for Groban's eighth studio album, Bridges. "The timing was perfect," he says of Good Cop's four-month shoot. "It fit right between finishing the album and going on tour [beginning October 18]. When I was done, I got to grow my beard out and make music again."
How did you get involved in The Good Cop?
It was totally unexpected for me. I was in the middle of working on an album. I got a typed letter—because Andy [Breckman] is wonderfully old school—I got a letter from him typed out, saying, "I want you to be the title character in my new show. I've been watching stuff you've done and when I was writing TJ, I saw your mannerisms in this role." I loved the character, I loved the show and I Andy's work on Monk. I thought to myself, "Everything that's happened in my career that's rewarding has always been the unexpected stuff—not the stuff where I'm pounding my head against the wall trying to make something happen. It's always been the thing where somebody's believed in me."
Your character TJ is obsessed with the rules. Can you relate to that?
So much! When I was 5 years old, I stole a dog tag from a pet store—just to know what it felt like to steal—then started crying on the way home. My mom said, "Why are you crying?" I said, "I stole. I stole a dog tag." At the time, I wanted to be a cowboy, so my mom goes, "Josh, cowboys don't steal. We should do what cowboys do, which is to give it back and apologize." Of course, I learned later that cowboys steal all of the time.
How was working with Tony Danza?
Tony is a legend. He came to one of my first concerts ever, at the Shrine Auditorium in Los Angeles. I was backstage and somebody said to me, "Tony Danza's out there, he really loves your voice!" I remember thinking, "That's so cool!" Obviously, my character's DNA comes from my dead mother on the show. [Laughs.] [Danza] is this chiseled bruiser type, and I'm just a wimp. I'll never forget our first day on set—which was so scary and wonderful—we were shooting a scene in the kitchen together. He kept making me laugh, and that was 100 percent him breaking the ice because he knew I was nervous.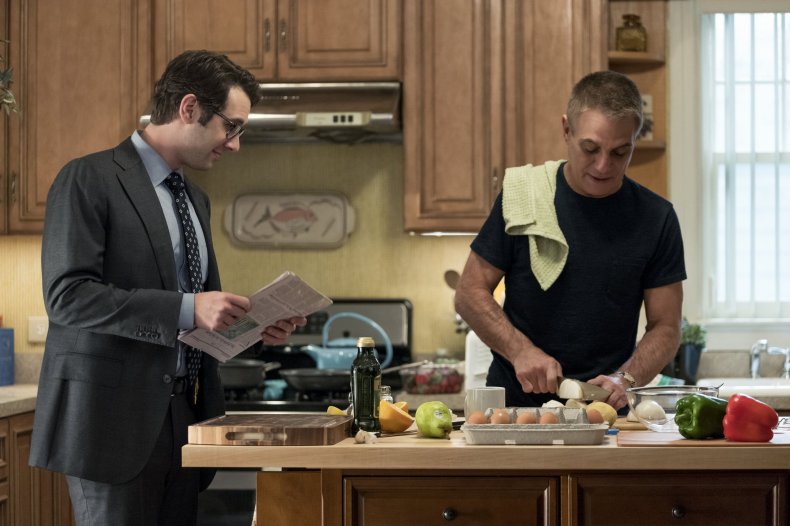 The Good Cop is reminiscent of classic detective shows, like Columbo. What are your favorites in that genre?
Those were just a hair before my time. I was a big X-Files fan. I like the mysteries that are supernatural, personally. I also used to love Poirot, the PBS mystery shows. They remind me of the way Andy writes crimes—he'll write the perfect crime and then work his way backward. He makes puzzles and board games in his free time and he does the same things in his scripts. There's so much grizzly TV out there—like how far can we push it on TV with violence?—but I like the fun, character-driven mysteries. Those are the things I grew up loving, those are the things Andy grew up loving and that's what we set out to make.
Cops don't have the best reputation in pop culture these days, with the national spotlight racial profiling and the Black Lives Matter movement. Will those issues be addressed in the series?
While I don't think that our cop show is a political cop show—first and foremost we're a character-driven mystery—I know that those things mean a lot to us. It's important to us that we both represent the NYPD in a respectful light and that we also represent the people of New York in a great and beautiful light. Obviously, a lot of trust has been lost and needs to be rebuilt in this country. As far as what our show can do to help that, I don't have a clear answer for you. First and foremost we wanted to tell great stories, but your question is not one that we've completely ignored within the creative process. It's ever so slightly above my pay grade, but I certainly hope as the show moves forward that we take full advantage of the opportunity to bridge some gaps.
How did you find the world of TV?
I loved it. The music business is all about packing your bags and going wherever you have to go next. Having a place where you can punch in every morning—and to be able to see your friends every day—is great. I love the theatre, but on Broadway, you know you'll be telling the same story for the next 300 shows. Andy [Breckman] is constantly writing new mysteries. Every table read was like a word gift and every week you're constantly surprised by where you're asked to go with your character.
What was the inspiration behind your latest album, Bridges?
Doing Broadway refilled my tank. I came off The Great Comet with 100 ideas in my phone for musical choruses and possible collaborators. I had been on stage with rock singers, clarinetists and acrobats. I didn't even want a break. I just dove into writing. There are some albums, like the last one, where I don't want to write at all, I just want to be a vocalist. Then there are some where you're pouring out idea after idea. I've had sad albums in the past and I wanted an album that had an uplifting spirit, for my psyche and also for the psyche of listeners. I think we all need that.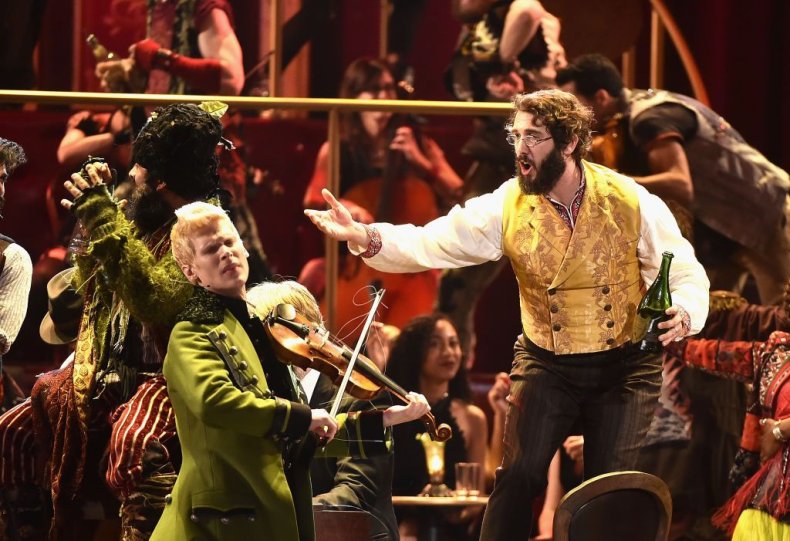 What was going through your mind when you wrote the single, "Granted," with Tony Gad and Bernie Herms?
We were watching the news and thinking about the political divide in this country. A lot of young people feel discouraged, like their voices don't matter. When I feel uninspired or depressed, I try to think about what lit that fire, when I felt that inspiration. Music is what did that for me when I was younger, and we wanted to write a song that could do that for others. It may sound cheesy, but sometimes you need that message.
Is it true that your terrier, Sweeney Todd, is featured on this album?
[Laughs.] His essence is on every album. He's always under the piano or in the vocal booth. If you were to isolate the piano or the vocal track, you would totally hear his dog breath or the clip-clop of his claws. It's the floor cut.
Are you still playing your accordion from The Great Comet ever?
I dust it off every now and then. My castmates definitely give me shit. They'll email me and say—we call my accordion Olga—they say are you still playing Olga? I had never played the accordion before The Great Comet, so I really only know how to play the songs that I played in the show. I could just break it out on tour, but I'd probably get sued by Weird Al.
We got some sad news about Aretha Franklin recently, who you met and performed with. What was it like working with her?
We sang "You Raise Me Up" as a duet at Nelson Mandela's birthday concert at Radio City Music Hall [in 2009]. She asked to do it! I remember first and foremost, her kindness. Just listening to her next to me was one of the most chill-inducing, beautiful moments. Before that, I met her very briefly at the White House, when we were both performing at the Kennedy Center to honor Andrew Lloyd Webber [in 2006]. I went over to her with my mom—we were both big fans—and just very quickly said, "Ms. Franklin, I just want to say, I'm honored to be on the show with you, congratulations, this is my mom, have a wonderful day."
Cut to two years later. I'm at the MusiCare's Grammy benefit in LA. I'm sitting at a table among a thousand tables. She's up on stage accepting her MusiCare's [Person of the Year] award. She's looking out over a sea of people. She suddenly, out of nowhere, stops what's she's saying and says, "Is that Josh Groban? I met his mother at the White House!" I'm going, Are you kidding me right now? That she would remember that! I called my mom from the table. [Laughs.] Anyone's who's been in the business long enough has been touched by her kindness. She'll be missed very much.
This interview has been edited and condensed.