Josh Hawley Blasted Over NATO Vote: 'Raising Your Fist for Putin'
The United States Senate nearly had a unanimous vote Wednesday to allow Finland and Sweden into the North Atlantic Treaty Organization (NATO). The Senate voted, 95-1, to allow the two Scandinavian countries into NATO. The lone dissenter was Missouri Republican Josh Hawley. It was greatly more than the two-thirds majority needed, but Hawley's vote drew ire.
"Expanding NATO does not make America safer. That's the bottom line," Hawley said Wednesday night. "Our priorities now should be to defend against China abroad and our own border at home."
Hawley is now getting ripped by both Democrats and Republicans for casting his lone "Nay" to more than 90 "Ayes."
Arkansas Republican Senator Tom Cotton seemed befuddled that the senator in his neighboring state to the north would vote against Finland and Sweden admissions, particularly in light of the fact Russia is against the admittance of those two countries.
"It would be strange indeed for any senator who voted to allow Montenegro or North Macedonia into NATO to turn around and deny membership to Finland and Sweden," Cotton said. "I would love to hear the defense of such a curious vote."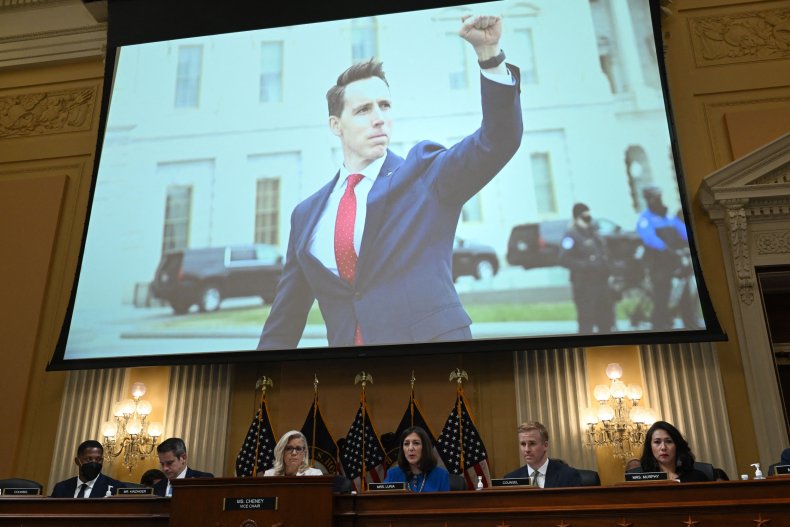 Finland and Sweden have been more of a neutrality between Russia's influence in Eastern Europe and the rest of NATO nations. Belarus President Alexander Lukashenko said NATO's move was a way for the west to bolster power in a worldwide chess game.
"The neutral Sweden and Finland suddenly expressed a desire to urgently join NATO, and the bloc, contrary to its rules, is ready to admit them into the alliance in an expedited manner—mind you, without even asking for the opinions of the peoples of these countries," Lukashenko said in July. "At the recent summit, NATO announced intentions to critically strengthen its presence and influence in Europe."
Hawley's lone vote against Finland and Sweden had some people comparing his fist raising at a January 6 Committee hearing to him raising a fist to Russian President Vladimir Putin, like this tweet from someone against Hawley.
"The traitors to Democracy and America are easy to spot. Raising your fist for Putin this time, @HawleyMO," Mikko Alanne wrote.
However, Hawley said Wednesday afternoon that his dissenting vote was more against China than expanding NATO.
"Today's vote to expand NATO presents a simple choice: either we do more in Europe - more troops, more resources, more spending - or we focus on our #1 adversary, China. We can't prioritize both," Hawley tweeted.
Newsweek reached out to Hawley's office for further comment.