Josh Hawley Calls Allegation He's Complicit in Capitol Riot 'Outrageous' and an 'Utter Lie'
Sen. Josh Hawley (R-Mo.) on Tuesday refuted allegations that he was complicit in the deadly January 6 riots at the U.S. Capitol.
Hawley, who objected to President Joe Biden's Electoral College win hours after the Capitol was violently breached, made the remarks on the day of a joint hearing on the riots by the Senate Rules Committee and the Senate Homeland Security and Governmental Affairs Committee. Critics of Hawley have alleged that he helped to incite the riots by supporting falsely claims that the election was "stolen" from former President Donald Trump due to massive voter fraud.
"That's outrageous," Hawley told reporters after being asked for his reaction to the allegations. "I would say it's absolutely outrageous and an utter lie. And no one, I think, who knows any of the facts alleges such a thing."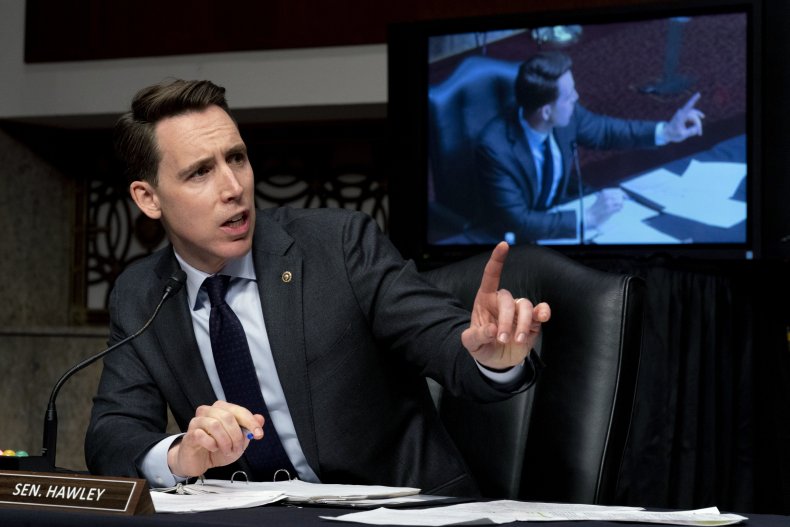 Hawley also objected to a question about whether he regretted any of his actions leading up to the breach of the building, including pumping his fist to the "insurrectionists" gathered outside the Capitol as he made his way toward the building to take part in the joint session of Congress that certified Biden's Electoral College win.
"First of all, let me just stop you right there," said Hawley. "You called them insurrectionists. I mean, folks who I walked by when I was on my way to the House chamber were standing there peacefully behind police barricades, off of the plaza of the Capitol of the United States. They have a First Amendment right to be there."
During Tuesday's hearing, Hawley asked Capitol law enforcement officials whether they were "complicit" in the breach of the building. His line of questioning was meant to highlight allegations from retired Army Lt. General Russel Honoré, who was tapped by Speaker of the House Nancy Pelosi (D-Calif.) last month to lead a Capitol security review following the riots.
Honoré said that he believed that the attack involved "some complicity on behalf of the Capitol police" during a January 8 interview with WVUE. He also suggested that Hawley was complicit in the attack and said the senator should be "should be run out of DC and Disbarred ASAP" for his actions leading up to the riots in a since-deleted tweet from January 11.
"Of course, none of you were [complicit], there's absolutely no evidence to that effect," Hawley said to the officials after they each denied complicity in response to his question at the hearing. "To allege that any of you were complicit in this violent mob attack on this building is, I think, not only extremely disrespectful, it's really quite shocking. And this person has no business leading any security review related to the events of January 6."
Newsweek reached out to Hawley's office for comment.