Josh Hawley Gets CPAC Standing Ovation at Mention of Election Certification Objection
Missouri Republican Senator Josh Hawley received a standing ovation from the Conservative Political Action Conference (CPAC) crowd after mentioning his vote in objection of the Electoral College certification.
While speaking at the event, Hawley said, "On January 6, I objected during the Electoral College certification, maybe you heard about it."
"I did. I stood up," Hawley said just before pausing as the crowd applauded and cheered for him.
After the audience's cheering subsided, Hawley continued, "I said, I said, we ought to have a debate about election integrity. I said, it is the right of the people to be heard and my constituents in Missouri want to be heard on this issue."
Hawley then went on to state that his decision to object the results of the 2020 election was "what our Democratic friends, my Democratic colleagues have done in every single election where a Republican president has won the last 20 years."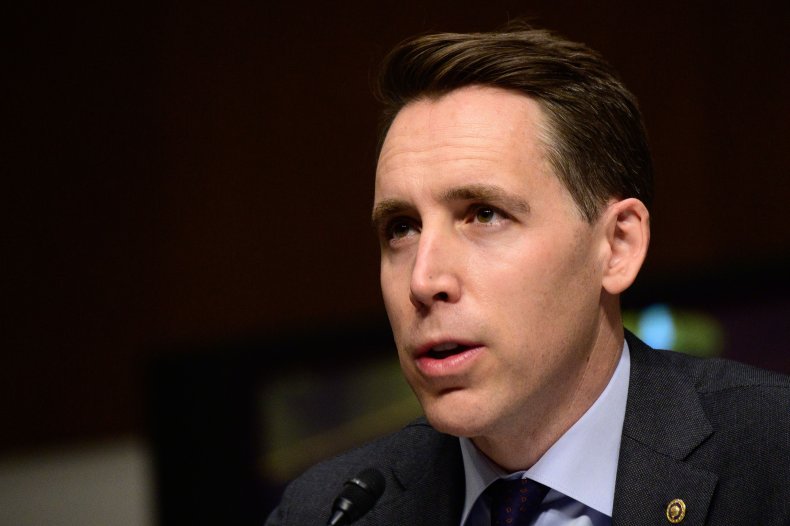 On January 6, Hawley was one of the few Republican senators who voted in favor of overturning the results of the 2020 presidential election. His decision sparked backlash from many, who believed that his decision played a part in inciting the riot that day, when supporters of former President Donald Trump breached the Capitol.
While Hawley's comments were met with praise from the CPAC crowd, he received fairly different responses immediately after his vote on January 6 as he noted during his speech.
"The result was, I was called a traitor, I was called a seditionist. The radical left said I should be resigned and if I wouldn't resign I should be expelled from the United States Senate," Hawley said.
Despite the criticism he faced after his vote, Hawley continues to assert that his vote played no part in inciting the riots.
During an interview with KTVO news in Missouri, Hawley was asked if he believed that he incited the mob, to which he responded, "I would say that's absolutely false and a lie."
"It is simply false and I'm not going to give into it for a second," Hawley added.
Hawley made similar comments during an interview with KTVI news on Thursday, where he said, "What my job is to do is represent my constituents. To take their concerns here to the U.S. Senate and that's exactly what I did."
"Democrats objected in 11 states over three presidential elections in the last 20 years. I objected to one on behalf of Missouri," Hawley said.
Newsweek reached out to Hawley's office for comment but did not receive a response in time for publication.