Josh Hawley Mocked by Democratic Congressman for Selling His Book on Amazon
Rep. Eric Swalwell has mocked GOP Senator Josh Hawley for selling his book about the "tyranny" of big tech on Amazon.
The California Democrat said Hawley was a "phony" and sarcastically called him a "genius" for touting the book's status as a bestseller on the big tech platform.
The congressman's Twitter post was responding to a message from Hawley, in which the Missouri senator thanked his followers for making The Tyranny of Big Tech a bestseller. The title from Regnery Publishing was released on Tuesday.
"Phony alert—this genius is railing against 'big tech' while selling his book on 'big tech,'" Swalwell tweeted. "Please cancel this loser."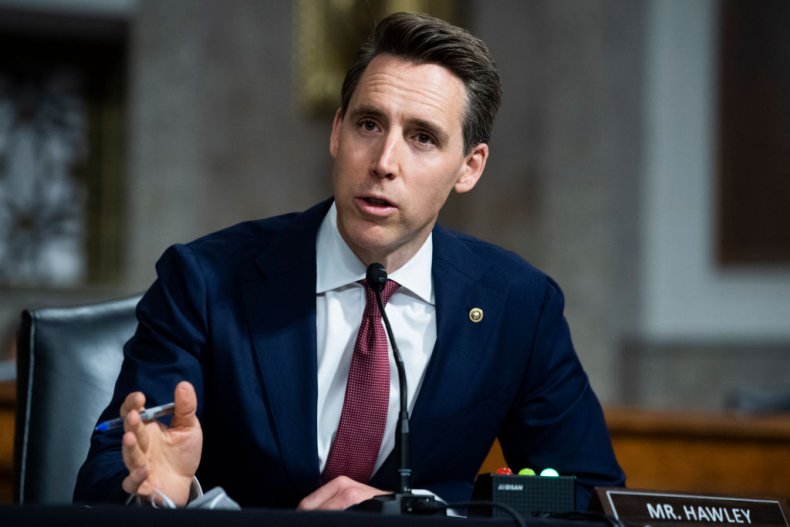 Sen. Hawley argues in the book that a handful of tech giants—including Amazon, Apple, Facebook and Google—have formed a "techno-oligarchy" that holds serious economic and political power in America.
He also claims the companies are the "gravest threat to American liberty in decades," according to a blurb on the publisher's website.
"Big Tech and its allies do not deal gently with those who cross them, and Senator Hawley proudly bears his own battle scars," the blurb reads. "But hubris is dangerous. The time is ripe to overcome the tyranny of Big Tech by reshaping the business and legal landscape of the digital world."
At the time of writing, the book is the No. 1 bestseller in the "Media & Internet in Politics" category on Amazon.
Hawley has also secured endorsements from high-profile figures on the political right. Fox News host Tucker Carlson said he hoped the senator's colleagues in Washington, D.C. would read the book and pay attention to the growing power of tech firms.
J.D. Vance, the author of Hillbilly Elegy and rumored Republican Senate hopeful, described The Tyranny of Big Tech as "brilliant" and a "manual for how to fight back" against the technology sector.
The book was originally set to be published by Simon & Schuster, but the publishing giant parted ways with Hawley after the Capitol riots on January 6 and the senator's objections to the 2020 election results. In a statement, the company said it could no longer support him "after his role in what became a dangerous threat to our democracy and freedom."
Hawley described the decision as "Orwellian," adding: "Simon & Schuster is canceling my contract because I was representing my constituents, leading a debate on the Senate floor on voter integrity, which they have now decided to redefine as sedition … This is not just a contract dispute. It's a direct assault on the First Amendment."
Newsweek has contacted Senator Hawley's office for further comment.