Josh Hawley Points to Capitol Riot as Proof of Importance of Debating Objections
Senator Josh Hawley condemned the violent mob that stormed the Capitol earlier on Wednesday, but said it highlighted the importance of Congress allowing objections and concerns to be heard and not writing off the certification process as antiquated.
Hawley, a Republican from Missouri was the first senator to announce he was going to object to the Electoral College votes. While some of his colleagues reversed course after the violence seen at the Capitol earlier in the day, Hawley signaled he may continue forward with his objection to Pennsylvania's results, saying the Senate floor was the appropriate, lawful forum for raising concerns.
"I hope this body will not miss the opportunity to take affirmative action to address the concerns of so millions of Americans. To say to millions of Americans tonight that violence is never warranted. That violence will not be tolerated. That those who engaged it in will be prosecuted but this body will act to address the concerns of Americans across the country," Hawley said.
Senators picked up the debate about Arizona's Electoral College votes around 8 p.m., hours after the initial debate was interrupted when protesters breached the Capitol's doors. Hawley didn't address how he intended to vote on Arizona and instead turned the attention to Pennsylvania.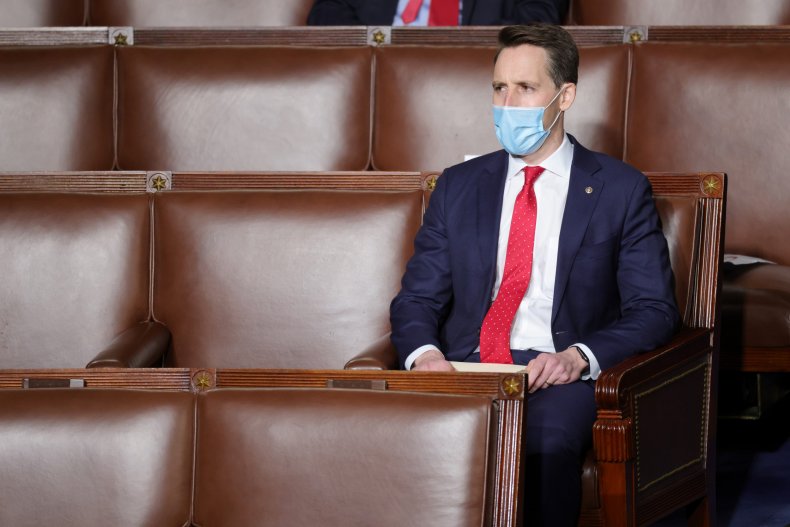 President Donald Trump won Pennsylvania in 2016 and the state helped propel him to his Electoral College victory. Despite his lead on election night in November, the president ended up losing Pennsylvania by 1.2 points, prompting numerous unsuccessful legal challenges from his team.
Hawley announced on December 30 he would object to Pennsylvania's results and said on the Senate floor his "focus" has been on the key swing state. His objection was intended to highlight Pennsylvania didn't follow its own laws and the "unprecedented effort of mega-corporations" to interfere with the election to boost President-elect Joe Biden.
As he did on December 30, Hawley said on Wednesday that there needs to be an investigation into the irregularities and claims of fraud, as well as election security reform. He anticipated Democrats would join him in calling for election security reform and said it's necessary for Americans to have "confidence" in their elections.
Ahead of Wednesday's proceedings, at least 13 Republican senators said they would object to the election results. At least five changed their mind by the time the Senate reconvened Wednesday night. One of the most notable senators to reverse course was Georgia Senator Kelly Loeffler, who lost her seat during a runoff election on Tuesday night.
"When I arrived in Washington this morning, I fully intended to object to the certification of the electoral votes. However, the events that transpired have forced me to reconsider, and I cannot now in good conscience object to the certification of these electors," Loeffler said in a floor speech. "The violence, the lawlessness and siege of the halls of Congress are abhorrent and stand as a direct attack on what my objection was intended to protect, the sanctity of the American democratic process."
Senators Lindsey Graham and Rand Paul also spoke out against objecting to the results, saying that it goes against what they believe as Republicans.
This isn't the first time legislators have objected to the results of an election. But the proceedings are largely viewed as a formality because it hasn't changed who becomes the president. However, Hawley cautioned against viewing it as a purely ceremonial occurrence because it's the "appropriate means" for airing grievances about the election.
"This is the lawful place where those objections and concerns should be heard," Hawley said. "I think it's actually very vital that we do, the opportunity to be heard, to register objections is very vital because this is the place that those objections are to be heard and dealt with, debated and finally resolved ... peacefully."