Josh Hawley Calls for Probe of Tech Platforms Involved in GameStop Mania
Republican Senator Josh Hawley has called for an investigation into possible "collusion" between tech platforms and Wall Street hedge funds after retail investors were barred from opening new positions in GameStop, the video game retailer, when they sought to squeeze short-sellers.
Speaking to Fox News on Tuesday, Hawley (R-MO) said officials had to "get all of the facts." He said trading app Robinhood's decision to block new positions in GameStop looked "like collusion" with big hedge funds hurt by the increase in the retailer's stock price.
He added that it would be a "big, big problem" if a probe were to find that tech platforms had been "acting in concert" with Wall Street players against retail investors organized on the r/WallStreetBets subreddit.
Appearing on American Reports yesterday, Hawley said: "We do have to absolutely get all of the facts, which is one of the reasons I haven't called for any new steps by Congress yet, because I think we need to figure out exactly what has gone on here.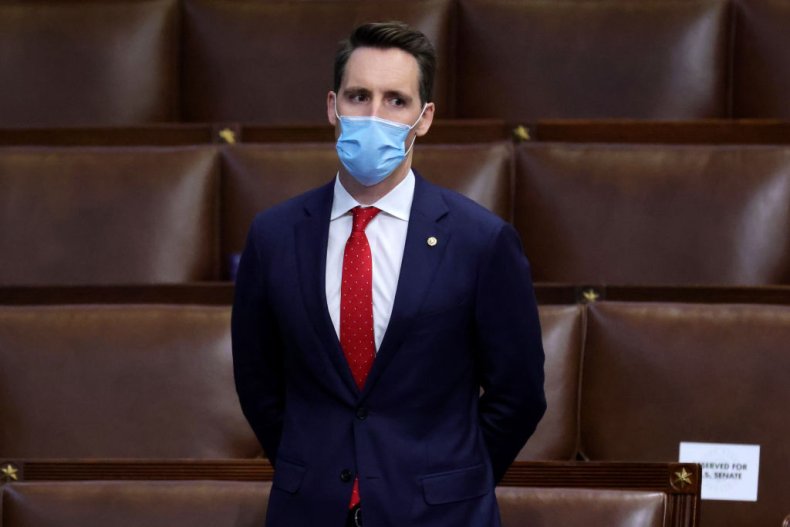 "But what we do know at this point is we definitely see these tech platforms—Robinhood, Discord—we see them reacting in what looks like collusion with the positions of the hedge funds and the banks, and those are some of the facts we need to get.
"I can tell you if these tech platforms are acting in concert with these big hedge funds to protect those entities and shut down day traders and retail investors, that's a big, big problem. And I think it needs to be called out."
The Missouri Republican later added there needed to be assurance that moves to shut off the opening of new positions in GameStop and the chat forums of retail traders were taken within the law.
"We want to make sure that all of that was done in accordance with the law, and that there's one set of rules that everybody is playing by fairly," he said.
Newsweek has contacted Robinhood and Discord for comment. This article will be updated with any responses.
Senator Hawley called for a problem into the GameStop saga after the House Financial Services Committee revealed on Monday that it planned to hold a February 18 hearing on the events surrounding the squeeze on hedge funds with risky short positions in GameStop.
Politico reported on Tuesday that Robinhood CEO Vlad Tenev is expected to appear before the committee led by Rep. Maxine Waters (D-CA) later this month. Guests at the hearing have not yet been announced by the panel.
Tenev has defended Robinhood's decision to block new positions in GameStop—a restriction that has now been partially lifted—claiming that the company was trying to adhere to financial regulations while protecting its customers.
He also denied that the trading app made any deals with market movers and hedge funds to cap the squeeze put on them by retail investors using the software.