Josh Hawley's Efforts to Block Biden DHS Pick Alejandro Mayorkas Fails in Committee
A Republican-led effort to delay the confirmation of President Joe Biden's nomination to lead the Department of Homeland Security (DHS) failed on Tuesday as the Senate Homeland Security and Government Affairs Committee voted to move the nomination forward.
Senator Josh Hawley of Missouri said last week that he was placing a hold on Biden's nomination of Alejandro Mayorkas, the former deputy secretary of the DHS during former President Barack Obama's administration. The Biden administration had previously hoped Mayorkas would be confirmed before Biden's inauguration on January 20, according to Politico.
Hawley cited questions regarding Mayorkas' position on enforcing the border between the U.S. and Mexico as a reason behind the hold.
"Mr. Mayorkas has not adequately explained how he will enforce federal law and secure the southern border given President-elect Biden's promise to roll back major enforcement and security measures," Hawley said in a January 19 statement. Earlier that day, Mayorkas "declined to say he would enforce the laws Congress has already passed to secure the border wall system," Hawley added.
"Given this, I cannot consent to skip the standard vetting process and fast-track this nomination when so many questions remain unanswered," Hawley's statement concluded.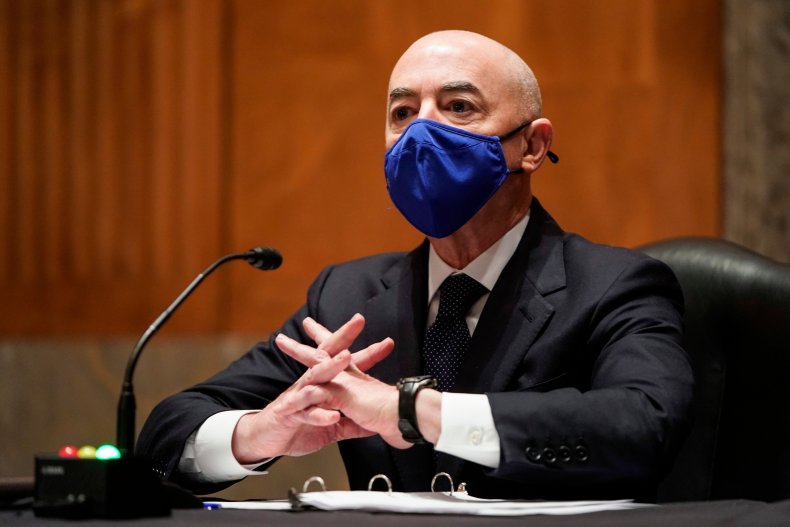 Before the committee held its vote on Tuesday, some committee members acknowledged that their opinions on immigration policy differed from that of Mayorkas. They also referenced concerns about a 2015 DHS Office of the Inspector General report, which said Mayorkas' work while leading the U.S. Citizenship and Immigration Services contributed to a perception of special treatment for some benefits through the agency's EB-5 immigration program.
Wisconsin Sen. Ron Johnson, the committee's outgoing Republican chairman, read sections from the 2015 report before voting against Mayorkas' nomination moving forward. "Should Mr. Mayorkas be confirmed—and again, I am recommending against it—I hope he has learned from his past mistakes and can perform his new duties with the integrity required of the position," Johnson said.
Shortly after Johnson spoke, Republican Sen. Mitt Romney of Utah told the committee he had spoken with Mayorkas about the inspector general report and that Mayorkas had acknowledged errors made in the past. "I've made errors in my life, I've seen others that I have had the occasion to hire acknowledge errors in their life," Romney told the committee before voting to move Mayorkas' nomination forward. "People who identify those errors, recognize them and are willing to take a different course in the future are people who I generally will support or provide the opportunity to given an opportunity to demonstrate that behavior in the future," he said.
Mayorkas' nomination ultimately passed through the committee on Tuesday. Michigan Senator Gary Peters, the new Democratic chairman of the committee, called upon his colleagues in the Senate to confirm Mayorkas' nomination quickly.
"Every day that this confirmation process is delayed places the American people and our national security at risk," Peters said during the committee meeting.
Seven senators voted to push Mayorkas' nomination to the next step. Four senators on the committee, including Hawley, voted against Mayorkas' nomination.
Newsweek reached out to Hawley's office for comment but did not receive a response in time for publication.
This story has been updated with additional information and background.