Josh Hawley's Wife Recalls Protest Outside Family's Home, Says It's Not 'Civil Discourse'
Senator Josh Hawley's wife, Erin Hawley, has fired back at remarks that she and her husband overreacted when protesters showed up at their Virginia residence early last month, calling the incident "not civil discourse."
"They are just meant to frighten," she said, listing various incidences of harassment her family faced in the weeks that followed.
In an op-ed published by Fox News, Hawley recalled the protest that took place outside their home on January 4. She was home with their newborn daughter when a group of loud demonstrators protested for nearly 45 minutes. Her husband and the couple's two sons had been in Missouri at the time.
"I walked upstairs to see approximately 20 protesters standing in front of our house shouting through bullhorns," she wrote. "I stepped outside, baby in arms, and asked them to leave, saying we had a newborn and neighbors. They refused, and I took Abbi back downstairs."
She said police responded after 15 minutes and informed the crowd they were violating at least three laws—a noise ordinance, graffiti on public property and a Virginia state law against residential picketing.
Many had been angered by her husband's public support for former President Donald Trump's objection to the 2020 presidential election results—making him the first GOP senator to do so.
Seeing video of their home on social media, Hawley said she decided to take her sons to stay elsewhere once they returned to Virginia.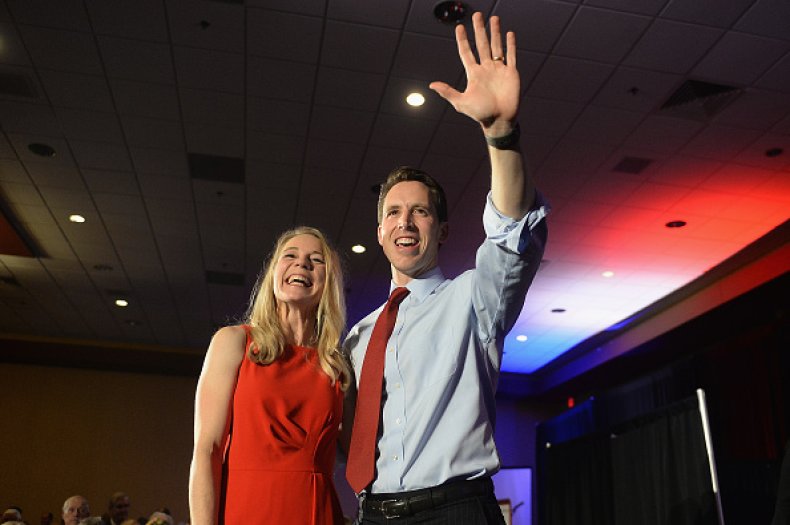 "Since Jan. 4, the protesters and others have accused my husband of overreacting and have referred to my family as 'snowflakes.' And a police department spokesperson (who was not on the scene) has since described the protest as 'peaceful' and a 'minor' incident," she wrote.
She agreed that while no one had been hurt in the event, she said video posted to social media disputed one protester's description that it was a "candle-light vigil."
Since the protest, Hawley filed a criminal complaint against Patrick Young, the Shutdown DC activist and organizer who remembered the night as a "candle-light vigil." She said that while people have the right to exercise their First Amendment rights, she said there are laws that restrict demonstrations.
"The magistrate judge issued a summons finding probable cause that state law had been broken. And for good reason. There's a video, after all, showing it all," Hawley wrote. "You can agree or disagree with my husband's politics. And protests at office buildings are both appropriate and protected by the First Amendment."
In a statement sent to ABC News earlier this month, Young said, "If a summons has been issued, it is outrageous that a rich and powerful person—a United States senator—can go to their magistrate to get a summons to harass a normal person."
Hawley concluded by writing that despite all the threats her family received, she is thankful for friends and family that supported them at that time.
Newsweek reached out to Shutdown DC for comment but did not hear back before publication.