Top NRA Official Who Was Accused of Sexual Harassment is Out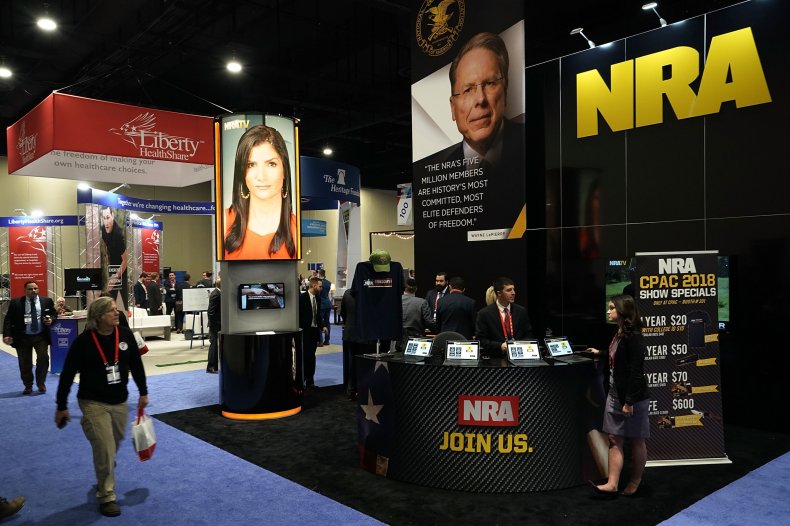 Joshua L. Powell, a senior official at the National Rifle Association and close associate of its CEO, Wayne LaPierre, is no longer employed by the gun-rights group, Newsweek has learned.
Court filings suggested that Powell was "on leave" amid an investigation by the group's counsel. Those filings were first reported by the Washington Post Friday evening.
However, according to an internal email obtained by Newsweek, Powell has departed the NRA entirely.
It was not clear whether Powell was fired or if he resigned. The NRA did not immediately respond to a request for comment.
The email clarifying the nature of Powell's departure was sent to the board of directors Saturday evening by the NRA's general counsel John Frazer.
Newsweek subscription offers >
"Several directors have reported receiving media queries regarding Josh Powell and his employment status with the Association," he wrote. "For the sake of clarity, we note that Josh is no longer employed by the NRA."
In noting the sensitivity of discussing personnel matters, Frazer made reference to "the assortment of pending and threatened litigation" facing the gun-rights group.
Powell was most recently LaPierre's chief of staff and was previously the executive director of general operations before his role at the organization was scaled back amid a sexual harassment scandal.
The Trace reported in August that Powell was the recipient of two separate sexual harassment allegations over the last two years. One reportedly involved an accuser at the NRA's now-estranged public relations firm Ackerman McQueen. Another complaint reportedly involved an NRA employee and a settlement drawn from NRA funds.
The NRA has disputed these allegations.
Powell is perhaps known best for his role in the development of Carry Guard, the NRA's now-defunct branded insurance that was shut down by New York regulators for purported violations of insurance law.
In May 2018, the state's Department of Financial Services concluded in an investigation that the NRA lacked the necessary license to conduct insurance business and that the program "unlawfully provided liability" for potential criminal acts.
Amid a time of unsteady finances, Carry Guard was meant to provide a much-needed stream of revenue. The NRA subsequently filed a lawsuit against Governor Andrew Cuomo and financial regulators alleging a widespread conspiracy and "blacklisting campaign" to shut the organization out of New York's financial system.
That lawsuit is still ongoing.
The question of Powell's employment status was first raised by Ackerman McQueen in a court filing in one of the two lawsuits between the firm and the NRA currently playing out in Virginia.
It is not immediately clear how Ackerman was able to learn of the change in Powell's status before Frazer needed to issue a clarification to the board of directors, which oversees the NRA.
In the filing, Ackerman said Powell had been placed "on leave" and that there was "an investigation" being conducted by the NRA's counsel, either a reference to Frazer or the NRA's outside counsel, William A. Brewer III.
In 2018, Powell received more than $900,000 in total compensation from the NRA, tax filings show. It is not clear whether he will continue to receive any compensation now that his employment has ended.
Powell's predecessor in the general operations department, Kyle Weaver, was fired in 2016. Upon his termination, Weaver received $150,000, with payments occurring throughout 2018 and into part of 2019, according to the New Yorker.
Top NRA Official Who Was Accused of Sexual Harassment is Out | U.S.