Who Is Josh Sills? Eagles' Player Charged With Rape Ahead of Super Bowl
Josh Sills, an offensive lineman for the Philadelphia Eagles, has been indicted on rape and kidnapping charges in Ohio—days before his team will compete against the Kansas City Chiefs in the Super Bowl on February 12.
According to an indictment, Sills, 25, is alleged to have "purposely compelled" a woman to "submit by force or threat of force" to sexual conduct on December 5, 2019, in Guernsey County, Ohio.
The NFL rookie stands charged of felony rape in the first degree. Sills has also been accused of kidnapping the woman. Per the indictment, he "did, by force, threat, or deception, remove" the woman from "the place where she was found or restrain the liberty of her for the purpose of facilitating the commission of a felony."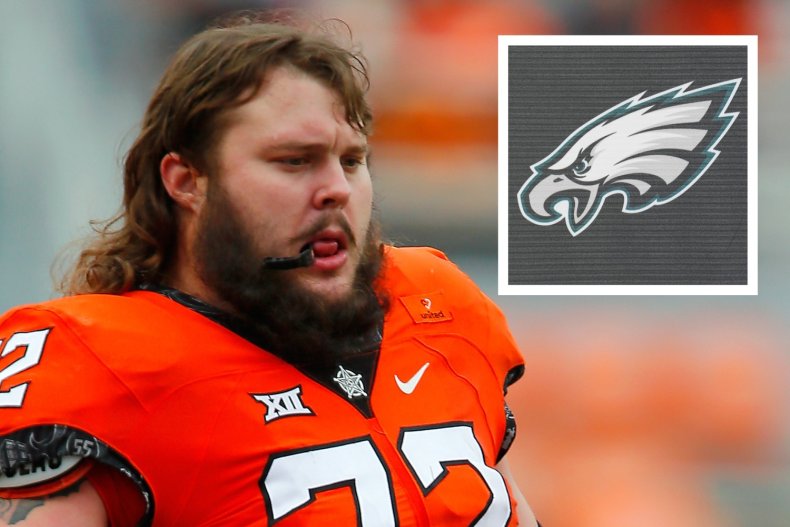 Following an investigation conducted by the Guernsey County Sheriff's Office, Sills was inducted by a grand jury on January 31. He is scheduled to appear in a Cambridge, Ohio, court on February 16—four days after the Super Bowl.
The Philadelphia Eagles said in a statement shared with multiple news outlets: "The organization is aware of the legal matter involving Josh Sills. We have been in communication with the league office and are in the process of gathering more information. We have no further comment at this time."
Who Is Josh Sills?
Offensive guard Sills is a relative newcomer to the Eagles, being signed in 2022 after he went unselected in the NFL draft. He played one game this season, appearing briefly as a rookie against the Arizona Cardinals in Week 5.
He is listed on the Eagles' depth chart as second-choice at right guard, and stood a fair chance of getting some game time during the Super Bowl on February 12 at State Farm Stadium in Glendale, Arizona.
Prior to his NFL career, Sills went to Meadowbrook High School in Byesville, Ohio, before playing for West Virginia University during four seasons between 2016 and 2019. He later transferred to Oklahoma State University for the 2020/2021 season.
His parents, John and Kim Sills, count themselves as his biggest fans, having traveled to every single one of his games, bar one, up to 2021. Their dedication saw them rack up over 232,000 miles in their 2013 Nissan Altima.
As his parents prepared to make the 18-hour journey from their Ohio home to support him at one of his games in Arlington, Texas, in December 2021, an emotional Josh Stills spoke about their "unreal" dedication.
"It's huge," he said at the time, per The Oklahoman. "I don't really know how to explain it. There's not enough words to describe what that means to me, just the love, willingness, caringness and compassion that they have is unreal."
Away from football, Josh Sills had a noted interest in agriculture, working on a farm when he was younger and studying the subject while at college.
"I worked with my high-school agriculture teacher on his farm," Josh Sill told NBC Sports in January. "I planted corn, fed cows, vaccinated cows, artificially inseminated cows. Normal everyday farm stuff. I basically did my internship with him.
"We just normal farm stuff, built a fence, vaccinated cattle, planted corn, mowed hay, baled hay. That was really about it."
"I knew him," the sportsman continued of his agriculture teacher. "He actually went to school with my mom's brother, my uncle, so I knew him a little bit before then and just became really good friends with him.
"I asked him if he would be comfortable with me doing an internship with him. Of course, he said yes. I did my internship with him over the summer, so it was probably a couple months," Sills added.
The Philadelphia Eagles will take on the Kansas City Chiefs in the Super Bowl LVII on February 12 from 6:30 p.m. ET.
Specialists from the Rape, Abuse, and Incest National Network (RAINN) sexual assault hotline are available 24/7 via phone (1 (800) 656-4673) and online chat. Additional support from the group is also accessible via the mobile app.