Harry Styles is currently on tour across the U.S., playing to thousands of fans. Last night (Sunday, October 3), he made a stop-off at New York's Madison Square Garden and some famous faces were spotted in the crowd. In particular, fans are raving after they noticed Sabrina Carpenter and Joshua Basset in the audience.
Carpenter and Bassett have been the center of romance reports for several months particularly after Basset's rumored ex-girlfriend, Olivia Rodrigo released the hit-single "Driver's Licence" in January 2021.
The pair became friends after Bassett was encouraged by his management to message the singer via Instagram about a song he was working on.
Love triangle
The rumored "love triangle" between Carpenter, Rodrigo and Bassett is a little complicated, especially since High School Musical: The Musical The Series, co-stars Rodrigo and Bassett have never confirmed whether they were an item back in early 2020.
By summer 2020 Rodrigo and Bassett appeared to have split, with Bassett seemingly moving on with Carpenter in June 2020. However, they too have never confirmed the status of their relationship.
In a recent interview with GQ, Bassett said: "Everyone is asking me about Sabrina and Olivia. Why don't we focus on these women for who they are? Let's focus on the art that they're making and how great they are instead of their relationship to a boy."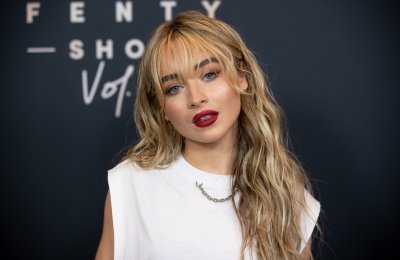 Carpenter, Bassett and Rodrigo's relationship-drama was further thrust into the spotlight with the release of Rodrigo's album "Sour" in May 2021, which had fans trying to decode each song for lyrics pointing to the pair's alleged romance.
After the hype of "Sour" died down, the speculation surrounding Carpenter, Bassett, and Rodrigo had subdued. However, last night Carpenter and Bassett were spotted speaking to one another at Harry Styles' Love on Tour gig in New York City - setting the spotlight on them once again. These images have gone viral on social media, with fans going wild over their reunion.
One fan commented: "YO JOSHUA BASSETT AND SABRINA CARPENTER IM SCREAMING ???????????"
A second fan tweeted: "they're so cute omg love them"
A third fan added: "They're so cute together. Just a normal couple having fun. Leave them alone."
Joshua Bassett is a huge Harry Styles fan
Bassett is a well-known fan of Styles, after announcing his love for the Brit singer in a video interview with Clevver News, where he announced he was part of the LGBT+ community.
He said: "Who doesn't think Harry Styles is cool? Also, he's hot, you know. He's very charming too. Lots of things. This is also my coming out video I guess."
The following day on May 11, Bassett took to Instagram where he opened up about his sexuality in a lengthy post, telling others to "love who you love shamelessly."
He later confirmed with GQ he is "happy to be a part of the LGBTQ+ community," and does not feel any pressure to label his sexuality.