Joshua DuBois on The Secret Faith of Washington
In 1993, Pat Robertson, the Christian broadcaster and stalwart of the religious right, sat down with legendary columnist Molly Ivins and gave a doozy of an interview. "It is the Democratic Congress, the liberal-biased media, and the homosexuals who want to destroy all Christians," Robertson declared. He also said that Washington was inflicting on Christians "wholesale abuse and discrimination and the worst bigotry directed toward any group in America today. More terrible than anything suffered by any minority in history."
Now, Pat Robertson is not necessarily known for his rhetorical moderation. This is, after all, the guy who blamed the Haitian earthquake on voodoo, said the "feminist agenda" encourages women to practice witchcraft, and claimed that Episcopalians, Methodists, and Presbyterians have the "spirit of the anti-Christ." Even most conservative evangelicals cringe whenever he speaks.
But in that interview, Robertson gave voice to a perception that's still widely shared across the country: most of America thinks Washington is a pretty godless place.
Indeed, this pervasive image of Washington is probably stronger today than at any point in recent memory. Last year's debate between the White House and the Catholic Church over contraception served for some believers as confirmation that the government simply doesn't get the importance of faith. More recently, many Americans saw the relative lack of media coverage of the grisly trial of Kermit Gosnell—a Philadelphia abortion doctor—as evidence that Beltway journalists are contemptuous of religious values.
I've seen this stereotype about D.C. play out firsthand in my former role as President Obama's religious adviser and director of the White House faith-based initiative. I recall sitting in the White House with groups of evangelical college students from Texas or Jewish seminarians from New York, who wondered aloud how I could be a practicing believer in a town that dislikes God so much.
Over the years, I saw, and had to respond to, the false email chains and rumors about Washington that have seeped into the consciousness of believers around the country. I remember being at a dinner party in California when a very prominent Christian asked me if Obama had really canceled the National Day of Prayer (he has not). And I spent countless hours explaining that it is not in fact true that military chaplains are prohibited from praying in Jesus's name (they can, if they choose to).
Last month, Rick Santorum appealed to these beliefs when he accused Obama of seeking to create a society that is "anti-clerical, anti-God, where the government is the center, and they are the ones who care for us." Listening to Santorum and Robertson talk about government, it would be easy to conclude that, aside from the religious right, believers in Washington simply don't exist. But here's the thing: they do exist—and not just in the places you'd expect. Everyone knows about the politicians and interest groups—mainly conservative—who wear their faith on their sleeve. Yet across the ideological spectrum, Washington is filled with people at the height of political power who are practicing their faith seriously and profoundly, but largely out of public view. I recently spoke to some of these people about the role that religion plays in their private and public lives. What their stories make clear is that—in coffee shops, vibrant local congregations, congressional offices, and White House corridors—God is far more present in Washington than most Americans realize.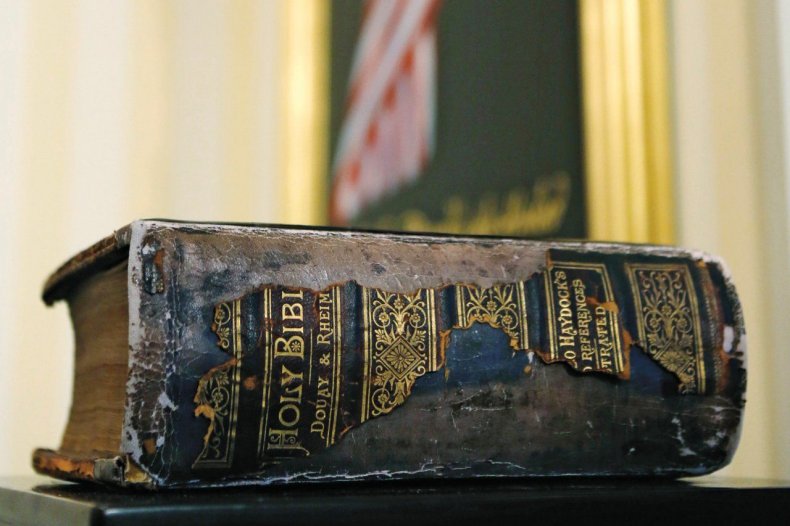 FEW PEOPLE in Washington are as close to the center of the action as Denis McDonough, Obama's chief of staff. Since his appointment this past January, McDonough has helped the president navigate budget negotiations, the gun-control push, and a series of national crises from the Boston bombing to the fertilizer plant explosion in Texas. He's a seasoned vet in situations like these, having previously served in senior positions on the White House national security staff, the 2008 Obama campaign, and Capitol Hill. In the famous photograph of the Situation Room during the raid against Osama bin Laden, McDonough sat just a few feet away from Obama.
But as close as he is to the president, McDonough is even closer to his faith. In fact, he can sometimes be found in the basement of the West Wing, sharing an early morning breakfast and conversation with a bishop or priest. In a recent interview, his first-ever in-depth conversation with the media about his religious beliefs, MCDonough told me that his deep Catholic faith did not come by accident. In 1966, when his Irish Catholic parents, Bill and Kathleen, moved from Boston, Massachusetts, to Stillwater, Minnesota, his mother had two rules for their relocation: they had to live close to the kids' school, and close to a Catholic church.
So the McDonough family moved right across the street from St. Mike's, a lively Catholic parish in Stillwater. And throughout his childhood, the church dominated Denis's life. There was the Wild Rice Festival at St. Mary's, the church that abutted St. Mike's, where McDonough and his siblings would enjoy food and rides every fall. There was also the pastor of St. Mike's, Father Fitzgerald; since McDonough's dad Bill wasn't much of a hockey player, when Stillwater's father-son hockey match rolled around, Father Fitzgerald would sub in and hit the ice with the McDonough boys.
Denis's faith was so deeply entrenched that he went on to study under the Benedictine monks at St. John's University in Collegeville, Minnesota, a liberal arts school with a strong Catholic identity. Two of his brothers took their Catholic study a few steps further: his brother Bill is a former priest, and brother Kevin is currently a priest and pastor of the Church of St. Peter Claver in St. Paul.
I asked McDonough how his Catholic upbringing intersects with his work in the White House, and he told me that he picked up some important lessons from the church along the way. He pointed to Catholic teachings on helping the poor—the "least of these"—and on giving everyone a fair shake. He also said, "My brother Kevin used to say that the great thing about the Catholic faith is that it's a faith of books. There's a sense that wisdom is earned through preparation and study, rather than owned by any one individual. In the Catholic Church, you have to read"—from the Bible to encyclicals. "You have to be prepared."
"In the same way," McDonough says, "I try to bring a great level of preparedness to any decision I have to make, or any advice that I give to the president."
Indeed, for many Washingtonians, private faith deeply informs how they carry out their public roles. Like McDonough, Democratic Congressman André Carson of Indiana told me that his religion guides him toward social justice. Carson, only the second Muslim member of Congress in the country's history, said his faith is centered on the concept of "zakat"—giving to others and living out charity in the world. "For me, religion is much more about what we as believers are for, rather than what we're against," Carson says. "And my own religion tells me to be for the vulnerable, for the poor."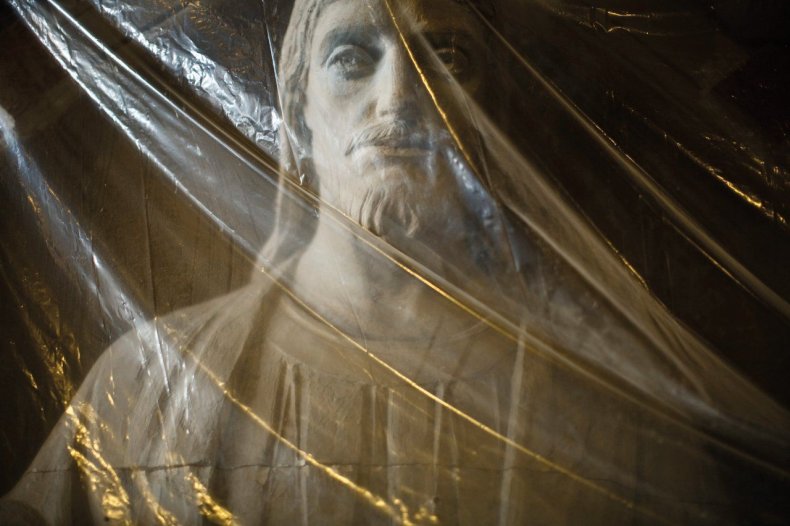 A gentle but imposing former state trooper and antiterrorism investigator, Carson took a winding path to his faith. His family was largely Baptist, and he went to Catholic school, even serving as an altar boy. Carson wrestled with becoming a priest, but his experiences growing up in a rough neighborhood on the east side of Indianapolis drew him toward Islam: "I saw members of the Muslim community really stepping in the gap for kids—pushing out drug dealers, making the community safer. I wanted to be a part of that." In addition, Carson says, there were "so many internal questions that Islam helped me resolve and make peace with, particularly related to not growing up with my own father."
Carson considers the early days of his faith "activist" in nature, but he's since settled into a more intellectual practice. He attends Friday Jummah prayer services on Capitol Hill, and, along with the only other Muslim member of Congress, Democratic Representative Keith Ellison of Minnesota, leads events with the Muslim Staffers Association. Back home in Indianapolis, Carson worships at the Nur-Allah Islamic Center, where his imam is a local firefighter. And in his office in Washington, he prays five times a day.
Perhaps the most obvious way in which religion influences Beltway players is that it provides a rare space where Republicans and Democrats can come together. Senator Amy Klobuchar, Democrat of Minnesota, raves about the weekly prayer breakfast that members of the Senate host every Wednesday morning at 8 a.m. "While religion can sometimes divide people, it's the one time that people put all that stuff aside and just pray," she says. On the Wednesday I spoke with her, she said that Republican Senator Lindsey Graham of South Carolina had given "a beautiful speech about his life, and his own faith" that morning. The group always begins with a hymn—Democratic Senator Daniel Akaka of Hawaii used to lead them in a "beautiful voice," Klobuchar says, before he retired—and then 20 to 25 senators move on to pray for each other, and for the country.
Klobuchar—who grew up attending a Congregationalist church every Sunday in Minnesota—credits her faith with helping her through some tough times. There was the long period after her daughter was born that the baby struggled with a serious illness—"we had to feed her with a tube every hour, 24 hours a day." And there was her father's battle with alcoholism, including three DWI arrests, which Klobuchar says he overcame only when he was "pursued by grace."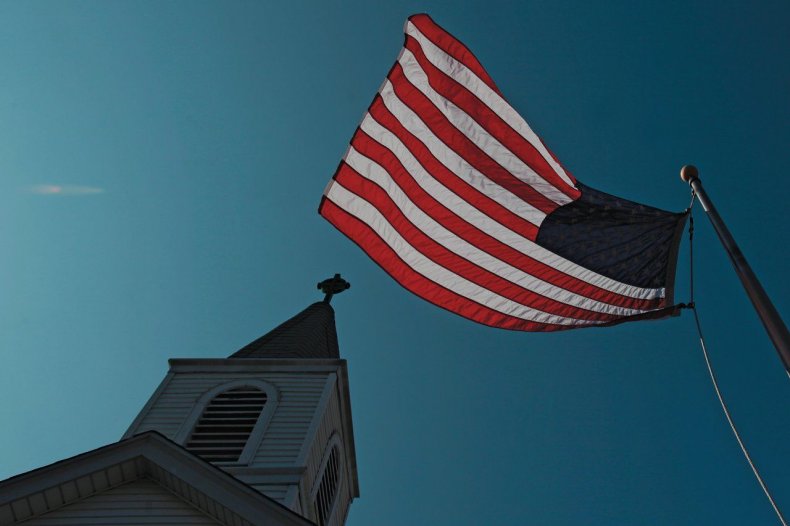 "Times like that, I really had to lean on my faith," Klobuchar says. "And it means the world to have a regular moment with other senators, where we can lift each other up in prayer."
This sense of faith-based bipartisanship extends to those who work behind the scenes. There probably aren't four more different people in Washington than Adam Taylor, Max Finberg, Ron Ivey, and John Hart. Taylor and Finberg are lifelong Democrats, and both have worked in the Obama administration: Taylor as a former White House Fellow and Finberg as a current political appointee at the Department of Agriculture. Ivey and Hart, meanwhile, are committed Republicans: Ivey is a consultant who used to work for former Virginia senator George Allen, and Hart is the longtime communications director for conservative Senator Tom Coburn of Oklahoma.
And yet, for years now, at 7 a.m. every Friday morning, the four of them—and a few others along the way—have made their way to Ebenezer's Coffee House on Capitol Hill to read the Bible and pray. Finberg and Hart started the group in 2005 with a few men who've since left town, and invited Taylor and Ivey as the years went on.
"We're not self-consciously bipartisan," Hart told me. "There was just a time ... when we wanted to be around other brothers in Christ, and talk about things that mattered a little more than politics."
Taylor agrees. "In Washington, it's so easy to let your political identity shape every aspect of your life," he says. "These guys help me break out of that."
What started off as a prayer group quickly grew to friendships outside of their Friday morning gathering. The four recently celebrated Finberg's 40th birthday together and attended a dedication for Taylor's first child. "They've held me accountable," Taylor says, "and given me a roadmap for what it takes to be a good husband and a good dad."
There are heated conversations from time to time: Taylor has strong views about government's role in funding programs for the poor, while Hart, in his work with Senator Coburn, believes that the size of government should steadily shrink. Hart says that "when we talk, politics is always in the background—but I just see that as helping me better love God not just with my heart and soul, but also with my mind." He continues, "When a conversation with Adam helps me refine my ideas, that's loving God with my mind."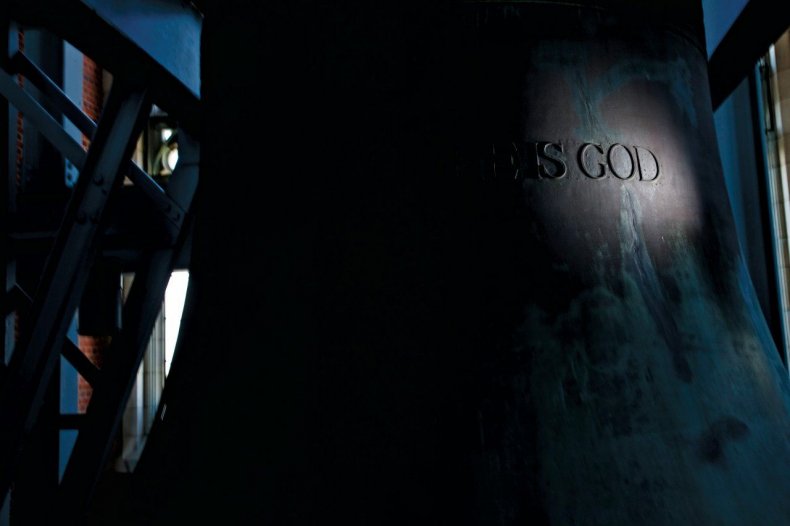 THE MISPERCEPTION that few Washingtonians are religious has all sorts of roots. Democratic Senator Ben Cardin of Maryland offered one theory when we spoke: "Some people seem to think that just because you're for the separation of church and state, you're somehow antagonistic to religion, but that's just not true. We believe in church-state separation because it protects believers from government regulation … But that doesn't make us any less faithful."
Cardin himself is a prime example. A religious Jew, he has been part of a congressional Talmud study group and worships often at Beth Tfiloh Congregation in Baltimore, where his family have been members for four generations.
Growing up, he recalls, "Every class I had in Baltimore public schools, everywhere I went, everyone was Jewish." Cardin tells the story of going door to door as a child, collecting money for the Jewish National Fund. He rang one doorbell and the man who answered the door said that his family wasn't Jewish, so he wouldn't be donating. The young Cardin was flabbergasted: "I didn't understand what the guy was saying—he was the first non-Jew I had ever met!"
Cardin's base has widened considerably since those days—he was reelected in 2012 with strong support from the African American and Latino communities—but he hasn't strayed far from his roots. "Every Friday night, we invite 20 or 25 people over to welcome in the Sabbath," Cardin told me. "I don't schedule anything on Friday night unless it's an emergency. We get together as a family, and with some friends, and observe our traditions. We pass a plate for charity and reflect a little bit on the week."
Cardin is comfortable discussing his faith, but many other religious believers in Washington are not. For some of the faithful, Georgetown cocktail parties and Capitol Hill receptions are fine places for discussions of foreign policy or domestic politics, but conversations about sincere religious belief aren't as welcome. "People don't have a problem with you believing in God," says Kirsten Powers, a columnist at Newsweek/Daily Beast and contributor to Fox News. "But if you take your faith too seriously, it weirds them out."
Powers was a self-described agnostic well into adulthood, living a "happy, secular Manhattan life." She was working in Democratic politics in New York when a friend invited her to Tim Keller's Redeemer Presbyterian Church in Manhattan. She was initially skeptical—"the last thing in the world I wanted to be was a Christian"—but eventually decided to check it out. The pastor appealed to her intellect, rather than emotion, and made a historical case for Christianity. And her faith grew from there.
"Much to my chagrin, God invaded my life in a personal way. I tried to ignore it, tried to run away from it. I even thought something was wrong with me—that I was going through some weird phase," Powers told me. "But over time it became clear that a relationship with God wasn't a choice. It was just real."
One reason people in Washington aren't always quick to talk about their faith, Powers says, is that "Christians don't have a great reputation … If you were to say to someone, 'I'm an evangelical' or 'I'm born again,' that carries heavy political baggage here. People think you must have supported the Iraq War, or be against women's rights, or hate gay people. But none of those things describe me."
Another reason people tend to keep quiet: they may want to avoid the perception of a conflict of interest between their work and their personal beliefs. Jon Ward is a senior political reporter for The Huffington Post who eschews religious labels, describing himself simply as a "sinner, saved by grace." (During his second year of college, Ward experienced a "stark, clear moment where I had an understanding of the transaction that took place at the cross.") Ward says that believers in D.C. have to be concerned about others questioning their motivations. "I am wary of any possible attempt of people to say that because I'm a Christian, I'm colluding or pushing an agenda," he told me. "That's never what I'm trying to do."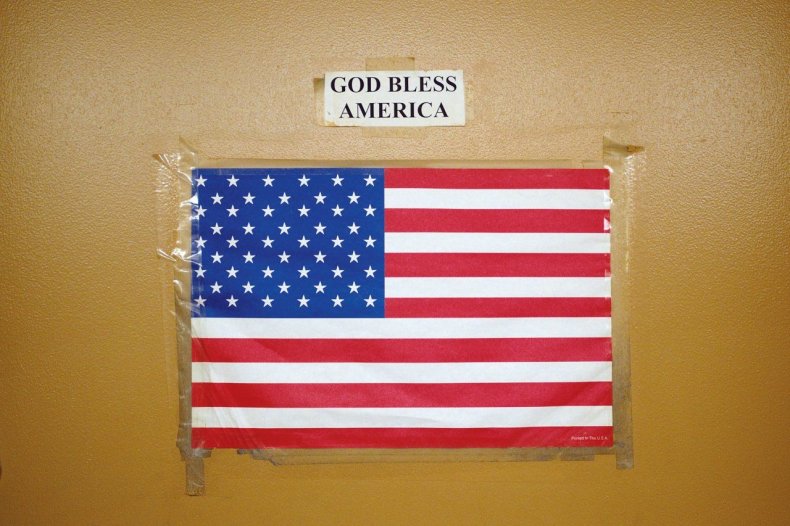 ONE OF the most faithful people I came to know in Washington was President Obama. There were the private moments of prayer with pastors in the Oval Office. The devotionals he reads each morning on his BlackBerry. The conference calls on his birthday with religious leaders, who offered prayers for him for the year to come. From time to time, we see glimmers of Obama's Christian practice in public, from the annual speeches at the Easter Prayer Breakfast that he started, to the Scripture he quotes after moments of national tragedy—but his faith is mostly lived out in private.
And that experience seems to define religion in Washington. It's a constant struggle to maintain a personal relationship with God in a place that is so relentlessly public, to wrestle with deep concepts of the eternal in an arena whose daily pulse is the here and now. It can be exhausting, and many of the people I spoke with said they failed at that intellectual and spiritual challenge more often than they succeeded. But still, thousands of believers in Washington keep at it most days—away from the cameras and well out of view.
Correction: This piece originally misstated Kirsten Powers's title.