Joshua Wong Wants Hong Kong to Be Famous for Democracy, Not Jackie Chan and Dim Sum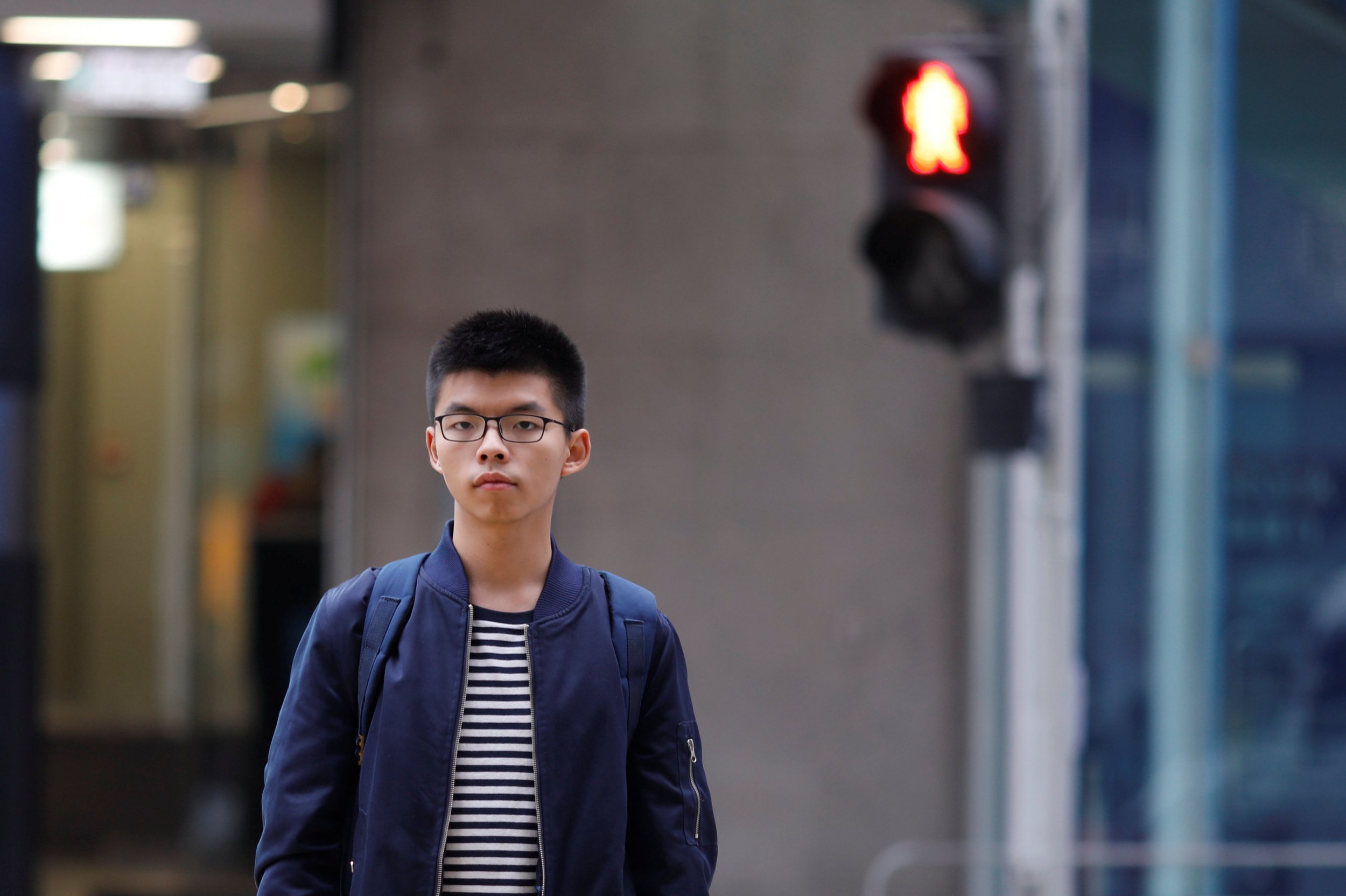 Joshua Wong found out that he had been nominated for the Nobel Peace Prize the same way the rest of the world did: by scrolling through the news and stumbling across his name.
Wong is used to making headlines, having been billed as the mastermind of Hong Kong's Umbrella Movement in 2014 when he was just 17.
A dozen bipartisan lawmakers from the U.S. Congress, including Republican Senator Marco Rubio, nominated the young pro-democracy activist, now 21, and his 2014 Umbrella Movement for the Nobel Prize earlier this month. Their intention was to highlight the group's peaceful efforts to bring political reform and self-determination to the former British colony.
When Hong Kong was returned to China by the British, in 1997, Beijing touted an arrangement dubbed "One Country, Two Systems," under which the territory would retain a degree of self-governance.The mainland promised Hong Kong universal suffrage, but two decades later, though its pseudo-democratic system does give citizens the right to vote from a list of candidates, that list is still approved by Beijing.
"It's more like two countries, one-and-a-half systems," Wong said. "And that half will continue to shrink until China has full control."
In 2014, tens of thousands of Hong Kong protestors demanding electoral freedom camped on major inner city highways for 79 days. The Umbrella Movement—so called because many of the protesters carried umbrellas to protect themselves from police pepper spray—ended on December 11, 2014, after a violent crackdown by Hong Kong police.
In the years since, Wong has turned to politics, becoming the face of the fight for Hong Kong's traditional freedoms against what he sees as the creeping influence of China's Communist regime. As secretary-general of pro-democracy party Demosistō, he campaigns for Hong Kong's right to self-determination after 2047, the year the "One Country, Two Systems"—as set out in the Sino-British Joint Declaration—is set to expire.
"Demosistō is a party urging for people to fight for democracy with resistance instead of anti-talk. We do not seek independence, but we fight for self-determination, to determine the lifestyle and political system of Hong Kong," Wong told Newsweek.
"I won't stop until it finally becomes a reality."
Earlier this month, Wong and other leaders of the umbrella movement were freed from jail, where they were serving six to eight month sentences for their role in the uprising, after Hong Kong's highest appeals court reversed the widely criticized ruling to imprison them in August 2016.
The activists' release also came days after news broke of Wong's highly controversial Nobel Peace Prize nomination.
"I hope [the nomination] can be a platform to educating others about the long-term battle of Hong Kong's democracy. It's been four years since the end of the Occupy Umbrella movement, but we have never given up on our city," Wong said.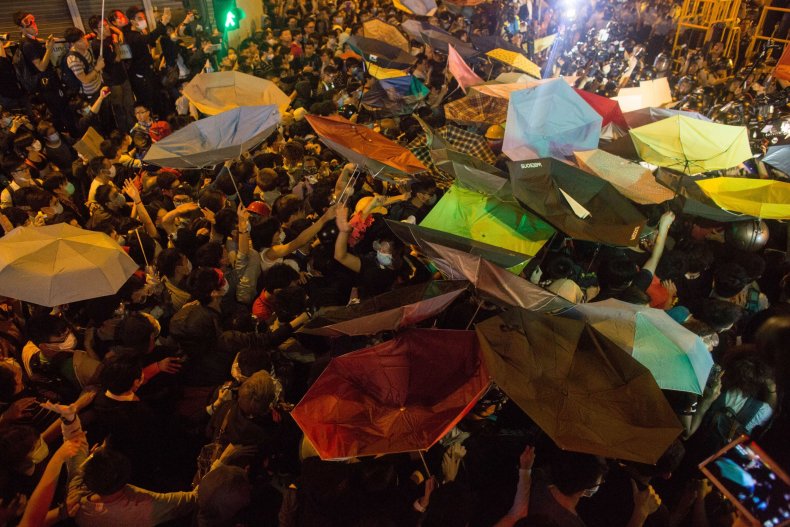 If Wong wins this September, he would be the second youngest Nobel laureate, after Pakistan's Malala Yousafzai, who was only 17 when she was awarded in 2014.
He would also join a roster of public figures as illustrious as it is portentous. China's only Nobel Peace Prize winner, Liu Xiaobo, died of liver cancer in police custody last July while serving an 11-year jail sentence for demanding an end to the one-party rule. Liu was the first Nobel laureate to die in custody since German pacifist Carl von Ossietzky passed away in a Nazi Germany concentration in 1938.
It is not a comparison that Wong accepts. He called his own sacrifices "a piece of cake" compared to that of Liu.
Despite his worldwide fame, Wong is famously aloof when it comes to the media, often dodging journalists, and he is clearly frustrated by personal questions that do not relate directly to his politics. He was once described as "a robot" by his close friend Agnes Wong in the Netflix documentary Joshua: Teenager vs. Superpower because of his single-minded dedication to the cause.
China has viewed Wong's nomination for the Nobel Prize as an unashamedly political act by strongly China-skeptic American lawmakers and has slammed the signatories for interfering with its affairs. "The political agenda behind the U.S. congressmen's nomination is too obvious, and it would be a shame if the Norwegian Nobel committee blindly followed their directive," Global Times, the ruling Communist Party's official newspaper wrote in an op-ed that dismissed the nomination as "ludicrous."
But as a pragmatist, Wong has been willing to take support wherever he can get it. In 2016, he traveled to America to meet Democratic house leader Nancy Pelosi, and Republican Senators Marco Rubio and Tom Cotton. The two Republicans used Wong to introduce the Hong Kong Human Rights and Democracy Act, legislation that imposed penalties on officials in the mainland for suppressing freedoms in the territory.
The meeting demonstrated that the U.S. was diversifying its political investment in Hong Kong assets beyond veteran pro-democracy leaders Anson Chan Fang On-sang and Martin Lee Chu-ming. But to Wong—whose political movement had been losing steam—it worked well to raise his profile.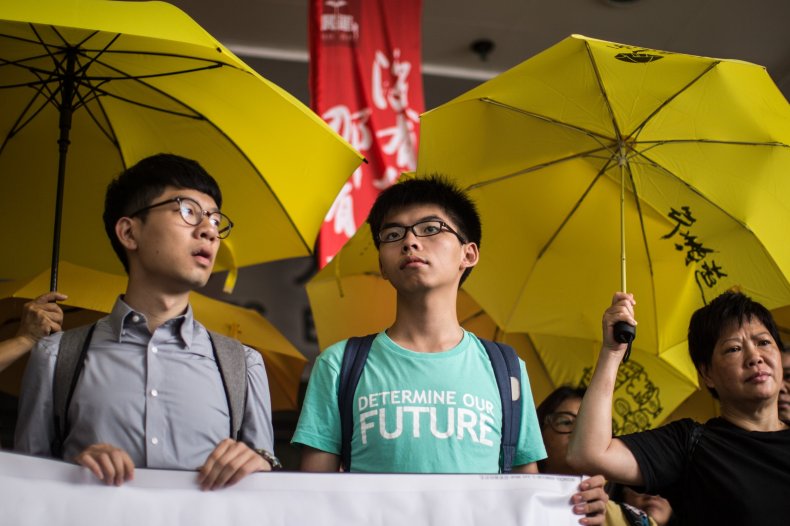 When asked whether recent tumultuous political events in the U.S. and Europe have deterred him from pursuing democracy for Hong Kong, Wong laughed. "At least people in the U.S. can still use the vote to choose the new president in the next term. In Hong Kong we are still so far away from being able to freely elect our leader. It's hard to make a direct comparison," he said.
As for his recent acquittal, Wong did not celebrate the court's decision on February 6. He is more concerned about what the ruling will mean for civil liberties and the independence of the region's judiciary.
Although the five-judge panel at Hong Kong's Court of Final Appeal overturned the prison sentences for "unlawful assembly" imposed against Wong and his colleagues Nathan Law, 24 and Alex Chow, 27, the ruling represented a final warning from the authorities. During the hearing, Chief Justice Geoffrey Ma asserted that "elements of disorder or violence must be deterred," and made clear that he "fully endorsed" harsher sentences for future protests and disobedience.
"I am not positive. I am not positive about the current situation," Wong said. "The Hong Kong court now has a tighter jail sentence guideline for those that demonstrate. I described our release as 'sugar-coated' because the ruling has made it more challenging to fight for free elections in the future."
Wong is also appealing another three-month sentence for defying a court order to leave the Umbrella protest demonstration site in 2014.
Despite its small size, Hong Kong plays a key role in facilitating the flow of foreign investment into China, serving as a crucial bridge between the Chinese financial system and the rest of the world. Chinese companies are increasingly prevalent on the Hong Kong Stock Exchange, while in 2016, around 90 percent of the city's initial public offerings (IPOs) were from the mainland.
But while China is dependent on Hong Kong for a large portion of its foreign direct investment, it is uncomfortable with the city's historical freedoms—and the example it could set for the mainland.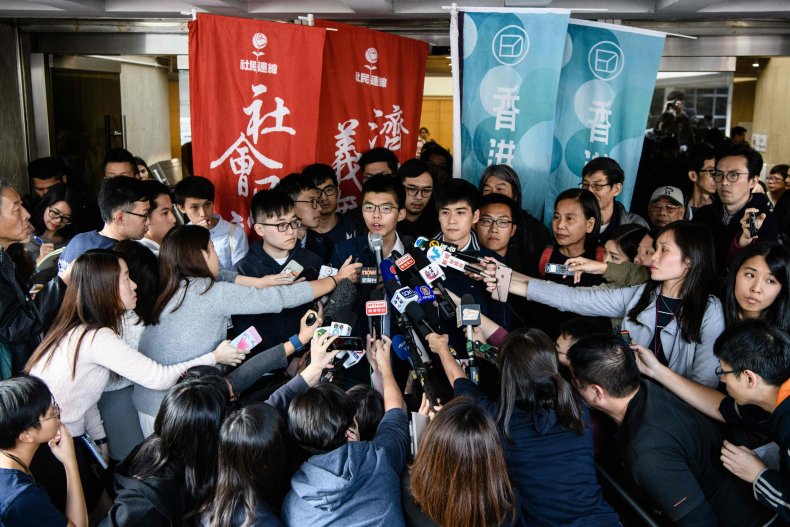 Last month, election authorities banned Agnes Chow, a member of Demosistō's standing committee, from contesting the Hong Kong Island seat in the upcoming polls in March. Chow's party advocates self-determination, the authorities argued, which is banned under Hong Kong election law.
"The political red line came down on us, but we will not step backward. It seems that the government has banned us from running for office, but we still have power to fight for democracy," Wong said.
Wong grew up in a deeply devout Christian family. He was drawn to activism after visiting a poor family in his formative years and realizing that just praying would not bring about the change needed to help them.
In 2011, at the age of 14, Wong formed the student activist group Scholarism with schoolmate Ivan Lam Long-yin. One year after its creation, he organized a political rally of over 100,000 people against national education, a patriotic curriculum that critics have slammed as pro-Beijing "brainwashing." The government eventually had no choice but to back down.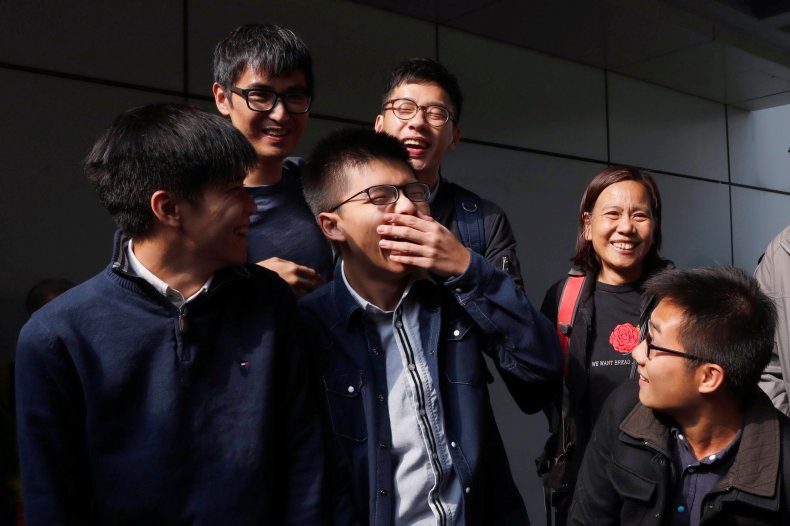 Now Wong is hard at work preparing an election campaign, having deferred his university studies this semester to focus on Demosistō. The student leader of the Umbrella Movement, Nathan Law, was elected as a legislative councillor member last year but was disqualified for using his oath-taking ceremony as a protest platform. Law made an opening statement before his oath pledging to serve the people of Hong Kong and pronounced the word "Republic" in "People's Republic of China" as if it were a question.
"There is a bi-election next month on March 11. [Demosistō is] planning on sending one of our senior experienced activists to run. We hope to get back the seat that was originally owned by Nathan Law," Wong explained.
As for the immediate future, Wong is not holding his breath. "In 10 years' time I will be on the same battlefield," said Wong.
"I just hope when people think of Hong Kong, it's not just all Bruce Lee, Jackie Chan or dim sum. I hope in the near future, they will think of our country as a place where people fight for democracy."