Journal From First Commercial Cruise Around the World Goes on Sale
A journal written by a passenger on the first commercial cruise around the world is going on sale.
The SS Ceylon was the first yachting cruise ship in history that ventured around the world in 1881.
One of its passengers was Reverend William Alfred Essery, who kept a handwritten 280-page account of his trip.
The journal describes his adventures on board, as well as descriptions of the vessel and an account of one passenger who went overboard—never to be seen again.
Rev. Essery's journey began when the cruise liner left the English harbor in Southampton, in the U.K., on October 29, 1881 and returned on August 22, 1882.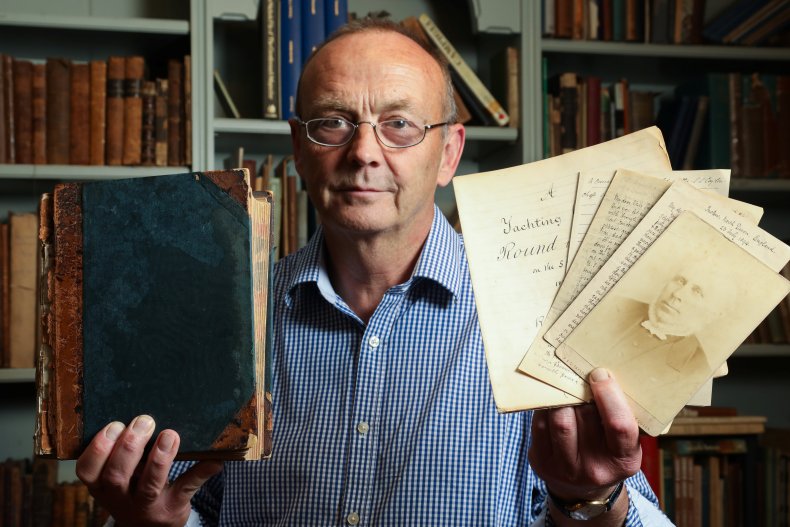 It stopped in many countries around the world, such as India, China and the U.S.
The ship belonged to friends and business partners James Culliford and John Lockie Clarke.
They established Culliford & Clarke in London in 1875 and were thought to have been inspired by Jules Verne's novel Around the World in Eighty Days which details the adventures of its protagonist Phileas Fogg.
The handwritten account goes up for sale with Dominic Winter Auctioneers on July 20 and is expected to sell for up to £1,000 ($1,200).
The brochure states: ''An unpublished manuscript account of one of the earliest commercial pleasure cruises and the first commercial cruise around the world.
''The SS Ceylon was a single-screw, iron-hulled auxiliary steamer built by P&O in 1858 for use on the regular service from Southampton to Malta and Alexandria.
''With accommodation for 130 first and 30 second-class passengers it was bought by the fledgling Inter-Oceanic Yachting Company Ltd.
''The Company belonged to friends and business partners James Culliford and John Lockie Clarke who had established a steamer brokerage, Culliford & Clarke in London in 1875.
''No doubt partly inspired by Jules Verne's Around the World in Eighty Days (1872), Clarke dreamt of going into leisure cruising and with some marketing fanfare they planned this ten-month voyage which was to take place from late October 1881 to late August 1882, covering some 37,500 nautical miles and stopping at various exotic and alluring places on the way.
''While this account inevitably describes a lot of day-to-day life on board ship, Essery was one of the few people that completed the whole journey and gives some interesting accounts of places visited.
''This manuscript is therefore a potentially unique and historically important account of this first commercial world cruise.''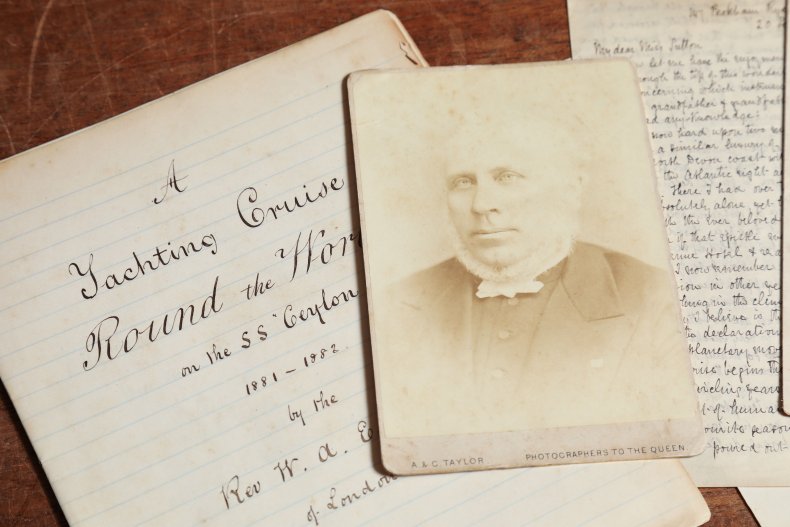 Chapters
The account is divided into chapters of various parts of his trip:
Chapter I. First days at sea – Bordeaux;
II. Beautiful Lisbon and Belem;
III. Jebel-al-Tarik;
IV. Coasting in the Mediterranean;
V. Crowded Naples & empty Pompeii;
VI. Rounding Sicily to Valetta;
VII. From the Piraeus to the Golden Horn;
VIII. Smyrna city, castle & missions;
IX. The Island of Roses & the city of Alexander;
X. Onward to India;
XI. Seeing Bombay;
XII. Ceylon's isle;
XIII. Twenty-four hours in Madras;
XIV. British India's capital;
XV. In the straits of Malacca;
XVI. Sailing up China Sea;
XVII. Hong Kong & Sunday in Canton;
XVIII. Canton, doing the sights;
XIX. From Hong Kong to Nagasaki;
XX. Through five Nadas – Kioto;
XXI. Missions in Kioto & Osaka – Yokohama;
XXII. Honolulu & Hilo;
XXIII. Going to San Francisco and the equator;
XXIV. On the South Pacific;
XXV. Through Magellan Straits to Monte Video;
XXVI. A trio of South Atlantic Ports;
XXVII. Across the tropics, homeward.
The Ship
Standing as 305-feet-long, 41-feet-wide, and weighing 2.1 gross register tons, the SS Ceylon was barely the size of the smallest cruise liners operating today.
For comparison, the Queen Elizabeth 2 (QE2), which was launched by its namesake in 1967, is 963-feet-long and 105-feet-wide. The ship's gross tonnage was 65,863 tons and it was able to carry 2,000 passengers. Now refurbished as a luxury hotel, the QE2 is currently at rest in Dubai.
The SS Ceylon was purchased by English ship broker John Lockie Clarke for £9.235 ($11) (equivalent to £1,192 ($1,400) today) in June 1881.
Clarke and his friend James Culliford both set up Inter-Oceanic Steam Yachting Company Limited (IOSYC) in the same year—the world's first company determined to curate the world's first designated cruise line.
Clarke had dreamt of going into the leisure cruising industry six years before—but the concept of such travel was still very much in its birth.
During the time, there were no cruise ships and those in the shipping industry were unsure of whether the phenomenon would ever take off, let alone make a profit.
Originally sized to accommodate 130 first-class passengers and 30 second-class passengers—the pair refit the ship to sleep just 100 first-class passengers in 49 cabins across two decks.
This was to allow more space for public areas, such as a dining room, an exclusive ladies' dressing room, and a smoking room for the gentlemen.
Musical entertainment was also provided by the ship's orchestra and a steam-powered fairground organ.
In his description of the ship in his journal, Rev. Essery highlights the impressive nature of the cruise liner.
He wrote: "She has a spacious main deck, large and perfectly ventilated saloon 8 feet 3 inches in height and amply and well-arranged domestic offices, which stem her as a luxurious passenger steamer.
"Added to this, an elegantly appointed ladies' boudoir and a comfortable smoking and card room have been erected upon the upper deck.
"Every detail is being attended to with the view of promoting the convenience of the passenger and the pleasure of the voyage."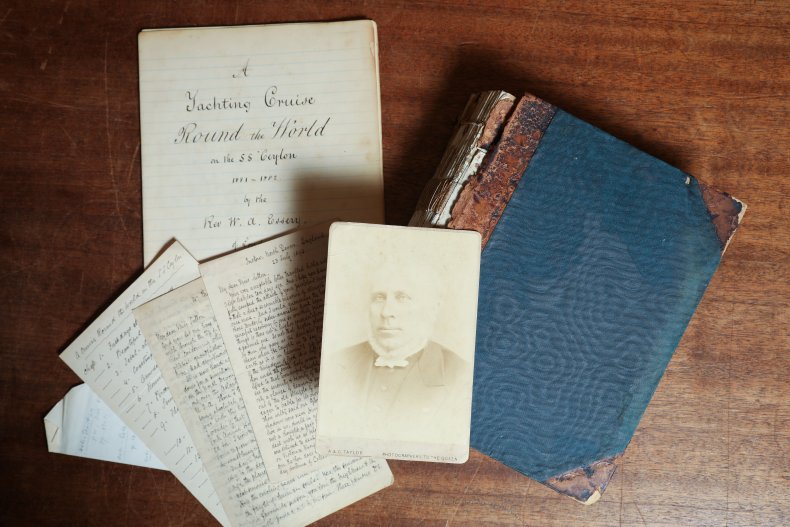 Within the journal, Essery describes vast details of life on board the famous cruise line and his excursions off the ships to exotic destinations.
He also describes a tragic incident where a man went overboard never to be seen again.
His account reads: "The unhappy man had flung himself wildly from the fore part of the ship and must in a few moments have been beyond all human help."
Dominic Winter Auctioneers report that no other published work of the whole voyage has ever been found—making this journal a particularly unique find.
Despite the incredible travel experience of a lifetime, the cruise did not make the cut to be classed as a commercial success.
This is because the cruise filled under half of its capacity—with only 40 guests actually paying to be onboard.
It appeared that the demand for long-haul journeys across the unknown oceans was not there, despite the impressive technological advancements for the period.
The lot also includes photos of Reverend Essery and letters from he wrote to Miss Anne H. Sutton, to whom the manuscript was dedicated.
Produced in association with SWNS.
This story was provided to Newsweek by Zenger News.