Journalism's Model for Doing Good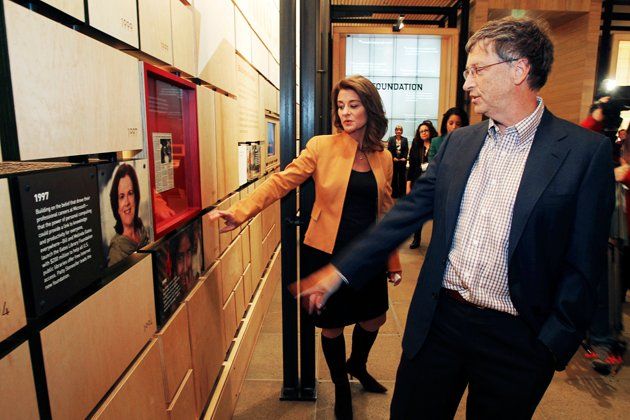 When Bill Gates was unveiling his dazzling, high-ceilinged visitors' center in Seattle last week, I asked him about a framed newspaper clipping on the wall. He recalled reading the 1997 New York Times piece on how impoverished Asian children were dying from filthy water. Clad in his nebbishy uniform of sport coat, checked shirt, and tasseled loafers, Gates told me how he was stunned at "seeing what the plight of the poorest was" and that "the system of innovation was not working on behalf of the poor." The upshot: he and his wife created what is now the $33 billion Bill and Melinda Gates Foundation. "If your neighbor had a child who was dying of pneumonia, you would act," Melinda Gates says. "Yet children are dying every day in the developing world. Getting those stories out is something the media can be hugely helpful with."
The foundation has set up a media unit, run by former Nightline producer Dan Green, that last year funneled $25 million in grants to such outlets as ABC and PBS to cover global health problems (with pledges of editorial independence). "These are not necessarily the most popular stories that sell newspapers or attract large numbers of viewers," Green says. Rather, they are what Ian Katz, deputy editor of London's Guardian, calls "eat-your-peas stories." They present a challenge to journalists, in part because tales of AIDS victims and substandard schools are inherently dark and depressing.
Since Bill Gates has his hands full as chairman of Microsoft and with his crusade to combat polio and malaria, it's striking that the software engineer has come to embrace the importance of telling stories—like the one that led him into philanthropy.
Finding The Money
They came from around the world to talk about saving journalism. But in joining panel discussions at the Gates Foundation, I was left cautiously pessimistic: the old business models have imploded, newspaper staffing is at Watergate levels, and Twitter is the new (shorter) AP. Info sharing on Facebook, about to launch a $10 billion IPO, seems more influential than the media dinosaurs. Columbia Journalism School's Steven Wald-man suggests that foundations rescue the news business with 1 percent of their annual grants, or $2.7 billion. But would the public support subsidizing middle-class scribes? Foundation money has helped the nonprofit newsroom ProPublica win two Pulitzers. But the best and the brightest are still stumped over how to make quality journalism pay.
Everyone's a Hack Now
None of them existed a decade ago. But the explosive growth of such online services as Twitter, Facebook, and Tumblr has shifted power from the media moguls to the masses.