Journalist Alleges Southwest Airlines Told His Hijab-Wearing Wife She Was Making Passengers 'Uncomfortable'
In a Twitter thread this past Monday, Mehdi Hasan, a journalist for The Intercept and other outlets, called out Southwest Airlines, because a flight attendant allegedly threatened to remove his wife, who wore a hijab, for making other passengers "uncomfortable."
Hasan claimed that Southwest ruined the end of his family's Thanksgiving trip by humiliating his wife, leaving her in tears.
In the thread, the journalist claimed that the flight attendant called ground staff, after his wife asked a man to switch seats with her. Hasan stated that his family were not the only ones shocked by the attendant's behavior. He said that the ground staff member who came on board wondered why the flight attendant called. Hasan claimed that a passenger said the attendant "treated [his wife] like a venomous snake."
On Friday, Hasan tweeted that Southwest had apologized privately, but he criticized the company for not publicly apologizing. He also said that the airline offered travel vouchers that did not cover the cost of their flights. Hasan claimed that in direct messages that the airline has not addressed that the flight attendant's remarks.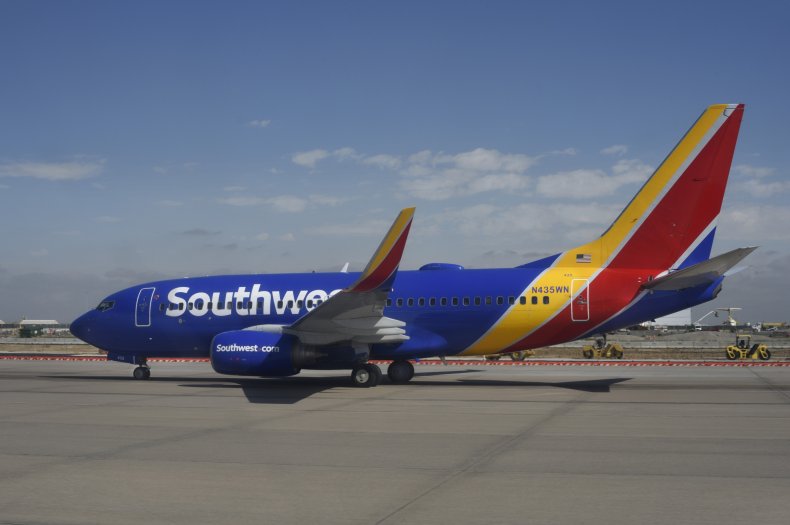 In a statement to The Sun, Southwest confirmed that the airline had reached out to Hasan and his family internally. "From our initial discussions, we understand that some Passengers on Flight 5539 were involved in a disagreement over seat selection near the end of boarding," a spokesperson told The Sun. "The Family was (sic) able to sit together and the flight arrived safely in Washington, D.C. on Sunday night. We remain in communication with the Customer who sent the tweet and are working to address his concerns directly."
Hasan responded to Southwest's statement to The Sun, stating that there was not a disagreement among passengers--just the flight attendant. Hasan said the incident has "nothing to do with the passengers, or seat saving or swapping" but "everything to do with the *flight attendant* - who targeted & threatened my wife for no good reason."
In a reply to Hasan's Friday thread, Southwest's Twitter account responded offering sympathy. "I can only empathize with the depths of you and your family's feelings on this matter, and I'm sorry that we don't have another resolution to offer. You have my assurances that the events as you have described them were carefully documented," the tweet read.
In one tweet, Hasan stated that Southwest's response has made him even angrier. "I'm now more furious than I was on Sunday. Then it was a rude and racist flight attendant. Now it's an entire airline, an entire company, that seems unconcerned by, even maybe covering up, racism and harassment onboard. Shame on you @southwestAir," he wrote.
"We have apologized to Mr. Hasan and his family for his less than positive travel experience," a Southwest spokesperson told Newsweek. "Regarding Mr. Hasan's claims, Southwest neither condones nor tolerates discrimination of any kind. Since Southwest Airlines' inception, we have put People first and live by the Golden Rule by maintaining mutual respect for our fellow Southwest Airlines Employees, our Customers, and the diverse communities we serve."
Hasan did not respond to a request for comment.