Lyra McKee: Journalist Gunned Down in Northern Ireland Remembered as 'Rising Star' by Colleagues
Dissident Republicans are believed to be behind Thursday's shooting death of a journalist in Northern Ireland, and police have appealed for calm.
Lyra McKee, 29, was shot during unrest in the Creggan area of the city of Derry, where on Thursday crowds had become violent ahead of the Easter weekend.
Cars were set on fire, and a crowd threw fireworks and petrol bombs at emergency vehicles, CNN reported. McKee was wounded after a gunman fired shots in a residential area, and she died from her injuries.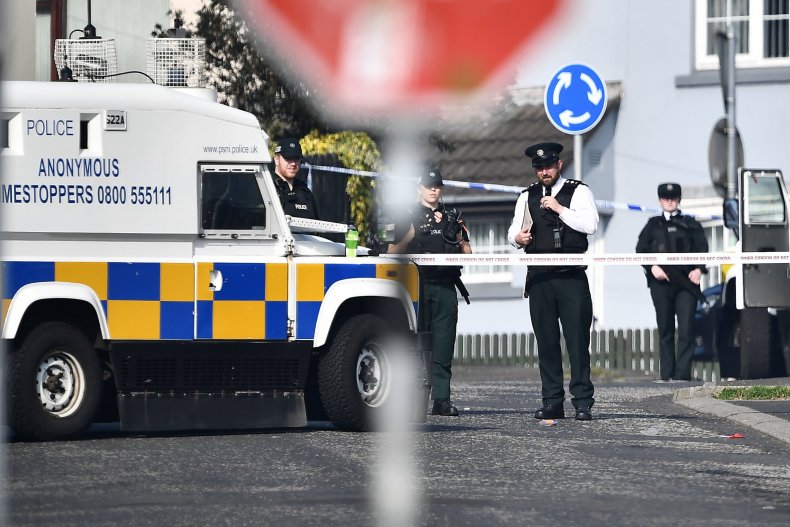 She had recently signed a two-book deal with Faber & Faber, who called her a "rising star of investigative journalism." Her first book, The Lost Boys, was to be published in 2020 and was about the disappearance of children and young men during the Troubles, the Bookseller reported. McKee contributed work to The Atlantic and to BuzzFeed News, among other outlets.
She first came to prominence in 2014 after she wrote a piece about growing up gay in Belfast, "Letter to My 14 Year-Old Self," that went viral and was turned into a short film.
In 2016, she was named one of Forbes' "30 under 30 in media" in Europe.
The province's assistant chief constable, Mark Hamilton, said on Twitter, "We are treating this as a terrorist incident, and we have launched a murder inquiry." He later said in a press conference that the killing was "horrendous and unjustified."
Hamilton said police believe the shooting was carried out by dissident Republicans, namely the New Irish Republican Army.
McKee was the first journalist to be killed in the United Kingdom since September 2001, when investigative journalist Martin O'Hagan was assassinated on his way home from the pub in Lurgan, Northern Ireland, by the Loyalist Volunteer Force.
The National Union of Journalists described her as "one of the most promising journalists" in Northern Ireland. "I have no doubt that it was that commitment which led to her presence on the streets of the Creggan last night, observing a riot situation in the city," the union's Irish secretary, Séamus Dooley, said, according to the BBC.
There has been an uptick in violence in Northern Ireland amid heightened fears that sectarian violence might be revived over concerns about the effects of Brexit. The city was the scene of a car bombing in January, in a suspected attack by the New IRA.
Easter is a key date for Republicans, who mark the Easter Rising of 1916, one of the most important dates in the struggle for Irish independence.
The last tweet McKee sent was of an image of the unrest in Derry, with the words "Derry Tonight. Absolute Madness."
Matthew Hughes tweeted: "She was one of my closest friends. She was my mentor. She was a groomswoman at my wedding. I can't imagine life without her, and yet now I must. I'm devastated."