Journalist Khashoggi Strangled as Soon as He Entered Saudi Mission, Claims Turkish Prosecutor
Turkey's chief prosecutor has claimed journalist Jamal Khashoggi was strangled as he entered the Saudi consulate and then dismembered.
The first official account of the circumstances surrounding Khashoggi's disappearance tells of a premeditated killing, undermining Riyadh's claims that he was killed after a fight broke out.
"The victim's body was dismembered and destroyed following his death by suffocation," said the statement by Irfan Fidan, the Associated Press reported.
Turkish investigators are pursuing lines of inquiry that include the journalist's remains either being disposed of at the Saudi consul general's house, dissolved in acid or dumped in a well on the property.
The statement also said that discussions with Saudi chief prosecutor Saud al-Mojeb yielded no "concrete results." Al-Mojeb has left Istanbul, suggesting little cooperation between the countries on the joint investigation.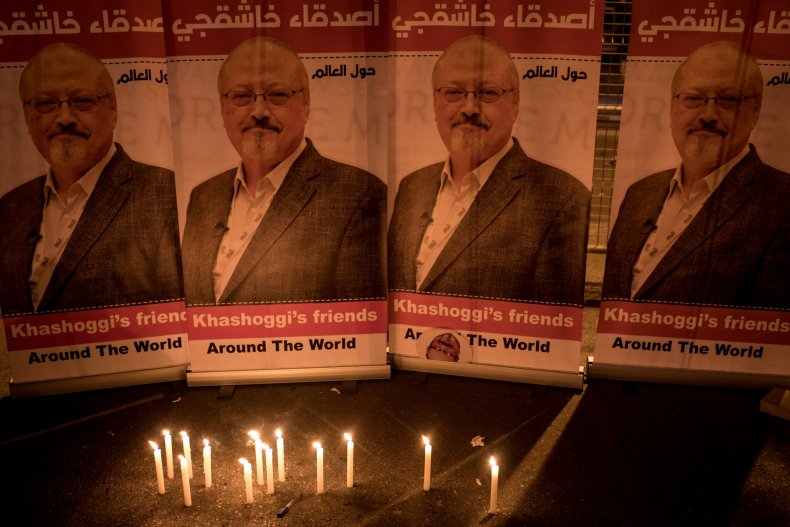 Riyadh has admitted there was a premeditated plan to kill Khashoggi but says it was by rogue operators without the knowledge of the Saudi crown prince, Mohammed bin Salman.
Khashoggi was last seen on October 2 entering the Saudi Consulate to get papers for his upcoming wedding to his fiancée, Hatice Cengiz, a Turkish citizen.
Khashoggi's fiancée said she thinks the Saudi government knows where his body is.
Cengiz said, via The Guardian: "If only I had known there was such an evil bloodthirsty crew I would have done everything to stop him entering that building. We never imagined such a level of barbarity and evil."
She also criticized U.S. President Donald Trump for his mixed messages toward Riyadh, fearing that he was paving the way for a cover-up.
"President Trump should help reveal the truth and ensure justice be served," she said on Monday.
Turkish President Recep Tayyip Erdogan has denounced Saudi Arabia but refrained from releasing an audiotape allegedly capturing a recording of the journalist's murder.
Turkish officials have put in requests for the extradition of 18 Saudi suspects for trial in Turkey.
Saudi officials say they will try the 18 and bring them to justice at the end of the investigation, AP reported.