Journalist Lost Both Mother and Aunt to COVID, Shares Gut-Wrenching Photo of Them
Today, journalist Biba Adams shared a photo on Twitter of her mother and aunt, who both passed away from COVID-19. The gut-wrenching picture is of Adams' loved ones is a cherished memory with a powerful message.
The throwback picture was taken about a year ago. Adams' aunt was getting her makeup done by her sister, Adams' mother, before celebrating her 50th wedding anniversary.
Adams tweeted, "They are both dead now. They died from #COVID19 this year but Donald Trump, 'It is what it is.'"
According to Detroit Metro Times, Adams' mother, grandmother, and aunt all contracted the coronavirus and later died. About four months ago, she shared the tragic news over on social media. The former Metro Times writer received condolences from actresses Rosanna Arquette, Alyssa Milano, and Issa Rae.
"I am deeply saddened to share that my mother, Elaine Head, passed away on yesterday from complications of COVID-19," wrote Adams. "My aunt, grandmother, and now my mom were all felled by this vicious disease."
Arquette stated, "This is [sic] incredibly sad I am so sorry for your devastating loss."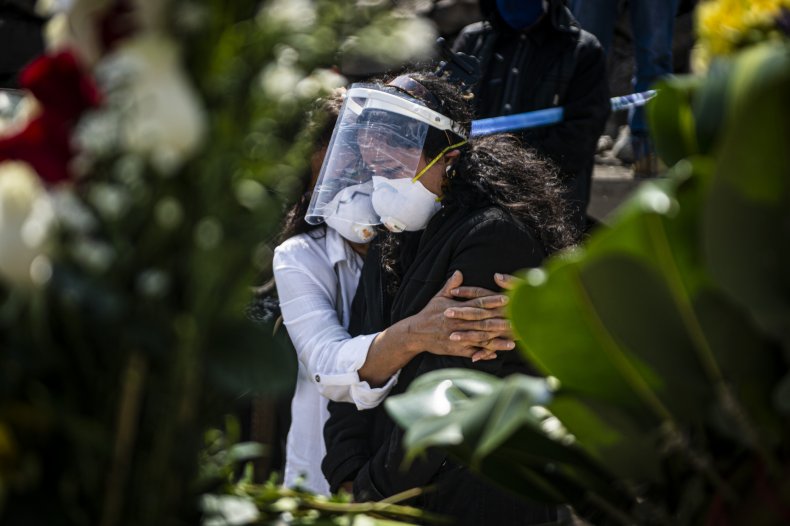 In a recent interview with CBS This Morning, Adams discussed the loss of her loved ones. She said, "March 26th was really kind of the day that changed everything. Between my aunt passed, my mom was in the hospital, my grandmother went to the hospital. And of course, that would be the last day that I would see them all."
Adams continued, "I'm thinking about what holidays are going to look like now. so much of my historical legacy is lost."
About a month ago, Adams shared a heartwarming picture of her mother on Instagram. They are both smiling at the camera.
In the caption, Adams wrote, "I will never stop missing my mom. I will never stop fighting for her legacy. I will never stop fighting for the things she believed in."
When asked how she was dealing with grief and mourning, Adams continued to tell Newsweek, "Grieving during this pandemic has been sad and lonely. There is a whole in my soul without my family around anymore. But, I'm thankful for my friends who have been there for me and my community."