The Marshall Fire burning south of Boulder, Colorado, has destroyed hundreds of homes and businesses, and authorities were calling it the most destructive fire in state history only hours after it broke out Thursday morning.
Officials have yet to determine how many structures were claimed by the fire, which spread to 1,6000 acres by 5:00 p.m. Thursday. One local journalist surveying the scene in a neighborhood of the city of Louisville found only one house still standing.
Reporter Veronica Acosta of Denver's ABC-affiliated KMGH-TV filmed a Friday morning segment at Arapahoe Circle and Willow Street in Louisville. She noted the solitary home remaining said, "This entire neighborhood is gone."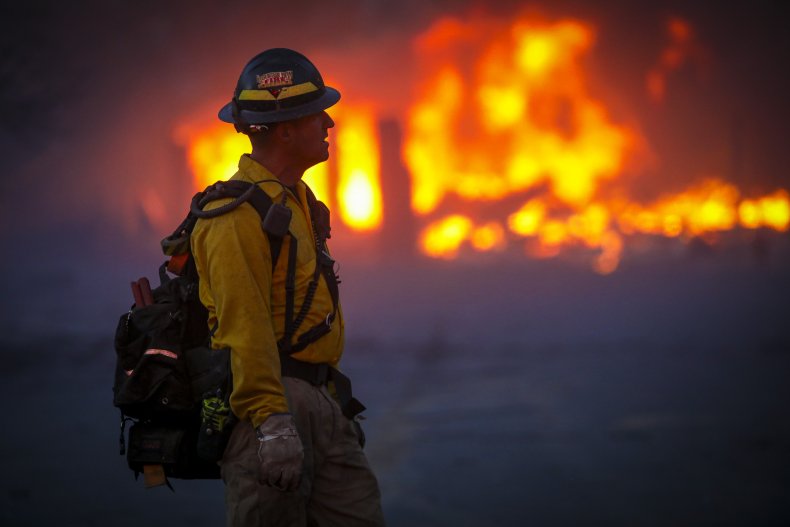 Two blazes broke out Thursday morning in Middle Fork and the more destructive one in Marshall, and authorities believe sparks from power lines and transformers downed by high winds were the cause. Drought, heavy winds and recent warm weather then contributed to the wildfires spreading rapidly throughout Boulder County.
In Louisville, Acosta described a mailbox being completely burnt to the ground while a camera panned across a scene of ashes and flickers of fire. "Cars have also just been completely charred," she said.
While moving further along the area, Acosta added, "Anyone wondering if their home is still standing anywhere near here, if you live on this street, unfortunately, there's just not one home here that's still standing."
Acosta shared footage on Twitter of the lone house she saw near Arapahoe Circle.
The fire forced the evacuation of more than 30,000 people, including patients at local hospitals. More than 20,000 people were still without power at around 12 a.m. MST Friday, according to Poweroutage.us.
The town of Superior was among the communities that issued an evacuation order. Superior Mayor Clint Folsom spoke with KMGH-TV on Friday.
"The priorities for this morning are going to be to continue to stabilize the situation there and make it safe so that residents can come back," Folsom told the news station. "I know that's probably the No. 1 priority of residents, is to get back in there and see what the situation is on the ground firsthand."
Folsom said he drove through some areas on Thursday evening and found "the most horrific conditions I've ever experienced."
On Thursday, Colorado Governor Jared Polis declared a state of emergency, which allowed the deployment of emergency funds and resources including the Colorado National Guard.
"This fire is, frankly, a force of nature," Polis said during a news conference. "For those who have lost everything that they've had, know that we will be there for you to help rebuild your lives."