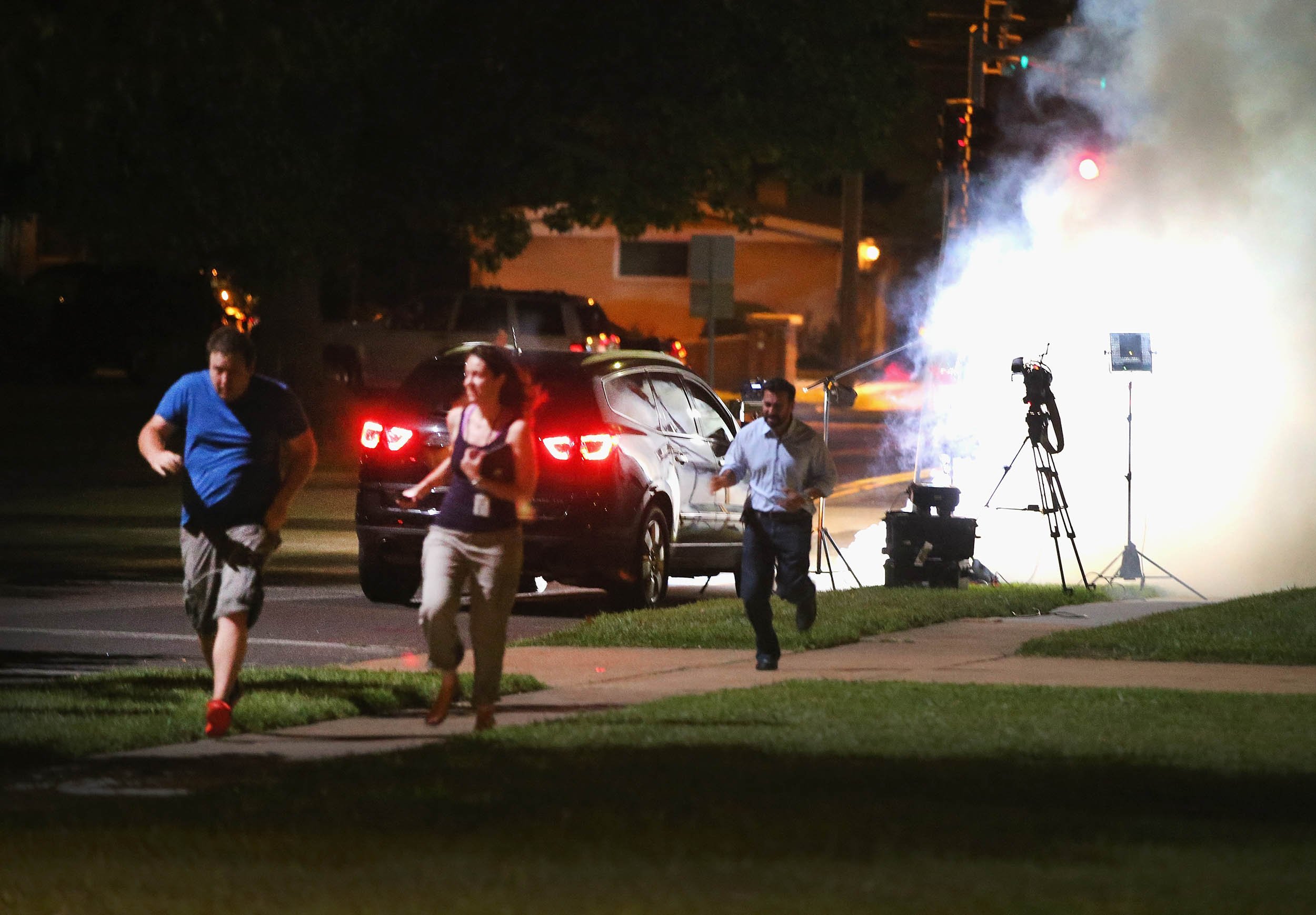 As scenes of chaos and photos of war-ready police equipment rolled in from protests in Ferguson, Missouri, on Wednesday, several working journalists found themselves the target of a haphazard law enforcement crackdown. Wesley Lowery, a Pulitzer Prize–winning Washington Post reporter, and Ryan Reilly, a Huffington Post justice reporter, were arrested and said they were assaulted by police while working from a McDonald's, and a video team from Al Jazeera were forced to run as a cloud of tear gas engulfed their film equipment.
Lowrey tweeted that officers arrested them because they "decided we weren't leaving McDonalds quickly enough, shouldn't have been taping them
"Officers slammed me into a fountain soda machine because I was confused about which door they were asking me to walk out of," he wrote.
Reilly also said he was assaulted.
Other journalists were not immediately able to get information on Lowery and Reilly's arrest, and a general lack of typical police procedure appeared to permeate the situation.
Lowery and Ferguson were later released without charges or a police report.
Martin Baron, the executive editor of the Washington Post, released a statement saying there "was absolutely no justification" for Lowery's arrest.
The same evening, Al Jazeera journalists were engulfed in tear gas Wednesday night as they tried to film the ongoing protests in Ferguson. Journalists from St. Louis TV station KSDK, recorded video of the incident. One of KSDK's reporters said his own camera equipment was hit by a "bean bag round" from police.
Al Jazeera released a statement condemning the incident and calling for an investigation.
"Last night at 10:30pm CD in Ferguson, Missouri, an Al Jazeera America news crew was reporting behind police barricades. They were easily identifiable as a working television crew," spokeswoman Jocelyn Austin said. "As they were setting up their camera for a live report, tear gas canisters landed in their proximity and police fired rubber bullets in their direction. Police continued to shoot after crew members clearly and repeatedly shouted ''Press.'"
"Al Jazeera America is stunned by this egregious assault on freedom of the press that was clearly intended to have a chilling effect on our ability to cover this important story," she added. "Thankfully all three crew members are physically fine."