Journalists Targeted 148 Times by Russia During War: Report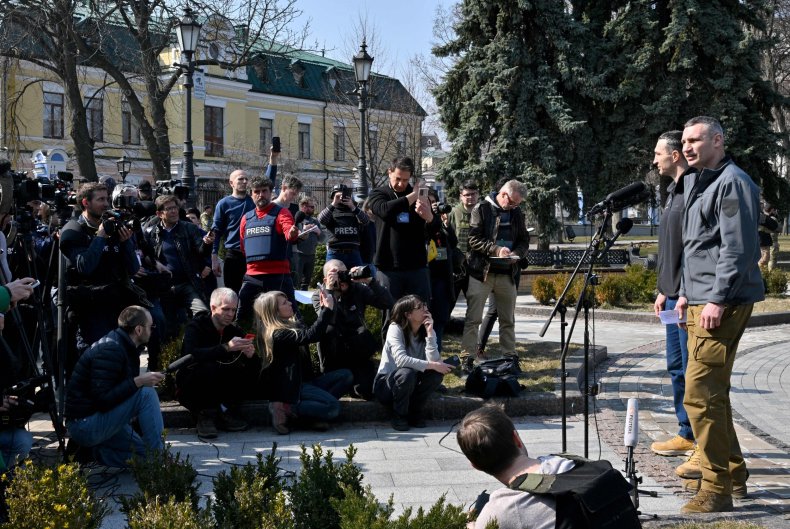 Russia has allegedly been involved in at least 148 instances of targeting journalists during the first month of its full-scale invasion of Ukraine.
The Russian military killed five journalists, wounded seven others and took part in at least 136 other "crimes" against members of the media in Ukraine between February 24 and March 23, according to a report issued Thursday by the Kyiv-based Institute of Mass Information (IMI).
The Russian journalist Oksana Baulina was the most recent to die, killed while on assignment in Kyiv amid Russian shelling on Wednesday. Ukrainian camera operator Yevhen Sakun was the first, after being fatally wounded in a Russian rocket attack on a TV tower in Kyiv on March 1.
American Time magazine journalist Brent Renaud, an award-winning former correspondent for The New York Times, was shot dead by Russian troops at a checkpoint in the Kyiv suburb Irpen on March 13.
Two members of a Fox News crew, Irish cameraman Pierre Zakrzewski and Ukrainian producer Oleksandra Kuvshynova, were killed when Russian forces shelled the village of Gorenka on March 14. Fox News correspondent Benjamin Hall was among the seven journalists the report says were injured by the Russian military.
The IMI report also accuses Russia of kidnapping at least six journalists, making death threats to another 11, and intentionally targeting media facilities and shooting at journalists. The deliberate attacking of journalists is considered a war crime under international law.
On Friday, the United Nations (UN) warned that journalists, alongside local Ukrainian officials and "civil society activists" opposing the invasion, had been subjected to "enforced disappearances" believed to be carried out by the Russian military.
The UN documented 15 disappearances involving journalists and activists, and 22 involving local officials. Reports of those missing arrives as Russia's invasion of Ukraine drags on, with Russia facing accusations of committing war crimes and targeting civilians.
During a media call, Matilda Bogner, head of the UN's Human Rights Monitoring Mission in Ukraine, said that the forced disappearances "seem to be a pattern that is occurring in areas that are occupied by the Russian Federation."
"Forces of the Russian Federation are going specifically to detain, and do not inform relatives and others where they are taking people," Bogner said, according to Agence France-Presse. "That does in some cases appear to be a form of hostage-taking."
Also on Friday, the Paris-based nonprofit group Reporters Without Borders (RSF) said that Russian forces were "bullying and threatening journalists and local media" as part of an attempt to "prevent them reporting the facts" and instead "get them to spread Kremlin propaganda."
"By taking hostages, after bombing TV towers and shooting at cars marked 'Press,' the Russian authorities are demonstrating their determination to censor all reporting that contradicts their military propaganda," Jeanne Cavelier, head of RSF's Eastern Europe and Central Asia desk, said in a statement.
"We strongly condemn these acts of intimidation and call on the Russian authorities to stop targeting journalists," Cavelier added. "They will have to answer for their actions before international courts."
In addition, dissenting Russian journalists have apparently been targeted at home. Alexei Venediktov, a former top editor of a Russian radio station who was critical of the Ukraine invasion, said this week that he was left a severed pig's head at the door of his Moscow apartment alongside a sticker of a Ukrainian crest emblazoned with the words "Jewish pig."
Venediktov's former radio station, Echo of Moscow, was forced to cease operating by Russian authorities on March 3 for daring to criticize the invasion.
Newsweek reached out to the Embassy of Russia in Washington, D.C., for comment.