A Journey Through Egypt After the Revolution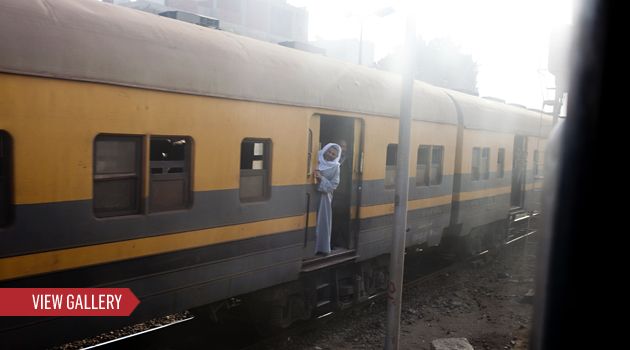 To see firsthand how the momentous changes in Egypt are playing out, a NEWSWEEK writer and a photographer traveled by train from Alexandria to Aswan, a journey of roughly 1,100 kilometers from the Mediterranean Sea through the Sahara.
Alexandria: Spark for a revolution
At 6 a.m., the train rumbles out of the Alexandria station, past a building decked out with strings of red, yellow, and green lights in celebration of Prophet Muhammad's birthday. Founded by Alexander the Great, the city on the Mediterranean coast marks the northern edge of Egypt, its neoclassical architecture evidence of past European influence. But there are also signs of more recent history—an armored personnel carrier is parked by a roundabout planted with palms and banana trees, and revolutionary graffiti is sprayed on the walls of the ancient city, proclaiming DOWN, DOWN WITH HOSNI MUBARAK.
Although Tahrir Square in Cairo became synonymous with the revolt that eventually toppled President Mubarak on Feb. 11, the uprising was sparked here last summer, when policemen beat to death a young man named Khaled Said. Photos of his disfigured body spread virally online, his name becoming a rallying cry for pro-democracy forces.
"Tahrir Square is open, and it will not be closed again," his uncle, Ali Kasseem, 65, told NEWSWEEK the day before our journey began. "We have the keys. Every city in Egypt now has a Tahrir Square."
Cairo: Site of the revolt
Shortly before 9 a.m. we approach Cairo. Smokestacks stand like sentries outside the capital, a mega-metropolis where some 20 million people live. The soft pink light of the Mediterranean has given way to the brown haze of dust and smog that hangs over the urban sprawl. On the crowded, narrow streets, three-wheeled tuk-tuks zoom in and out of traffic. Vendors have stacked their stalls high with cucumbers, tomatoes, bananas, and oranges—flashes of color in the polluted city. Near Cairo's Ramses station, morning commuters are lined up in front of a stall for servings of fuul, Egypt's national breakfast—a boiled mash of fava beans served with bread and pickled vegetables. The revolution is less than a week old but the Cairenes are back at work.
Just south of Cairo, our train chugs into lush farmland along the Nile, the 6,650-kilometer river that, by way of one of its main tributaries, the White Nile, connects the Mediterranean with central Africa, Egypt with Burundi. This is Egypt's breadbasket, and by the railway tracks, rows of farm plots cut the landscape into verdant geometry, patches of tomato, onion, wheat, and corn. White herons take long strides in rice fields, and kingfishers hover and dive into nearby canals in search of fish. Farmers, wearing traditional robes and turbans, toil away in the fields.
The pastoral beauty belies the poverty of Upper Egypt. Many homes are built with mud bricks, and the smell of burning garbage wafts through the open windows of the train. As we pass through the farmland, a group of young men in our second-class railway car lean over the blue seats, chatting excitedly with the strangers in their midst. They tell us of how, when the first protests broke out on Jan. 25, they made their way to Cairo. "We wanted to show our support," says Abdullah Fathi, a 19-year-old civil-engineering student in a blue sweatshirt. "For the first time, I'm proud to be Egyptian. For the first time, I feel like I can make my dreams come true." His friend and fellow student, Ahmed Mustafa, 19, declares the world changed when Mubarak resigned. "Tomorrow is better than yesterday," he says with a big smile. "I'm very optimistic about what's coming."
The tea vendor of the train, wearing a brown galabiyya, a traditional robe, walks by, holding a battered tea kettle, shouting, "Chai, chai."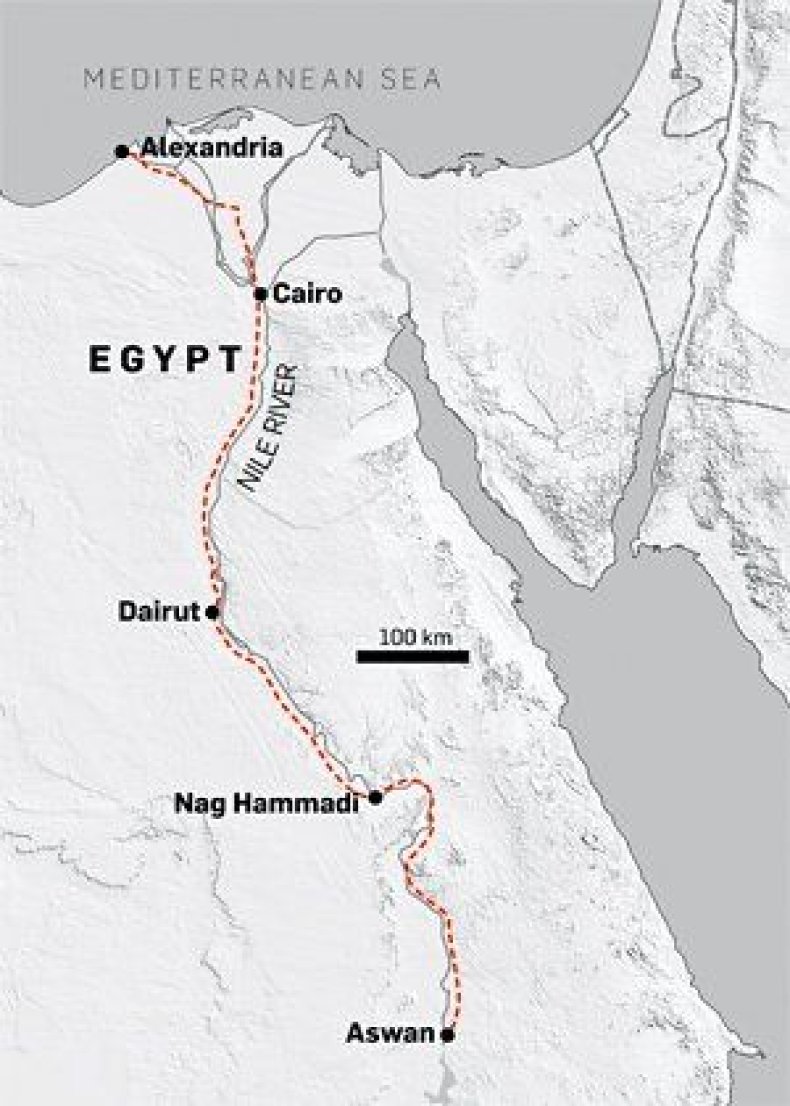 Dairut: Islamist heartland
At sunset we arrive in the small town of Dairut just as the muezzin begins his melancholic-sounding call to prayer. On the surface, Egypt, in many ways, appears more secular than other countries in the Middle East. But this is a town of believers, we discover, as we leave the train to find a place for the night. The town looks like a frontier outpost in Pakistan's unruly tribal regions. A tall sandstone minaret crowns the Tousan Abu Jabal Mosque, and farmers ride donkeys along the streets, which are pockmarked with potholes. Men wearing long beards and traditional dress eye us suspiciously, and there are no women to be seen.
Inside the mosque affiliated with Gemaa Islamiya, a radical religious organization once linked to Al Qaeda's second in command, Ayman al-Zawahiri, several hundred men have gathered in prayer. A speaker commands the microphone to extol Sayyid Qutb, the philosophical father of the Islamist movement; the Islamist assassin of President Anwar Sadat; and others. The speaker is followed by Sheik Salah Rajab, a stout 55-year-old with a scraggly gray beard and brown robe. "The way is now open before you! The barrier has been eliminated," he shouts, referring to Mubarak. The audience appears to listen more closely. "Don't dream that the next government will bring Sharia," he shouts, kicking off a screeching feedback from the speakers. "You have to struggle to make God's will victorious." During the 1990s, Gemaa Islamiya waged a blood-soaked campaign against the Egyptian government, often targeting tourists, as in 1997, when gunmen from the group shot 62 people, including a child, at the Temple of Hatshepsut in Luxor. But Rajab ends on a note of peace. "You must commit to the pledge to give up violence and not take up weapons."
This is the first time in the group's history that it has been given the opportunity to operate openly, and no one—not even the group's leaders—knows exactly where it's headed. Rajab, who says he never took part in the violence, has waited long for this day. For 17 years, he was imprisoned and tortured with sleep deprivations and beatings. But he prefers to focus on the future. "Imagine that you've been thirsty for 30 years and finally someone gives you a drink of cold water," he says with a beaming smile. "That's what this feels like."
Nag Hammadi: United in revolt
Shortly after noon the following day, we arrive in Nag Hammadi, a city that gained notoriety after a series of bloody sectarian clashes between Christians and Muslims last year. Almost a third of the population is Christian, and when anti-Mubarak protests began late last month, the head of the Coptic Church, Pope Shenouda III, asked his followers to stand by the president. But when Arabic news channels aired a report on Feb. 1 that alleged the involvement of former interior minister Habib el-Adly in a bomb attack on a church in Alexandria, the mood turned against the government, and as Christians joined Muslim protesters in their demand for change, the sectarian tensions seemingly disappeared.
"It's as if someone waved a magic wand," says Ahmed Badri, 31, when we meet him in town. Badri, who sports a natty gray suit and a neatly trimmed mustache, is a member of the leftist al-Karama party. He is overjoyed by the workers rising up to demand their rights. In the week since Mubarak's fall, a million smaller protest movements have sprung up. Those who had no voice for so long are now speaking. In Nag Hammadi, workers have left the assembly lines at the aluminum, sugar, and Coca-Cola factories. Employees at the local council and the water utility, even the sugar-cane farmers, are all demanding change in the workplace.
Aswan: The destination
Around 9:30 p.m., the train arrives at our final destination: Aswan, a parched city surrounded by sand-covered hills. Traditional felucca boats with large white sails float lazily on the Nile. Despite the remote location, Aswan is a major tourist stop for Nile cruises, and shops selling kitsch to tourists are dotted around town. The biggest feature of the city, though, is its dam. During the 1950s, when President Gamal Abdel Nasser ordered the building of the High Dam, tens of thousands of Nubians were displaced—and they have fought hard for their rights ever since. Nubians faced discrimination within the educational system and for government posts. The few Nubians who made it into Parliament were often handpicked by the National Democratic Party. And the government would expropriate valuable plots of arable land owned by Nubians, only to give them to NDP loyalists.
"The Mubarak government treated the Nubian people as the 'other,'" says a Nubian activist whom we meet in the city. He was overjoyed when he heard Mubarak had been toppled. "I didn't think something so solid could crumble all at once," the activist says. "It was a miracle."
Egypt and Egyptians have changed in a fundamental way. "We will not allow any government to treat us this way again."