Who Was Murdered Haiti President Jovenel Moïse?
Haitian President Jovenel Moïse, 53, was assassinated at his home in the middle of the night, the country's interim Prime Minister Claude Joseph has confirmed.
The controversial president was murdered in his private residence in Port-au-Prince at 1 a.m., according to a statement from the interim PM. It added the first lady, Martine Marie Etienne Joseph, had also been injured in the same attack.
Moïse's recent time in power was marred by protests over fuel prices, which later grew to demands for his resignation from office and the installation of a transitional government.
The former banana exporter was sworn in as president of the Americas' poorest country in 2017 following a lengthy political crisis.
His predecessor, Michel Martelly, had stood down from the office a year before at the end of his term and was replaced by an interim president, Jocelerme Privert.
During this period the leaders of Haiti's different political parties disputed the result of the elections.
Moïse won an election in the first round having taken some 55 percent of the vote in November 2016.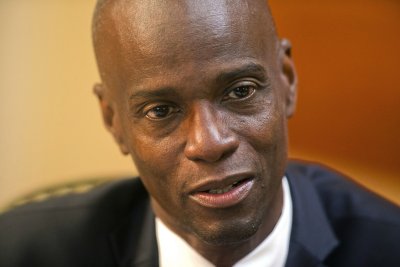 The election had been postponed due to Hurricane Matthew smashing into the island, destroying vast swathes of the country.
But Moïse's period in office saw a serious upheaval in the country and he regularly faced allegations of corruption.
The country's opposition also said Moïse's term should have come to an end in February of this year, five years since his predecessor Martelly stepped down from the position.
But, Moïse dismissed calls for his resignation and said he had one more year to serve his term as he did not take office until February 2017.
Moïse continued to court controversy when he again postponed a constitutional referendum, which would have strengthened the powers of the presidency.
According to Reuters, he claimed the office needed more powers to break a "decades-long cycle of political crisis."
The presidency had deliberately been weakened following the corrupt rule of the Duvalier family, famed for extensive human rights abuses.
But, days after moving the referendum date to September 26, Moïse was assassinated at his private residence, bookmarking another chapter in Haiti's turbulent post-Duvalier history.
Years of unstable political rule, crippling natural disasters and economic instability left Haiti ranking 170 out of 189 countries on the 2020 Human Development Index.
The devastating 2010 earthquake wrecked infrastructure and the country's economy while also claiming an estimated 250,000 lives.
In 2017, the United Nations said that as many as 2.5 million Haitians still needed humanitarian aid and that tens of thousands of people were still living in camps and makeshift homes.
It ended its mission the same year after a scandal-hit period where peacekeepers were accused of having sexually abused vulnerable Haitians.