Joy Reid Slams Eric Clapton Donating to Anti-Vax Group: What He Has Said on Vaccines
World-renowned guitarist Eric Clapton has emerged as a public face against COVID-19 vaccines and mandates, and a new report claiming he gave funds to an anti-vax band drew the ire of MSNBC host Joy Reid on Monday night.
Reid excoriated the 76-year-old musician in her "The Absolute Worst" segment on the Monday edition of MSNBC's The ReidOut program. Along with Clapton protesting vaccines, the broadcaster took exception with him comparing lockdowns to slavery.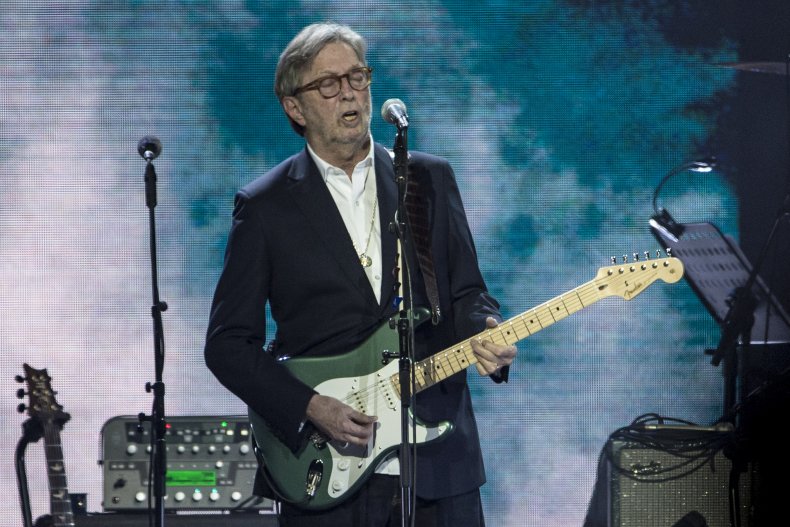 She noted how the lyrics of a recent anti-lockdown song he recorded with Van Morrison, which includes the line, "Do you want to be a free man or do you want to be a slave?"
While also referencing comedian Jim Breuer's recent anti-mandate remarks, Reid said that "what really stands out about white anti-vaxxers, in particular, is they act like their freedom has been taken from them and they have this weird habit of trying to do that by co-opting the history of actually oppressed people."
"Yeah, because getting a free vaccine is exactly like slavery and Jim Crow," she said.
During the segment, Reid also brought up racist statements Clapton made in the past. Most infamous were his comments made during a 1976 concert in Birmingham, England. He told the audience that night to, among other things, "stop Britain from becoming a black colony" and to "keep Britain white."
"It was particularly shocking at the time because Clapton's music was heavily influenced—one might say appropriated—from Black musicians," Reid noted.
What led to Reid's lambasting of Clapton was a story published over the weekend in Rolling Stone, which included details about the rock star giving £1,000 ($1,360) to the British band Jam For Freedom to help pay for legal fees after they ran afoul of COVID regulations at a show. The story also claimed Clapton lent the band a six-person Volkswagen Transporter van to drive to performances.
Clapton's association with the fight against mandates goes back to late 2020 when he first teamed up with Morrison. At the time, he indicated he wanted to contribute to Morrison's crusade against government restrictions as a means to support gigging musicians who had been inversely impacted by the pandemic.
"We must stand up and be counted because we need to find a way out of this mess," Clapton said when announcing his collaboration with Morrison. "The alternative is not worth thinking about. Live music might never recover."
However, he soon became decidedly outspoken against vaccines after he claimed to have experienced what he called a "disastrous" adverse reaction to an AstraZeneca injection. He claimed the shot left him unable to play guitar due to his hands (and feet) feeling numb, freezing and burning for around two weeks.
Skeptics to his statements note the guitarist has reported suffering from peripheral neuropathy for years. The nerve condition causes the same symptoms to hands and feet as Clapton attributed to the vaccine.
Nevertheless, the Rock and Roll Hall of Famer decried vaccine information as "propaganda." When he went on tour this summer, he announced he would refuse to play any venue that had vaccine mandates in place.
"Unless there is provision made for all people to attend, I reserve the right to cancel the show," Clapton said in a July statement about his tour plans.
In a move that further upset progressive members of his fanbase, Clapton posed for a photograph with fellow mandate opponent Texas Governor Greg Abbott after a show in September.
In the past, Reid singled out Nicki Minaj during an "Absolute Worst" segment for expressing skepticism about the COVID vaccine. On Monday, she spoke of the responsibility she felt celebrities hold.
"Celebrities have the power to sway millions of people, which is why it's so alarming when, particularly, the ones with huge platforms publicly spread vaccine misinformation," she said.