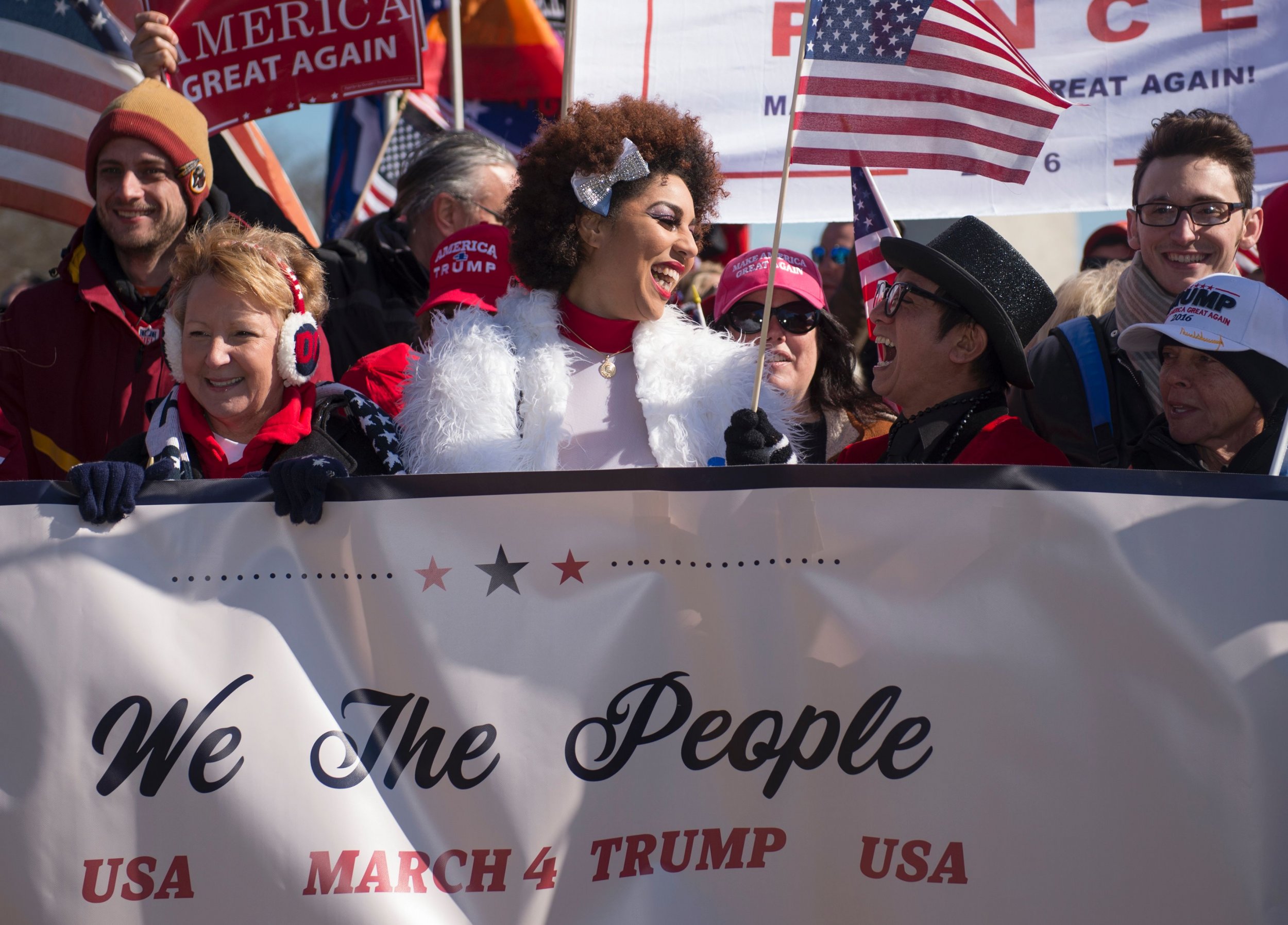 Trump-boosting singer Joy Villa says she found herself in tears while speaking to investigators Thursday about her claim that the president's former campaign manager crudely slapped her at a Washington party.
"This is not easy. I understand why so many women don't come forward. I mean, I cried. It was very hard for me to tell the story again," Villa told Newsweek after police interviewed her about allegations that Corey Lewandowski painfully smacked her rear at the Trump International Hotel exactly a month ago.
Villa, who got a lot of attention — and some static — for wearing a Trump-themed gown to the Grammy Awards, says Lewandowski hit her on the butt while the two posed for a photo at a post-Thanksgiving soiree. When she told him to stop, she claims, he did it again.
The musician filed a sexual assault complaint with Washington's Metropolitan Police Department on Christmas Eve.
Lewandowski has not responded to requests for comment on Villa's account of the incident, which a witness backed up to Newsweek in a separate interview.
In an appearance Wednesday on Fox Business' Varney & Co., Lewandowski said he would allow "due process" to take its course and that he could not speak to Villa's reason for making her accusation.
Villa told Newsweek that Thursday's "grueling" question-and-answer session with D.C. law enforcement stretched more than three hours. At times, she said she found herself minimizing her own case.
"A lot of shame came in, even to me making excuses, to where I said, 'I know this is not something worse. I know this is not a rape,'" she recalled. "The detective had to correct me and [say], 'This is a sexual assault, and we are taking it just as serious as it should be taken, and even though you're someone who's notable, no one deserves to be touched when they don't want to be touched.'"
That, she said, is when she teared up and took a break to compose herself and to hug her husband, who accompanied her to the police station.
Villa, who is considering a bid for Congress in Florida and is being advised by longtime Trump confidant Roger Stone, said she has had no contact with Lewandowski but remains willing to speak to him if he feels like apologizing.
"I pray for him," she said.
"I pray that he does work out whatever issues he has. He felt he needed to publicly disrespect me like this, or that he felt like that was OK in his world," Villa continued.
"I mean, he struck me twice, and this is not something that a normal human will do. So there's something wrong here, [and] I am doing the right thing by reporting it to the police."
A Metropolitan Police spokesman said Thursday evening that there were no new developments in the case, which Villa said she has been told could go to trial as a misdemeanor.
Villa said she has gotten a mix of reactions to her decision to file a complaint against Lewandowski, who co-authored "Let Trump Be Trump," a recently released book on the 2016 campaign.
Some fans, she said, have privately thanked her for coming forward. She has also weathered a barrage of social media attacks from users calling her a fraud and an undercover liberal, as well as circulating a short video of her smacking a man on the butt in what she has said was consensual horseplay with a friend.
Villa says regardless of any critics, she wants to remain part of the public debate about sexual misconduct.
"I'm not going to stop," she said. "I will not be intimidated, and I refuse to be a victim."
During the 2016 race, Lewandowski was charged with simple battery for grabbing the arm of Breitbart reporter Michelle Fields as she tried to ask Donald Trump a question. Lewandowski surrendered to police in Jupiter, Florida, but the charge was later dropped. Lewandowski remained as the campaign manager for three months after the charge.