Joy Villa Claims She's Being Attacked by 'Feminists,' Called N-Word by Anti-Trump Latinos
Joy Villa has a thing or two to say to her "attackers." After wearing a controversial gown to Sunday's 61st annual Grammy Awards, the singer alleged that she has received threats from feminists, "anti-Trump Latinos" and Black Lives Matter activists.
Villa, 27, hit the Grammys red carpet on Sunday wearing a white and silver barbed wire border wall gown that read "Build the Wall" on the back. The look, which was created by Desi Designs Couture, was paired with a silver crown and a red purse featuring President Donald Trump's campaign slogan "Make America Great Again."
Villa has received a lot of criticism on social media for her bold Grammys look, which has led the "Devil In The City" singer to issue a response.
"I just want to give a warm shoutout to all the women attacking me with 'feminist' in their bios," she tweeted Tuesday. "The Anti Trump Latinos calling me the N-word. And the Black Lives Matter activists telling me to chop off my Afro before they violently do it for me. Bless your hearts."
Villa later issued a second statement via Twitter that argued the need for having security, tweeting: "I've been listening to all your liberal arguments against the wall, and you're right. No more walls. No more locked doors. No more locked cars. No more rooms! Get rid of BOX STRUCTURES and buildings and keys and alarms all together they are racist!"
On Monday, Villa said she was being subjected to "hatred" and "racism" over her attention-grabbing Grammys look. She shared screengrabs of messages she's received from opposers, one of which deemed her to be a "n***** ugly nappy headed h**." Another person threatened her, writing: "I hope someone runs you over."
Criticism aside, Villa said she wouldn't let the backlash deter her from supporting Trump or a border wall. "Do you want more drugs brought in? (70% of heroin from Mexico) More illegal women getting sexually assaulted (1 in 3)? More children being trafficked? (Thousands a year) because I DO NOT," she tweeted Sunday.
Villa spoke with Virginia-based CBS affiliate WTKR on the Grammys red carpet Sunday about her bold gown. She explained she chose to wear the look since she's a "proud Trump supporter" and because she's "known for wearing my heart on my sleeve."
"I'm making a statement," she began, "I made a statement last year with my pro-life dress. I made a statement the year before last with my 'Make America Great Again' dress. And today, yes—we're going to make America great again. We're going to build the wall...It's not to keep people out, it's to protect the people who are in this country."
"It's not about color. It's about protecting our borders. It's been talked about for 17 years. Obama talked about it, Clinton talked about it. It has nothing to do with race. It has everything to do with protecting American citizens," she added.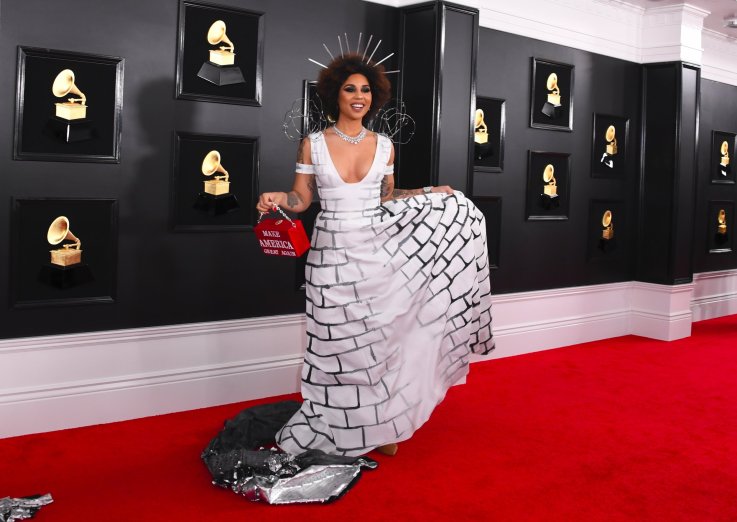 Joy Villa Claims She's Being Attacked by 'Feminists,' Called N-Word by Anti-Trump Latinos | Culture