Joy Villa Says Donald Trump Is 'Not Racist at All' Because He 'Has an Immigrant for a Wife' and 'Jewish Grandbabies'
Days after making headlines for wearing a pro-border wall dress to the Grammys, singer Joy Villa insisted that President Donald Trump is "not racist at all" and offered a laundry list of reasons defending that perspective, including that his wife is an immigrant and that he has Jewish grandchildren.
Villa, who wore a dress on the red carpet Sunday emblazoned with a brick motif and the words, "Build the Wall," was asked by celebrity publicist Domenick Nati of iHeartRadio's The Domenick Nati Show Tuesday to comment on being attacked by the African-American community "for supporting a racist president."
"Oh, he's not racist at all," Villa said of the president. "I mean, when was he racist? When his daughter converted to Judaism to become a traditional Jewish woman in a family? You know, now he has Jewish grandbabies." (Trump's eldest daughter Ivanka Trump converted to Judaism before marrying Jared Kushner, who is Jewish).
Villa continued: "Was he racist when he donated millions of dollars to historic black colleges and universities his first year in the presidency, his first couple of months? Was he racist when he invited hundreds of black students into the White House? I mean, when was he racist? When he had Hispanic Heritage month and I got the pleasure of being there in the White House?"
Then Villa brought up the first lady, who immigrated to the United States from Slovenia.
"Was he racist when he has an immigrant for a wife?" Villa asked.
The singer—who has topped Billboard's rock and alternative charts—also argued the president is not racist because he opened businesses in buildings with blacks and Jewish Americans, and because he lived and worked in New York, where he was surrounded by people of "all different colors."
"I mean is he brash, did he say something that can be taken to be offensive? Of course, everybody does, but that doesn't make him a racist," Villa said, concluding, "It's just stupid."
Villa claimed that she would be on "every magazine cover" if she were liberal instead of an outspoken Trump supporter. She went on to insist, "liberals can't bully me, just like what Kanye [West] said."
President Trump has been accused of being racist on multiple occasions by dozens of public figures. The president received widespread criticism when he said there were "fine people on both sides" of the deadly Charlottesville rally between white nationalists and counter protesters in August 2017. He has been condemned for his questionable criticism of prominent black cultural figures, including former White House aide Omarosa Manigault Newman, Democratic Congresswoman Maxine Waters and NBA player LeBron James.
The president has also been deemed racist for repeatedly stating he wants to end "chain migration," an immigration program that allows U.S. citizens to sponsor immediate family members for legal residency, that his wife used to put her Slovenian parents on the path to American citizenship.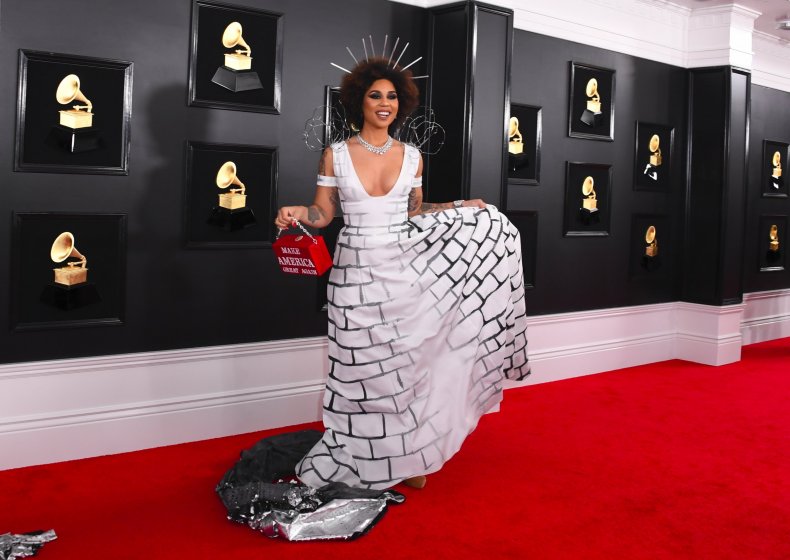 Villa commented on a number of other controversial topics during the Tuesday interview, calling blackface "ignorant and offensive," but then asserting that the "hysteria around political correctness is blown out of proportion."
"When we talk about blackface in the context of what's really going on, it's a minor thing," she elaborated. "It's actually helping black Americas, which is what I see the president doing."
Villa also argued that "mental slavery" is a choice and that skin color should not automatically dictate who someone votes for. "The Democrats brainwashed a lot of the black population and I hate that. You have to unplug from that," she said.
The singer then went on to explain why she moved from supporting former President Barack Obama to Donald Trump. "I fell into the whole Obama change trap too," she said. "Then I realize he's just another politician talking out of his ass, not providing for the black community."
Villa also pointed out that abolitionists were Republicans. "The Republican Party is the one who's been fighting for the rights of black Americans for centuries," she said. "Not the Democrats."