Joy Villa Slams Alex Jones Ban, Claims There Is 'Nothing R-Rated' on Infowars
Singer Joy Villa slammed the growing ban of conservative radio personality Alex Jones amid YouTube's decision to pull his channel from its website Monday. His channel was removed for being in violation of YouTube's Community Guidelines.
Villa, 27, notably made headlines for wearing a "Make America Great Again" dress in support of President Donald Trump to the Grammy's in February 2017. On Monday, she stood by the far-right radio host amid his ban. "WHAT?!?!! Over a billion views, millions of subscribers and nothing R rated AT ALL yet they get quietly and quickly taken off while we slept," Villa, 27, tweeted Monday with a quote tweet that featured his now-defunct YouTube page. "This is NOT OK. If you don't think you're next, you're fooling yourself."
YouTube's Community Guidelines lists multiple reasons that can lead to a channel's termination. The website prohibits content that contains nudity or sexual content, harmful or dangerous content, hateful content, violent or graphic content, cyberbullying and harassment, threats, spam, misleading metadata, scams, impersonation, privacy purposes or it tampers with the safety of children.
"All users agree to comply with our Terms of Service and Community Guidelines when they sign up to use YouTube," a YouTube spokesperson confirmed to Newsweek. "When users violate these policies repeatedly, like our policies against hate speech and harassment or our terms prohibiting circumvention of our enforcement measures, we terminate their accounts."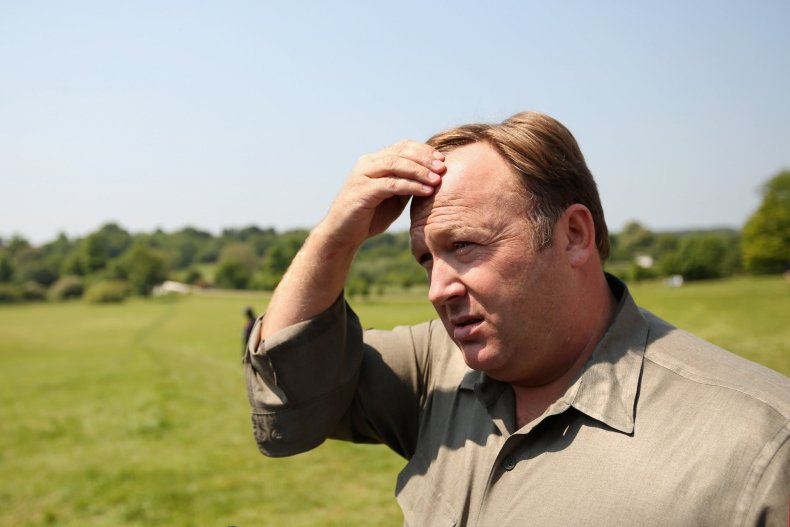 Facebook pulled Jones's content from its website on Monday as well. Like YouTube, the company claimed it violated its community's standards. "We believe in giving people a voice, but we also want everyone using Facebook to feel safe," Facebook wrote via its newsroom Monday. "It's why we have Community Standards and remove anything that violates them, including hate speech that attacks or dehumanizes others. Earlier today, we removed four Pages belonging to Alex Jones for repeatedly posting content over the past several days that breaks those Community Standards."
Spotify, Apple and Stitcher joined YouTube and Facebook in disassociating with Jones. Apple, however, was the first to pull Jones's content. In a statement to BuzzFeed News on Sunday, Apple stated: "Apple does not tolerate hate speech, and we have clear guidelines that creators and developers must follow to ensure we provide a safe environment for all of our users."
Jones addressed the situation on Monday. "We've been banned completely on Facebook, Apple, & Spotify," Jones, 44, tweeted. "What conservative news outlet will be next?"
The Infowars host said his content will "always" be available via the show's official website, adding: "Spread the links to help #Infowars fight #Censorship."