Joy Villa Wears 'F*** Planned Parenthood' Dress on Red Carpet to Expose 'Their Murder Ways'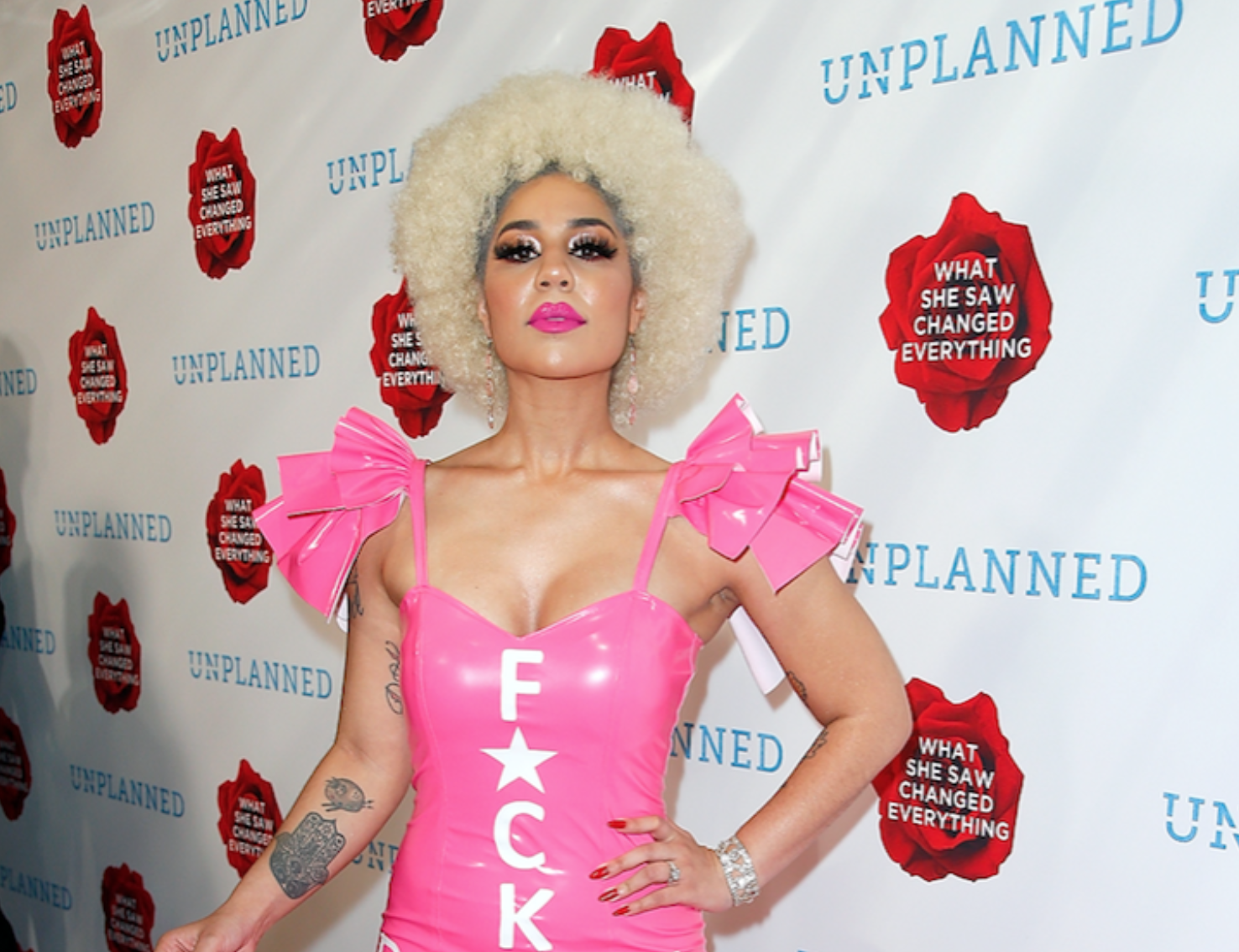 Singer Joy Villa turned heads, once again, when she stepped on the red carpet Monday for the premiere of Unplanned. It's a film based on real events that coincide with Villa's political beliefs. She wore a bright pink latex gown that bluntly read "F*** Planned Parenthood" and "Unplanned" on the back.
Villa, 27, is a singer that's gained traction for making bold pro-Trump political declarations on the red carpet. The Grammys has proven to be the conservative artist's sweet spot, with February's ceremony being the debut of her controversial "Build The Wall" look.
At Unplanned's Los Angeles premiere Monday, the "I Make the Static" singer aimed to make her pro-life stance and dislike for Planned Parenthood apparent. She teamed up with Desi Designs Couture, a designer who has helped to create many of her earlier daring outfits, to craft a look that would help to promote the feature film. Villa also got input on her look from Abby Johnson; an ex-Planned Parenthood clinic director she befriended who the premise of Unplanned—out March 29—is based on.
"I know I'm going to get a lot of flack for this and every bold declaration I get a lot of flack. I'm not really scared anymore," Villa told Newsweek. "I've been tagging Planned Parenthood in posts exposing their murder ways and what they're doing, being very vocal. But it does make me a target. When I go out, I do have to have security. I always have people around me. But the freedom experience of being able to be truly me and a beacon of hope for so many who can't speak up is worth it."
"This is who I am and this is also what I'm known for. People are looking to me to be that person. I'm a minority in this scene. When I go to the Grammys or any red carpet event (even a conservative one), I'm still a minority because there's not many Afro-Latinas who are pro-Trump, outspoken artists actually working [and] living in Hollywood who are going to wear something outlandish, sexy [and] something beautiful with a message," she added.
Villa's gown on Monday echoed what she called a "Pro-Life Barbie" look. She also claimed the latex pink dress rebelled against "the Barbie culture that says women should be perfect" while calling out the internal operations of Planned Parenthood. She paired the gown with a blonde afro wig and a hot pink heart-shaped purse. The "u" in "F***" is censored out with a star.
Although Villa's vocalized her pro-life stance before, her desire to advocate for Unplanned with a controversial dress comes from a personal place.
Villa was faced with an unplanned pregnancy at 20 and she eventually decided to put her child up for open adoption. She said she came to this decision after a nurse at a women's clinic was "pressuring" her to abort her baby due to her current financial situation.
"I've been very critical of what they do and how they pretend to say they're healthcare when meanwhile 70 percent of their income is coming for abortions. They're pushing abortions," Villa explained Newsweek.
"People need to be educated. I'm not anti-women at all. If a woman had an abortion, I'm not going to shame her," she continued. "I'm not going to shame anybody who is thinking of abortion. Personally, I'm very pro-life and I've been in that situation where you had to make that decision because I was pregnant at 20. I was in an abusive, toxic, domestic violence relationship. I was faced with pregnancy unplanned and I had to make a decision."
Planned Parenthood is a global nonprofit organization that offers sexual health care. According to Planned Parenthood's website, its services include general health care, birth control, pregnancy testing, STD testing and patient education in addition to abortion procedures.
Representatives for Planned Parenthood did not immediately return Newsweek's request for comment.