Joyce Mitchell Pleads Guilty to Promoting Prison Contraband to Escaped New York Inmates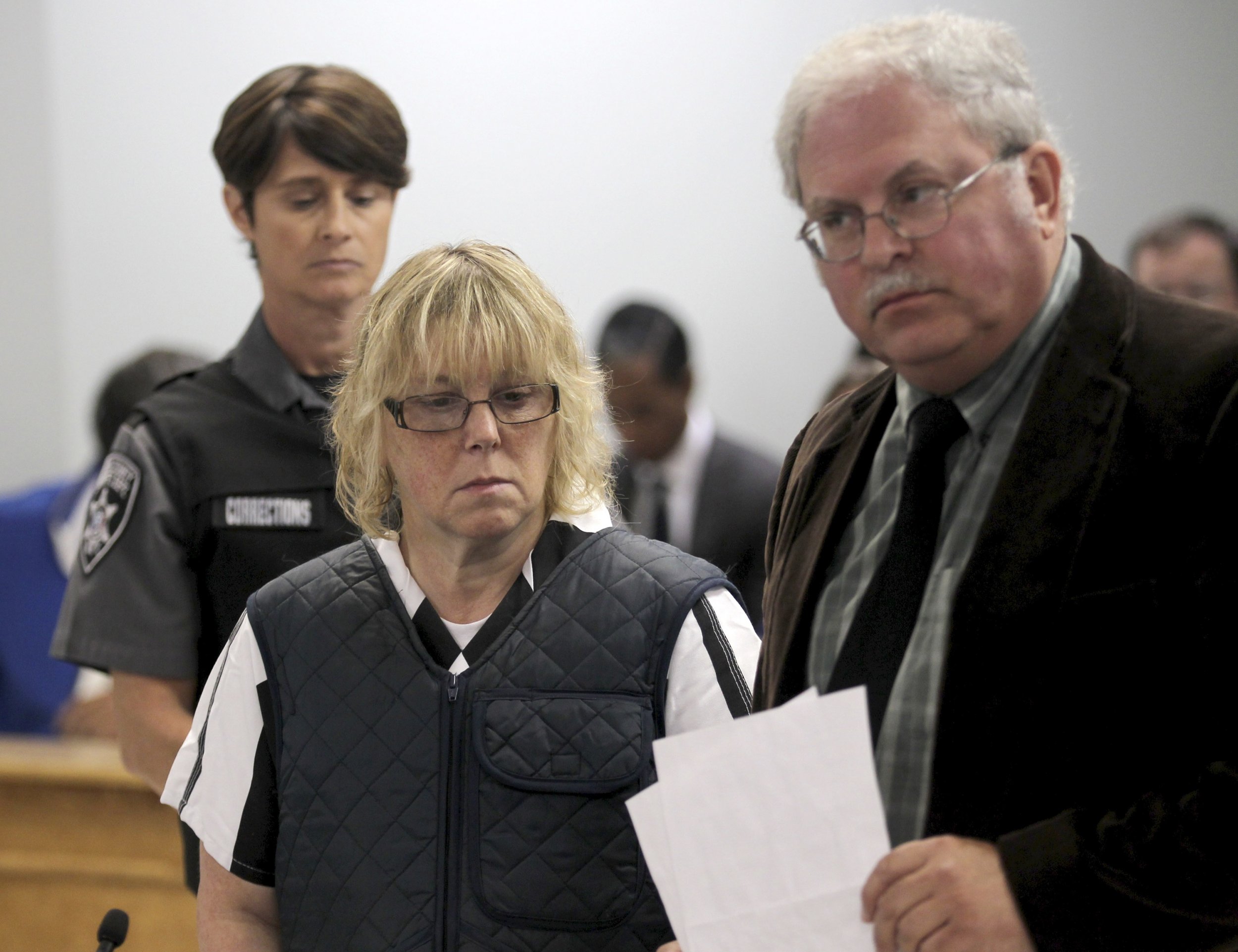 Updated | Joyce Mitchell, the former prison worker who is accused of helping two convicted killers escape from the Clinton Correctional Facility in Dannemora, New York, on June 6, pleaded guilty to a felony and a misdemeanor count on Tuesday.
Mitchell, 51, of northern New York, waived her right to a grand jury hearing in court. She will be sentenced next month to seven years in prison and pay a $6,000 fine for a felony charge of promoting prison contraband and a misdemeanor count of criminal facilitation. Her attorney, Stephen Johnston, indicated that her plea agreement is the choice he preferred for her to take to avoid facing additional charges.
"There was overwhelming evidence that she did what she admitted to today in court," Johnston told reporters during a press conference after Mitchell's arraignment. "I was fearful of some additional charges, so it seemed like the best thing to do."
A weeks-long manhunt for Richard Matt and David Sweat ended on June 28 with the capture of Sweat near the Canadian border. His case is pending a presentation in front of a grand jury next month, said Clinton County District Attorney Andrew Wylie. Two days earlier, Matt was shot and killed by authorities in the woods.
Mitchell is accused of providing them with "dangerous contraband," tools to aid in their escape from the maximum-security prison that included hacksaw blades, chisels, a punch tool and screwdriver, some of which she allegedly gave Matt in raw hamburger meat. She initially had met both inmates in the prison tailor shop, where she worked.
About 1,300 authorities spent more than three weeks searching for Matt and Sweat. Their so-called Hollywood-style break started with them cutting a hole in their adjoining cells, escaping on a catwalk, crawling through pipes and emerging onto the street through a manhole cover. Officials followed more than 2,400 leads before their eventual capture. During the search, Matt and Sweat were placed on the U.S. Marshals Service's 15 Most Wanted fugitives list.
Mitchell allegedly intended to provide the getaway car to the prisoners, but she had second thoughts and never showed up.
"There is no question" she is sorry for her actions, Johnston told reporters. "She got in over her head for something she shouldn't have started. She did and is paying the price now."
Mitchell's husband, Lyle, continues to support her and doesn't believe the allegations that she conspired with the inmates to kill him, Johnston said. Reports had surfaced that she previously was investigated for a sexual incident with Sweat, and that Matt allegedly charmed her so much that she thought they were in love.
Matt got her "feeling better for herself," Johnston told reporters. "She got swept off her feet for a period.… When she figured out who she was dealing with, everything changed."
New York Governor Andrew Cuomo ordered a review of the escape by Inspector General Catherine Leahy Scott, which is separate from the criminal investigation. Mitchell is required to cooperate with the ongoing investigation into the Clinton Correctional Facility, where 12 staff members were suspended in the wake of the inmates' escape.
Mitchell originally pleaded not guilty to the charges against her and faced a maximum of eight years in prison.
Another jail worker, corrections officer Gene Palmer, has been charged for allegedly aiding the two men. Authorities said he gave the inmates contraband items in exchange for paintings and information about other prisoners' activities.
Wylie told reporters during the press conference on Tuesday that an ongoing investigation into Palmer's actions was delayed to allow his attorney time to review the case and his previous comments to officials. Palmer won't waive his right to a grand jury, and his case will be presented in court next month, Wylie added.
He said that authorities haven't identified any other individuals directly or indirectly involved with the escape.
The FBI has launched an investigation into the Clinton facility for possible drug trafficking and criminal behavior among employees and inmates.