Juan Pablo Galavis Liked a Tweet Stating He 'Dodged a Bullet' By Dumping Bachelorette Clare Crawley
Clare Crawley's ex, Juan Pablo Galavis, may have "dodged a bullet" by leaving the Bachelorette behind—at least, his Twitter likes imply that he might think so. The 2014 Bachelor liked a fan's new thoughts about his time on the reality show, and his decision to not pair up with Crawley back when she was a contestant on the series.
"You know Juan..we all thought she dodged a bullet with you but I think you dodged a bullet with her," wrote Twitter user Melissa Gilbert (@melissaxgilbert). Galavis liked the tweet.
Gilbert is right: For a while, many folks in Bachelor Nation thought Galavis was the worst Bachelor the franchise had ever seen. Now, though, opinions have changed—for many, Peter Weber has taken on that ignominious title. And Galavis's end-of-relationship conversation with Crawley remains one of the franchise's most memorable moments.
At the time, Crawley was seen as a strong, independent woman who stood up for herself. Her own time as the lead this year, though, has led some viewers to believe that Crawley was just as horrible of a partner as Galavis appeared to be.
Galavis revealed on Twitter that he couldn't watch Thursday night's Bachelorette episode because he was in Mexico. He didn't acknowledge the fact that Crawley got engaged on the fourth episode of the series, or that she and fiancé Dale Moss are still together. The only time Galavis addressed the episode was by liking Gilbert's tweet.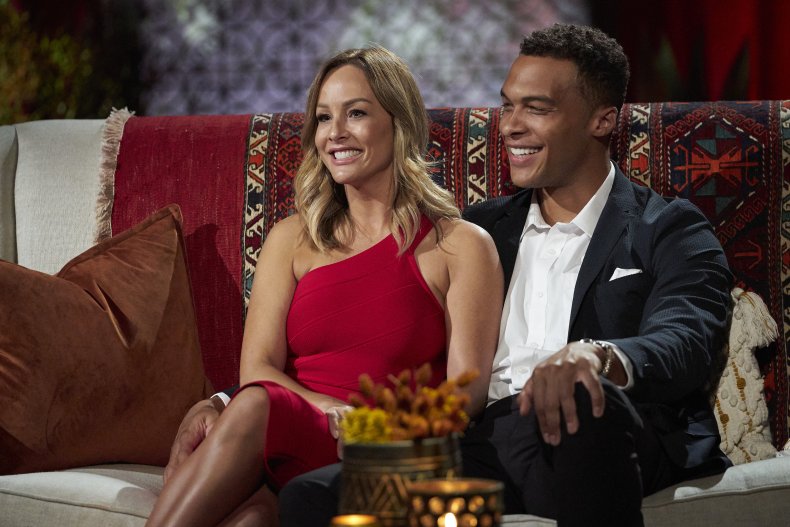 This isn't the first time that he's liked tweets that have totally slammed Crawley, though. Judging from his activity on Twitter, it seems clear that Galavis and Crawley aren't on great terms. Some of the tweets that reside in his "liked tweets" call Crawley "nutty" and even state that Galavis "deserves an apology" from Bachelor Nation. You can see them below.
It is worth noting, though, that he's also liked tweets that implied the same thing about ex Andi Dorfman.
Crawley accepted an engagement from Moss on Thursday night's episode after she chose to dump the remaining men on her season. By the time she left the series, Crawley had only participated in two rose ceremonies.
While Galavis doesn't appear to have the best memories of Crawley, the Bachelorette is still close friends with one of her Bachelor franchise exes. Benoit Beauséjour-Savard and Crawley kept in touch even after a broken engagement from The Bachelor Winter Games. The ex-fiancé has been nothing but supportive of Crawley's new journey on social media.
Even without Crawley, The Bachelorette Season 16 will continue. Tayshia Adams entered as the new Bachelorette on Thursday night. The Bachelorette typically airs Tuesday at 8 p.m. ET on ABC, but shifted to Thursday because of the 2020 presidential election this week.