Ex-Journalist Juan Thompson Allegedly Made Bomb Threats to JCCs, ADL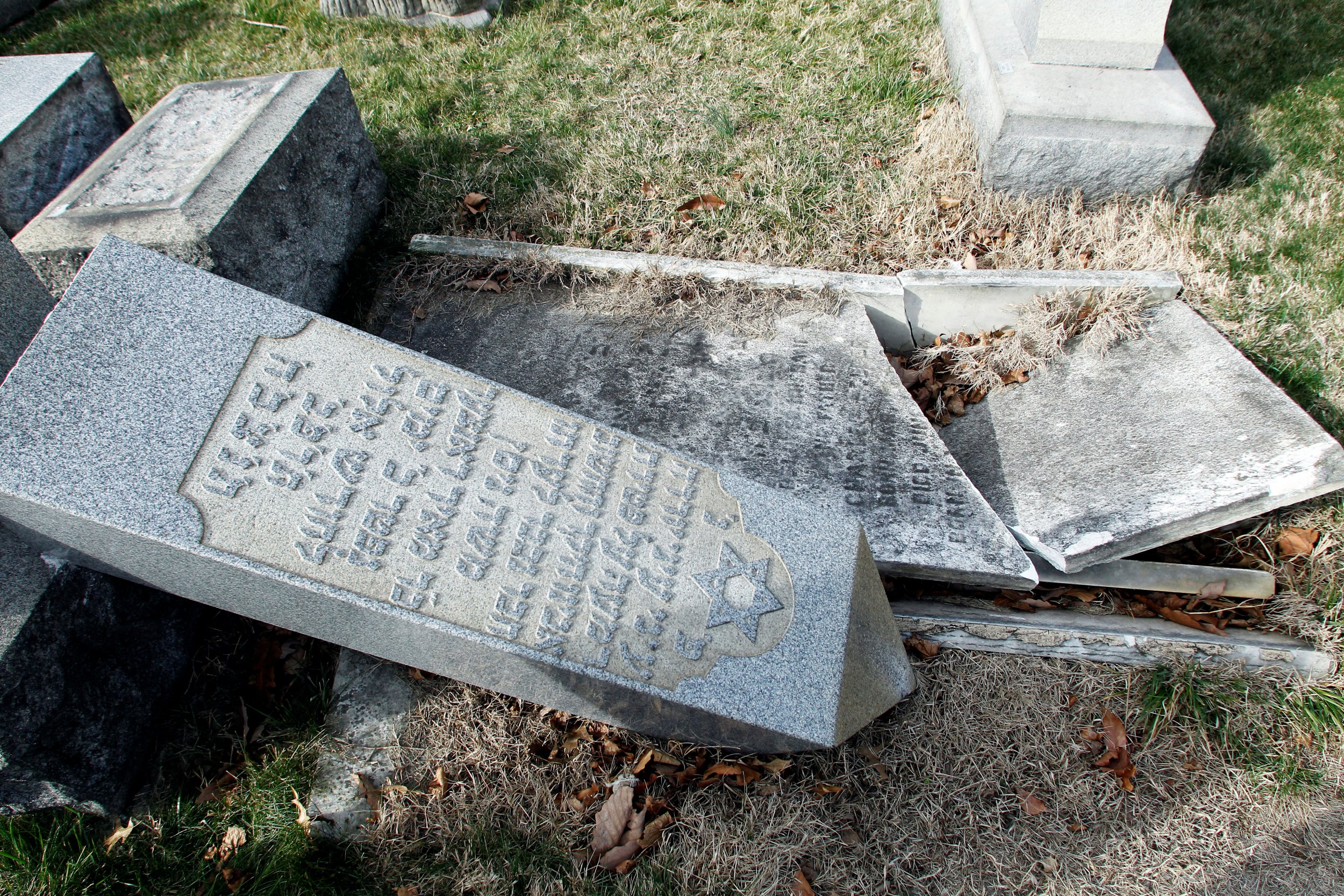 Updated at 11:39 a.m. to include a statement from The Intercept.
Updated at 1:28 p.m. to include comments by the Secure Community Network, the Southern Poverty Law Center and Larry Barton, and information from the Anti-Defamation League and the federal complaint.
Police have arrested a Missouri man named Juan Thompson for allegedly threatening Jewish community centers and the Anti-Defamation League (ADL), according to a complaint officials unsealed on Friday.
"Everyone deserves to be free from fear and discrimination based on religion, race or ethnicity," U.S. Attorney for the Southern District of New York Preet Bharara said in a statement. "That is fundamental to who we are as a nation."
Related: 20 bomb threats follow Jewish cemetery desecration
Thompson, 31, is also accused of stalking a romantic interest. He allegedly made some of the threats in her name, officials said. The eight threats against Jewish community centers he allegedly made still account for only a small portion of those recently made to such institutions.
Thompson has written for The Intercept, a journalism website cofounded by Glenn Greenwald and Jeremy Scahill. Referring to Thompson, the editor-in-chief of The Intercept, Betsy Reed, said in February 2016 that the site had "discovered a pattern of deception in the actions of a staff member." Reed said Thompson had fabricated quotes in articles and used fake email accounts to impersonate people, including the editor. Reed said Thompson's employment had ended in January 2016. The Intercept released a statement regarding the arrest just before 11:30 a.m. Eastern Standard Time on Friday:
We were horrified to learn this morning that Juan Thompson, a former employee of The Intercept, has been arrested in connection with bomb threats against the ADL and multiple Jewish Community Centers in addition to cyberstalking. These actions are heinous and should be fully investigated and prosecuted. We have no information about the charges against Thompson other than what is included in the criminal complaint. Thompson worked for The Intercept from November 2014 to January 2016, when he was fired after we discovered that he had fabricated sources and quotes in his articles.
According to the federal complaint, Thompson allegedly made at least eight threats to Jewish institutions in January and February. The FBI believes these were part of an effort to stalk and harass a former romantic partner who had broken up with him last July. He allegedly made some of the threats in that woman's name and others in his own name, in order to pretend that the woman was trying to frame him. (The complaint does not specify the gender of the former romantic partner, but on a Twitter account that appears to belong to Thompson, he referred to the person as a woman.)
In one anonymous email that Thompson allegedly sent in late February to the ADL, he named the woman and wrote that she "is behind the bomb threats against jews. She lives in nyc and is making more bomb threats tomorrow." The next day, he allegedly called the ADL and, using a voice disguiser, said a C-4 explosive would go off "within one hour." He also threatened Jewish centers in Dallas and San Diego, the complaint alleges. In several other anonymous threats, he allegedly mentioned his own name, saying "Juan Thompson" wants to cause a "Jewish newtown"—likely referring to the 2012 shooting at Sandy Hook Elementary School.
A February 24 tweet from an account that appears to belong to Thompson and cited in the complaint, said, "Know any good lawyers? Need to stop this nasty/racist #whitegirl I dated who sent a bomb threat in my name & wants me to be raped in jail."
In addition to the threats, Thompson also allegedly falsely told the woman's employer that she had a sexually transmitted disease and accused her of criminal activity. He also allegedly falsely reported her to the National Center for Missing and Exploited Children for watching child pornography. That woman, which the criminal complaint said "works at a social service organization in the greater New York area," secured an order of protection against him.
The ADL said on Friday that its Center on Extremism had previously monitored Thompson, including "his deceptive reports for a news website about Dylann Roof," the white supremacist who killed nine people at a Charleston, South Carolina, church in 2015. Thompson had displayed a "hostility towards whites" and at least once referred to white police officers as "evil sociopaths," according to the ADL. He also called former President Barack Obama a "rotten collaborating liberal" who "killed innocent [people of color]" and criticized "the white New York liberal media [that] makes me vomit with their arrogant, patronizing bigotry." Thompson once ran for mayor of St. Louis, saying he wanted to undo the system of "racial supremacy and greedy capitalism that is stacked against us."
Since the beginning of 2017, about 100 threats have been made against Jewish community centers (JCCs), Jewish schools and other Jewish institutions in the United States. Vandals have also struck Jewish cemeteries in Missouri, Pennsylvania and New York state, toppling hundreds of headstones.
On February 27, the ADL issued a "security advisory" to Jewish institutions because of the threats. That day, JCCs and Jewish schools received 31 bomb threats, according to the JCC Association of North America. The previous day, police and community members found headstones toppled at the Mount Carmel Cemetery in Philadelphia. A local rabbi and others who surveyed the cemetery counted 539 damaged plots. "People are pissed off," Steven Rosenberg, chief marketing officer of the Jewish Federation of Greater Philadelphia, previously told Newsweek. "They've had enough."
Others Behind Threats Remain At Large
The suspected perpetrators of other recent anti-Semitic incidents remain at large. "I would not take comfort in the arrest of one individual, just given the volume of threats that have been received nationwide and the actual attacks on cemeteries," says Larry Barton, a professor of crisis management and public safety at the University of Central Florida and an instructor at the FBI Academy and U.S. Marshals Service. "It's a positive step, for sure," he adds, "but the hate continues, the issues continue."
The Secure Community Network, which provides security resources to Jewish organizations, and the Southern Poverty Law Center, which tracks hate and extremist organizations, also pointed out in tweets that Thompson is allegedly behind just a handful of the many recent threats.
Friday's news is the first publicly announced arrest in what has been five waves of threats in 2017. Law enforcement sources had speculated that some of the threatening calls originated overseas, according to CNN. Another law enforcement source has said the calls "appear to be coordinated," and are coming from both overseas and inside the U.S., CBS reported. The FBI has said it and the U.S. Department of Justice are investigating possible civil rights violations connected to the threats.
There have been other arrests and prosecutions for threats or attacks on Jewish institutions in the U.S. In 2015, a Kentucky man named Paul Apple appeared in court after allegedly leaving a threatening note on a JCC employee's desk. In 2014, a gunman named Frazier Glenn Miller Jr. killed three at a Jewish community center in Kansas and a nearby Jewish assisted-living community, including a 14-year-old boy and his grandfather. He was convicted and sentenced to death. A 2009 shooting at the United States Holocaust Memorial Museum in Washington, D.C., left one dead. The suspect, James von Brunn, died while awaiting trial. In July 2006, a gunman named Naveed Afzal Haq killed one and injured five others at the Jewish Federation of Greater Seattle. He was convicted and sentenced to life without parole, plus 120 years. In 1999, Buford O. Furrow Jr., a white supremacist, opened fire at a Los Angeles JCC, injuring five, including three young children. Later that day, he murdered a mail carrier. He was sentenced to two life terms without parole, plus 110 years, and ordered to pay almost $700,000 in restitution.
President Donald Trump condemned the recent anti-Semitic acts during his address to a joint session of Congress on February 28: "Recent threats targeting Jewish Community Centers and vandalism of Jewish cemeteries, as well as last week's shooting in Kansas City, remind us that while we may be a Nation divided on policies, we are a country that stands united in condemning hate and evil in all its forms." The shooting the president referred to involved the killing of an Indian national at a Kansas bar and the wounding of his coworker, who is also from India. The FBI has said it is investigating the incident as a hate crime.
Jewish community members had previously criticized Trump for a seeming unwillingness to condemn the anti-Semitic trend. On February 28, prior to the address to Congress, Trump said, "Sometimes it's the reverse, to make people—or make others—look bad," according to Pennsylvania Attorney General Josh Shapiro, who recalled Trump's remarks during an interview with Buzzfeed.