Juanita Broaddrick Slams #MeToo: Bill Clinton Should Be Remembered As 'Rapist-in-Chief'
Juanita Broaddrick laments that there is seemingly no room in the #MeToo movement for "Clinton survivors" after seeing the public's response to Christine Blasey Ford's allegations against Supreme Court nominee Brett Kavanaugh.
In an interview with The Daily Caller, Broaddrick said that the movement has left women like her behind and that there is now a "double standard" for how the media responds to allegations of sexual misconduct.
"I saw the media sit on my story and question my allegations. The media downgraded the most horrific event of my life," Broaddrick told the conservative news outlet. "The #MeToo movement has never accepted the Clinton Survivors of the sexual assault."
Broaddrick has accused former President Bill Clinton of raping her in 1978 when he was running for governor of Arkansas. Broaddrick was a campaign volunteer when she says that Clinton insisted they have coffee in her hotel room and forcibly had sex with her. She claims that after the assault Clinton said to her, "You better get some ice for that."
Broaddrick told Newsweek in an email Wednesday that when she first came forward about the alleged attack in 1999, women's rights groups and others effectively "turned their backs" on her.
"Even now, a simple Twitter search reveals #MeToo advocates calling for the annihilation of Brett Kavanaugh while seemingly giving the Clintons a pass. Don't get me wrong: I think every claim of abuse deserves to be vetted. But let's start in chronological order," Broaddrick said.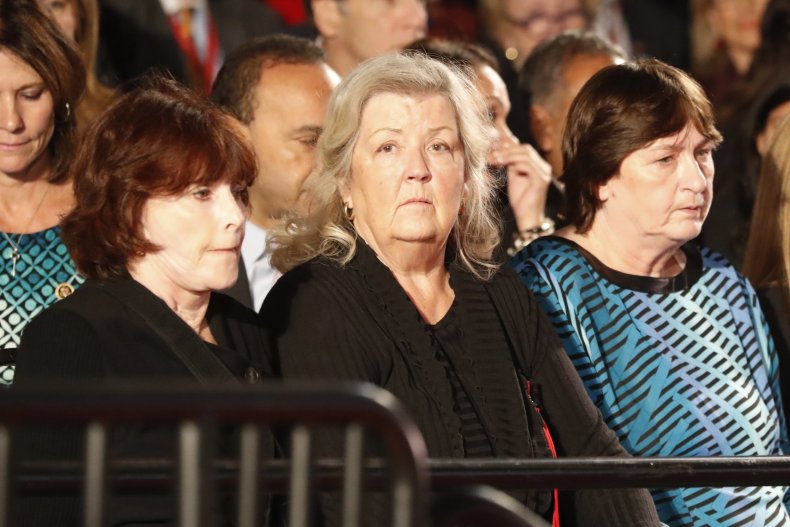 Broaddrick said that the feminist movement sweeping the nation has largely ignored her story, along with those of Kathleen Willey and Paula Jones—two other women who have accused Clinton of sexual misconduct and harassment.
Jones has alleged that Clinton exposed himself to her when she was a state employee and he was the governor of Arkansas in 1991. She even sued him during his presidency. Willey alleged that the president fondled her and made her inappropriately touch him in the Oval Office when she was a White House volunteer.
"I hope that one day the #MeToo movement does have room for us and that Bill Clinton will face the same fate as Harvey Weinstein and the others: an indictment, or at the very least, a public fall from grace so hard he will be remembered in our history books as the rapist-in-chief," Broaddrick told Newsweek.
Her criticism of #MeToo came days after Ford came forward with allegations that Kavanaugh sexually assaulted her when they were both high school students. Ford, like Broaddrick, initially remained silent about the incident but then reported it confidentially to a Democratic senator while Kavanaugh's nomination was being considered.
The allegations became public in the days after Kavanaugh's four-day confirmation hearing by the Senate Judiciary Committee earlier this month. Ford was asked to testify along with Kavanaugh before the committee in a September 24 hearing, but she now wants an FBI investigation before she testifies.
On Tuesday, #MeToo founder Tarana Burke tweeted a photo of pink pins that read: "I believe Christine Blasey Ford." Broaddrick tweeted back at Burke, asking her, "Do you believe me?"