High School Alumni Debate Confederacy, Racism As Students Vote To Keep 'Rebel' Mascot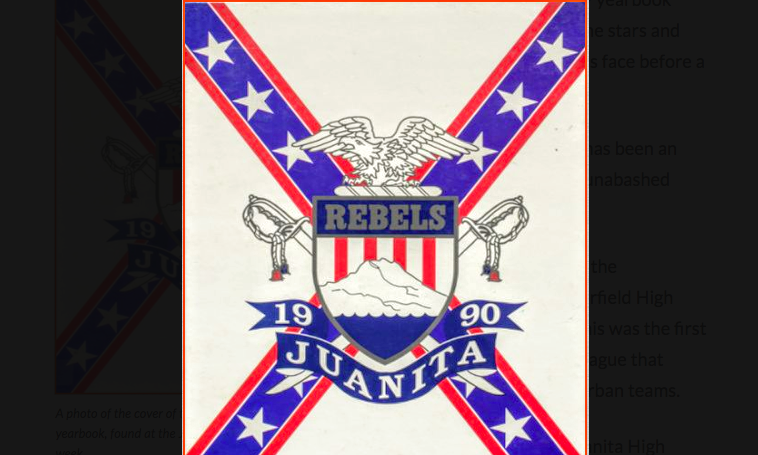 A majority of students at Juanita High School voted to keep their "Rebels" mascot after several petitions ensnared the Kirkland, Washington, community into a debate on symbols of racial hate, the Confederacy and United States history.
Students voted in their homeroom classes on June 7 and June 11 after the Lake Washington School District board of directors approved the petition presented to them on May 21, according to the Kirkland Reporter. The logo design and "Rebel" mascot were kept by an overwhelming majority of students, with 680 students voting to keep the rebel theme and 350 students voting to change the mascot. Students who supported changing the mascot released a statement in May that provoked a debate among alumni and current attendees on whether the symbol was intended as a "Confederate Rebel" or to invoke the rebellious spirit of the American Revolutionary War.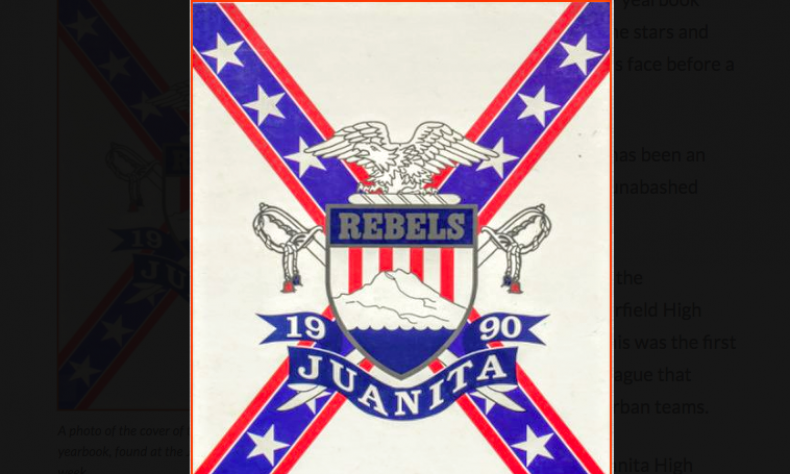 The student petition to change the mascot garnered signatures of 10 percent of the student body and was put to a vote last Thursday and then again Monday for anyone who was absent. Some board members countered that the current mascot was approved by the JHS student body in 1971 to represent the school's "revolutionary" education style that includes shortened class periods, KUOW-FM reported. The school's official history notes that students chose it ahead of the 1976 bicentennial.
The petition for removing the mascot argued: "As a student body lacking in diversity, the controversial issue over the mascot needs careful consideration. Many have argued that our Rebel is separate from the Confederate Rebel, and while the Confederacy was not in mind when adopting our mascot in 1971, this doesn't mean the name doesn't raise eyebrows when taken out of context."
The petition to change the design and mascot argued for students to consider students of color and "the shameful history of slavery and racism that comes along with the Confederacy and what it continues to symbolize even today…rebel is synonymous with racism to the rest of the country." A Change.org petition entitled "Change the mascot! No more Confederate Rebels for JHS!" received 711 signatures and said there was "no place for the memorializing of Confederate white supremacy at Juanita High School."
But a counter petition argued that the petition to change the mascot was inaccurate and "there is no white supremacy in the Juanita High surrounding areas, nor does Juanita High teach or condone acts/views of racism. No one enrolled there is treated any different due to skin color, good or bad, only the typical social statuses such as jocks, nerds, goths, etc."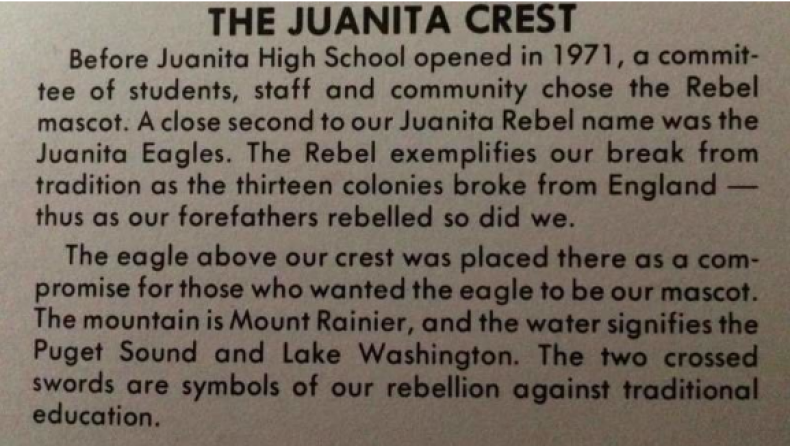 Kirkland resident Camilla Kuhns noted the literal definition of the word "rebel" as "a person who rises in opposition or armed resistance against an established government or ruler." She then noted that the Confederate connotation of the word is inaccurate given that past "rebels" include historical figures such as Harriet Tubman, Susan B. Anthony, Rosa Parks and Tecumseh.
Juanita High School freshman Aiyah Smart, 15, took part in a KUOW-FM video in which she described receiving the paper ballot in her home room to vote on the proposed removal of the mascot. "I read it and there was a Confederate flag behind the old symbol of being rebels, and I thought to myself, 'why am I honestly at a school that would represent something like that?" A previous version of the school logo up until 1990 featured the navy blue saltire adorned with white stars as was seen on the x-shaped Army of Northern Virginia Battle Flag during the Civil War.
"Although they did take care of it and got rid of [the Confederacy design] somehow, there's still a historical background on it that just doesn't fit with who we really are as we are a diverse school," Smart added. "It's like a pain that you can't take away."
Debates on Juanita High School Facebook pages between alumni and current students ranged from cheers of "Once a Rebel, always a Rebel," to name-calling spats of "triggered liberal" and accusations of racism. Oreo Harris, from the class of 2000, wrote: "Being one of very few black kids in the school at the time, I never felt uncomfortable or threatened. Got on pretty much everybody. Had a pretty awesome experience for being a high schooler. I'm a Rebel, baby!"
Following the vote to keep the "Rebels" mascot, JHS Principal Kelly Clapp issued a statement, "We will remain the Rebels. As we move forward next year, we will continue to work on what it really means to be a Rebel and be a part of the Rebel Family."