Judge Aaron Persky, Who Ruled in the Brock Turner Case, Voted Out in First California Recall in Nearly a Century
A campaign to recall Santa Clara County Judge Aaron Persky succeeded on Tuesday, two years after he issued a highly criticized sentencing in a sexual assault case that sparked a worldwide discussion about rape culture and the justice system.
With nearly 50 percent of precincts reporting, 59 percent of the voters expressed support for the recall against 41 percent, according to the San Francisco Chronicle. Assistant District Attorney Cindy Hendrickson looked set to win a majority of votes to serve Persky's remaining term of four years.
Persky became the fifth judge in California's history to be recalled since the practice became legal in 1911. A judge was recalled in 1913 in San Francisco and three judges were ousted in Los Angeles in 1932, according to The Mercury News.
Stanford Law School Professor Michele Dauber, who launched and led the recall campaign in 2016, celebrated the result and remembered how few expected her efforts to succeed. "But nevertheless, we persisted," she wrote on Twitter, concluding the post with the #MeToo hashtag. The movement that forced a global reckoning about sexual violence has since proved its relevance at the ballots and in court.
"The broader message of this victory is that violence against women is now a voting issue," Dauber told Associated Press. Persky declined to comment.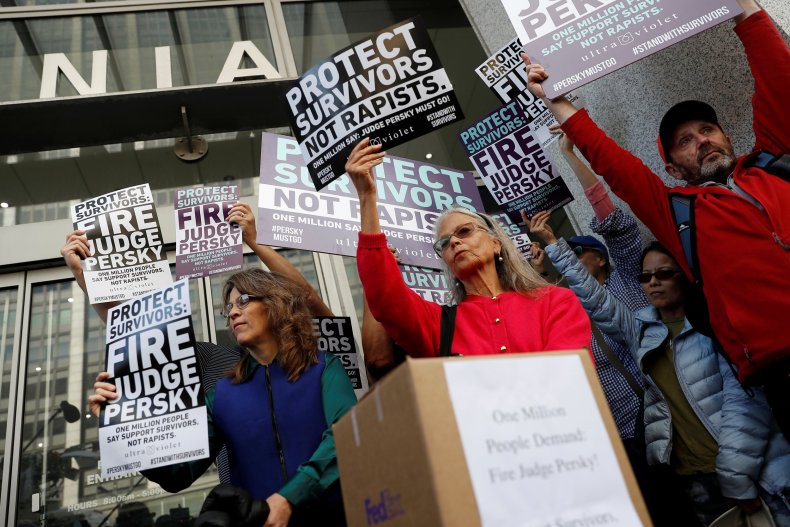 The judge gained worldwide notoriety following his controversial ruling in the 2016 trial of Stanford student Brock Turner, who was found guilty of three felony charges—assault with intent to rape an intoxicated woman, sexually penetrating an intoxicated person with a foreign object and sexually penetrating an unconscious person with a foreign object. The trial had received worldwide attention following the publication of the victim's heartfelt statement eloquently describing the lasting impact of sexual assault trauma on survivors.
Persky sentenced Turner to only six months in prison rather than the six years demanded by the prosecutors, or the 14 years' maximum sentence the charges allowed for. He cited Turner's clean record, intoxicated state and concerns over the "severe impact" of a prison sentence. The sentence was widely criticized as too lenient.
Turner, who was also required to register as a sex offender for the rest of his life, spent only three months in prison before being released. His legal team filed a brief to request a new trial in December, hoping to overturn the registration requirement.
Persky was subsequently removed from another sexual assault case. Dauber, a family friend of the sexual assault survivor, identified as Emily Doe in court documents, launched the Recall Judge Aaron Persky campaign shortly after the ruling to ensure Persky would be ousted from the bench before the end of his six-year term in 2022.
Persky called a press conference in May in which he defended his ruling as following the rule of law rather than public opinion. He compared his decision to the unpopularity of the Brown v. Board of Education that ended school's racial segregation.
Dauber found the comparison "absurd," as she wrote in a statement to Newsweek last month. "The Supreme Court bravely ruled with the powerless against the powerful. In Brock Turner's case, Persky did the exact opposite," Dauber said. "Persky has repeatedly abused his discretion on behalf of abusers. As a result, voters in this county have lost confidence in his ability to be fair," she added at the time, anticipating Tuesday's result.